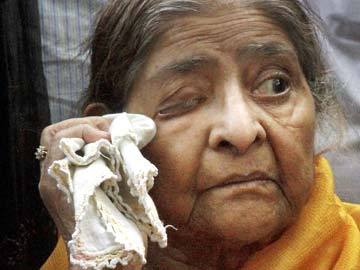 On behalf of thousands of survivors of the 2002 genocidal pogrom that took place in Gujarat from February – May 2002, the Citizens for Justice and Peace expresses deep disappointment and anguish at the verdict of the Magistrate Court, Judge BJ Ganatra accepting the dismissal of serious criminal charges of criminal conspiracy against chief minister Narendra Modi and 59 others. The Supreme Court appointed Special Investigation team (SIT) had filed a closure report in this case, despite finding many of the serious allegations in the Zakia Ahsan Jafri complaint dated 8.6.2006 to be true. The Judge on 26.12.2013 accepted the closure report of the SIT.
Amicus Curiae in this unique case, senior advocate Raju Ramachandran had differed significantly with the SIT and opined that there was enough evidence to prosecute Modi under Sections 153(a), 153(b) and 166 of the Indian penal Code. The CJP will continue to assist Smt Zakia Ahsan Jafri in appealing to the higher courts for justice.  The 3-4 tiered system of justice in India is designed to correct wrongs and we are confident that the serious charges of criminal conspiracy, abetment, murder, arson etc will finally result in the prosecution of the powerful. Meanwhile it remains a trying time for survivors and human rights defenders who stand firm in their fight for justice.
A detailed analysis of the 450 page judgement will be made available by the CJP within a week. Meanwhile, the CJP would like to state that the detailed construction of criminal conspiracy and abetments presented before the Magistrate's Court on legal and factual grounds was completely ignored by the Court despite substantive evidence from the investigation papers.
Counsel for the Complainant, relying on statements recorded by the SIT, documentary and other evidence existing on the record of the Trial Court, had argued, in detailed oral arguments presented to the Court, between June-September 2013, that though the law requires establishment of only  a prima facie case of serious suspicion for framing charges against Modi and other accused in offences of cognisable nature, but, in fact, there exists more than ample evidence, which is not only sufficient for framing charges but also for proceeding with the trial and for convicting Modi and other accused on charges of conspiracy and abetment for committing murder, arson and brutal massacre throughout Gujarat.
The widespread violence that engulfed Gujarat spreading to 19 of the State's 25 districts – 14 very seriously – post the tragic burning to death of 59 persons in the S-6 Coach of the Sabarmati Express is perhaps the worst ever record of reprisal communal violence in post-Independence India.  It was not simply the number of lives lost, though the number — perhaps 2,000 — is not insignificant. It was the cold-blooded manner in which they were taken, as armed militias with high level government sanction, ensured a high level brutality in the killings, mutilation, rapes and burnings. Over 200 girls and women suffered sexual violence, 18,000 homes and 1,200 hotels were gutted. The unfortunate pattern behind the reprisal killings was that the loss of life and property was that of the minority.
Since 2002, when the National Human Rights Commission filed its Interim and Final Reports and 2003 and 2004 when the Hon'ble Supreme Court first pulled up the State government for absence to 'observe its Raj Dharma' and accused it of criminal negligence:"The Neros in Gujarat fiddled as Gujarat burned". Serious allegations of top level criminal conspiracy in masterminding the violence have been made against the chief functionaries of the government.
The NHRC concluded in its Report dated 31.5. 2002 that "there was a comprehensive failure of the State to protect the Constitutional rights of the people of Gujarat".  The Supreme Court of India, while severely indicting the Gujarat government, transferred two trials outside of Gujarat i.e. BEST Bakery and Bilkees Bano. The Supreme Court has been well aware of the larger conspiracy behind the 2002 carnage and the Court's orders, one after the other, in different cases related to the 2002 carnage, have reflected this. Various orders passed by the Supreme Court, including the path-breaking directions in the Best Bakery case and other important developments, ultimately led to the formation and reconstitution of the SIT on 26.3.2008 to further investigate nine of the crucial trials relating to the 2002 carnage.
Of the 300 violent incidents all over the State of Gujarat that took place with sinister precision and conspiracy, two of the worst in terms of intensity took place within Ahmedabad (Naroda Patiya and Gulberg Society) with over 200 brutal massacres, including daylight rapes and burnings the day after the Godhra train burning on 28.2.2002. At the Gulberg society where Mrs Jafri and her husband lived, a total of 69 persons were massacred in cold blood after young girls and women had also been raped. Over 200 distress phone calls, including several to the commissioner of police, Ahmedabad and chief executive of the state had brought no relief. By August 2002 the Government itself had recorded 185 cases of         attacks on women of which 100 were in Ahmedabad city and 57 attacks on children of which 33 were in Ahmedabad alone. Totally, 225 women and 65 children were killed.
Evidence from the State Intelligence given to the Chief Election Commission (CEC) in August 2002 revealed that communal incidents had taken place in 993 villages and 151 towns spread over 153 assembly constituencies (out of a total of 182 in the state). By Aug 2002 (as recorded in the Report of the Women's Parliamentary Committee) as many as 132,532 persons had been displaced / forced to leave their houses & were living in 121 riot relief camps of which 58 were in Ahmedabad city. By 1st June 2002 (as recorded in the Report of the Women's Parliamentary Committee) there had been 4954 cases   (2023 urban and 2931 rural) of residential houses having been completely destroyed. There were a further 18,924 cases of partially damaged houses (11,199 urban & 7095 rural) – i.e. more than 23,000 houses had been destroyed or damaged by the rioters.  Thereafter a further 5000 urban houses and a 1000 rural houses were destroyed or damaged.
It was the sinister planning and systematic nature of violence that led the widow of the slain former parliamentarian, Smt Zakia Ahsan Jafri, assisted by Citizens for Justice and Peace (CJP),to file a complaint dated 8.6.2006 of criminal conspiracy and abetment to commit mass murder, violate established criminal law and police manual norms, destroy records and evidence against the chief executive of the State- Narendra Modi and 59 others.
After the complaint of Smt Jafri was filed on 8.6.2006,  when the Gujarat police refused to register a case of serious offences of cognizable nature, Smt Jafri and Citizens for Justie and Peace (CJP approached the Gujarat High Court with prayers to order registration of FIR and transfer of investigation to the CBI. When the High Court rejecting the Petition, Zakia Jafri and Citizens for Justice & Peace (CJP) approached the Supreme Court. Notice was issued on their Petition (SLP No. 1088/2008) on 3.3.2008. Thereafter, vide Order dated 27.4.2009 the SIT, which was already probing in other  incidents, was asked "to look into" the Complaint dated 8.6.2006. An Amicus Curiae was also appointed to assist the Court in this crucial case. The SIT submitted its final report to the Supreme Court in May, 2010 stating that while several of the allegations were found to be true, no criminal prosecution could be initiated. The Supreme Court had then directed the Amicus Curiae to assess evidence collected by SIT and give an independent view. In his final report, the Amicus Curiae recommended the prosecution of A-1 Narendra Modi under Sections 166 and 153a and 153b of the Indian Penal Code.
Inspite of enough material on record to frame charges against Modi and other accused, the SIT chose to submit a final report. The Supreme Court directed that the said report of SIT will be considered by the Trial Court. The Supreme Court also protected the right of the complainant to access the records collected during investigation and file her protest petition. (This is a right under Indian law but was specifically outlined by the Supreme Court in its final judgement dated 12.9.2011). Despite the voluminous evidence collected by the SIT during investigations and the clear-cut assessment of the Amicus Curaie, the SIT filed a closure report on 8.2.2012 and refused to provide the Investigation papers to the Complainant in contempt of the Supreme Court's order. The Ld. Magistrate granted the Complainant her right to the Investigation Papers on 10.4.2012 but it took Zakia Jafri & CJP another year to access all the Investigation reports of the SIT submitted to the Supreme Court. The SC directed this on 7.2.2013 after which the Protest Petition was filed on 15.4.2013.
Existing statements and documentary evidence were clear indicators of a high level criminal conspiracy and abetment to ensure that mass murder and other offences are committed against innocent citizens. Detailed arguments were made by the advocates for the Petitioner between June-August 2013 pointing out from the material on record that a strong case for framing charges against Modi and other conspirators is made out for the trial to proceed and that at this stage what the law requires is only establishing a prima facie case of strong suspicion.
Evidence that exists against Narendra Modi and 59 powerful accused include :-
·         Deliberately concealing knowledge of the provocative, anti-Muslim sloganeering by kar sevaks at the Godhra station when the Sabarmati Express reached five hours late on 27.2.2002, which information had been sent to him directly by DM/Collector Jayanti Ravi and willfully failing to take stern action and allowing violent incidents to escalate after the train left Godhra by about 1.15 p.m. especially at Vadodara station where a Muslim was attacked and killed and at Anand where the train stopped hereafter ensuring that the state allowed a hate-filled and threatening atmosphere against Muslims build right up to Ahmedabad where the train finally reached around 4 p.m. and where bloodthirsty slogans were being shouted. FIRs in 19 brutal incidents against Muslims are recorded on 27.2.2002 in Ahmedabad itself. Curfew was not imposed despite these incidents resulting in deaths breaking out.

(Evidence of this :-  Fax Message Sent by DM Jayanti Ravi and Message of the SIB are available @ .Annexure III, File XLI at Serial Nos 1 and Annexure IV, File IX, Serial Nos 241-in the SIT record)
·         Conspiring with the Vishwa Hindu Parishad to plot and allow reprisal killings all over Gujarat. The first phone call that Modi makes after DM Ravi's fax reaches him is, not to appeal for peace and calm, but phone secretary VHP, Gujarat, Dr Jaideep Patel and direct him to Godhra. The Conspiracy between Modi and the VHP is hatched and unfurled to cynically ensure state-wide reprisal killings. Phone call records show these phone calls between PA to Modi AP Patel and Jaideep Patel immediately after the chief minister receives news of the Godhra tragedy. Phone call records made available by Rahul Sharma (IPS, Gujarat) also show that Powerful Accused were in touch with the chief minister's office (CMO) and the landline numbers of the chief minister.

(Evidence of this :- Page 5-6,Annexure Volume IV to Protest Petition contains AP Patel's Phone Records and at Annexure IV, File V and VI in SIT Papers; Conspicuously, the SIT records statements of all officials of the chief minister's office (CMO) following CJP's submission of the phone records to the Supreme Court but does not record A.P. Patel's.).
·         Cynically, and illegally allowed Post Mortems Illegally out in the Open at the Railway Yard, Godhra where the burnt and mutilated corpses were laid in full view of an aggressive and irate crowd of RSS and VHP men and women, who were gathered there in violation of Curfew Orders @ Godhra. Deliberately allowing photographs of the burnt corpses to be taken and widely circulated by the RSS-VHP and media in general, despite it being prevented under law; Modi dispatching Accused Nos 2-Ashok Bhatt to oversee illegally conducted post-mortems; Modi was himself present when these post-mortems were conducted out in the open @ the railway yard in front of a mob of RSS and VHP men;

(Evidence of this :- Phone call records between Modi and Bhatt, former health minister (since deceased) are evidence of how the latter was dispatched to Godhra; the Godhra Sessions Court judgement 69/2009/ 86/2006. 204/2009 @ Page 105; This was handed over to the Court on 29.8.2012 comments on the illegality of the post mortems and also has a vivid photograph showing the bodies lying in the open in the Railway Yard at Godhra; Section 223, 4(vi), Volume III Gujarat Police Manual lays down specific legalities to be followed for post mortems that specifically direct no photographs of gory bodies being allowed.).
Directing that the unidentified bodies of Godhra train victims should be handed over to Jaideep Patel, a non-governmental person, that too belonging to a supremacist and communal VHP to be brought to Ahmedabad where aggressive funeral processions in full public view were allowed. Modi directed this at a meeting at the Collectorate in the evening of 27.2.2002 before he returned to Gandhinagar. Jaideep Patel was allowed to be present at an official meeting at the Collectorate. Jaideep Patel is a co-conspirator and also facing trial for mass crimes in the ongoing Naroda Gaam case. Modi is specifically guilty of allowing the escalation of violence from Godhra to other parts of Gujarat and taking decisions contrary to law.

Evidence of this :-  DM Jayanti Ravi's statement to the SIT dated 15.9.2009 @ Annexure I Volume I, Sr Nos 19 in the SIT record, clearly states Jaideep Patel was present at the meeting at the Collectorate though Modi and Jaideep Patel, both denied it
Specifically instructing his top policemen and administrators not to act evenhandedly in the days to follow and "allow Hindus to vent their anger." Two senior bureaucrats present at the meeting have stated that cabinet ministers were present at a meeting that went on well past midnight. Haren Pandya, a minister in Modi's cabinet in 2002 had given evidence of this to the Concerned Citizen's Tribunal headed by Justice Krishna Iyer and PB Sawant in 2002 itself. Later in 2009 a serving officer from the state intelligence, Sanjiv Bhatt also gave the same evidence before the SIT and the Supreme Court.

(Evidence of this :-  (i) Statement of Haren Pandya to the CCT dated 13.5.2002 @ Internal Page 82 Volume II of the Concerned  Citizens Tribunal Report in section on State Complicity @ Annexure III, File, I, D-2, D-3, D-4 of the SIT Record/Papers.; (ii) On 27.10.2005, in the Fourth Affidavit, R.B. Sreekumar before the Nanavati Commission dated 27.10.2005 stated that K. Chakravarthi, DGP Gujarat (A-25) had given information of the same words being uttered by A-1 Modi at the meeting on 27.2.2002 ; (iii) On 11.07.09 Statement of Shri R.B. Sreekumar, formerly Addl.DG (Int.), Gujarat  to the SIT (Annex I, Vol I Sr. No.5, SIT Papers/Record) where he confirmed this; (iv)On 12.08.2009,Statement of Shri Vitthalbhai Pandya, father of Late Haren Pandya, R/o, Paldi, Ahmedabad  (Annex I, Vol I Sr. No.12, SIT Papers/Record) where he stated that his son Haren Pandya had told him about attending the meeting at the residence of A-1 on 27.2.2002 in the late evening as also of the provocative instructions given by A-1; (v)
On 28.8. 2009, Justices P.B. Sawant and Justice Hosbet Suresh gave two separate statements. Both eminent Judges, retired Supreme Court and High Court respectively, also stated that three serving IPS officers, Sami Ullah Ansari, Himanshu Bhatt and Vinod Mall also deposed before them in person requesting anonymity but confirming that such illegal instructions were issued.(Annexure I Volume I Sr.Nos 16 & 17 of the SIT Record/Papers); (vi) On 30.10.2004,Mr. Rahul Sharma stated in his deposition on oath before the Nanavati Commission that when he spoke to his superior officer DGP, Gujarat, A-25 Chakravathi on 1.3.2002 at about 10:22 p.m. to request to make more force available for him at Bhavnagar, the DGP told Mr. K Chakravarti also told him that "the bureaucracy had been completely neutralised".
Amicus Curiae Raju Ramachandran has clearly stated in his Interim and Final reports before the Supreme Court (20.1.2011 & 25.7.2011) that Evidence regarding the unlawful and incendiary words spoken at the meeting of 27.2.2002 should be tested in a trial.)
Modi allowed violence to continue unabated until early May 2002 when KPS Gill was sent by PM Vajpayee to the state; the National Human Rights Commission (NHRC), April and July 2002 and Central Election Commission (CEC) were misled about the spread and intensity of violence. This was willful subversion of the justice system. The Subversion of the Home Department under A-1 in which co-accused, Gordhan Zadaphiya, MOS Home, A-5, Ashok Narayan, ACS Home, A-28,  and K Nityanandam, Secretary, Home, A-34 played an active part included deliberately misinforming the Ministry of Home Affairs of the Government of India about the extent and spread of violence:- Correspondence exists to reveal how senior VHP and RSS men were being kept out of the FIRs and charge sheets related to serious massacres being filed by the Ahmedabad Crime Branch; how violence was recurrent and was being allowed with even ministers like Bharat Barot directly involved.
(Evidence of this :- the NHRC and CEC Reports as also the correspondence between the NHRC and chief secretary Subha Rao, also an accused (Accused Nos- 27) are clear testimony of this subversion; ACS Home Ashok Narayan's letters to DGP available in SIT record show the subversion in keeping names out of FIRs etc)
Hate Speech was indulged in by Modi himself, on 27.2.2002 and right until the infamous Becharaji speech made top set off his election campaign on 9.9.2002 and also cynically permitted by the Home Department under him to spread poison and incite violence against Muslims and Christians. The State Intelligence under ADGP-Int RB Sreekumar had specifically recommended prosecution of the VHP for a series of incendiary pamphlets but this was ignored. SP Bhavnagar, Rahul Sharma too had recommended the prosecution of Sandesh, the Gujarati mainstream newspaper for publishing false and provocative photographs and reports. Both the NHRC and Editor's Guild had also strongly recommended prosecution of those guilty of hate speech. Modi had, instead sent congratulatory letters to those newspapers who had spread lies and venom. RB Sreekumar, Rahul Sharma and Sanjiv Bhatt are among the officers persecuted by the Gujarat government under Modi (home minister).
(Evidence of this :- Modi's speech and its transcript is clearly communal; Gujarat's Intelligence department responding to the National Commission for the Minorities (9.9.2002) clearly assessed the deleterious impact of the speech ; Official letters of then ADGP Sreekumar dated 16.4.2002, then SP Bhavnagar, Rahul Sharma and then CP Vadodara all strongly recommending prosecution of VHP's hate pamphlets and the Sandesh newspaper –all part of the SIT record–were ignored by the political head of the GOG Home department, Modi. Ashok Narayan's statement to SIT dated 13.12.2009 available in the SIT Record @ Annexure I Volume I states that Modi was extremely dismissive of these repeated requests for prosecution)
Modi is guilty of ordering the Destruction of Crucial documents including Wireless Intercepted Messages, Vehicle logs, Police Control Room records and others on 30.3.2008, four days after the Supreme Court appoints the Special Investigation Team (SIT) on 26.3.2008. He has headed the Home ministry portfolio since that date.
(Evidence of this :-(Pages 70-77 of the Compilation that consists of documents from the SIT Record; Annexure IV, File I Sr Nos 23)
Trustees:
Taizoon Khorakiwala                Nandan Maluste                Teesta Setalvad
I.M. Kadri                                   Cyrus Guzder                     Javed Akhtar
Alyque Padamsee                    Anil Dharker                       Ghulam Pesh Imam
Rahul Bose                                Javed Anand                      Cedric Prakash
Related articles