POLICE REFORMS WATCH                                                                                     03/10/13
URGENT PRESS NOTE: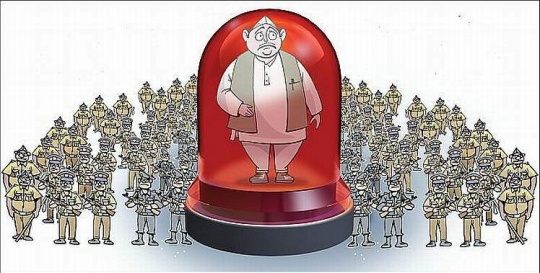 POLICE REFORMS WATCH COMPLIMENTS THE CHIEF MINISTER ON  REDUCTION OF NETA COVER . EXPECTED 600 COPS WILL BE DEPLOYED FOR CITIZENS SAFETY.
POLICE REFORMS WATCH DEMANDS  IMPLEMENTATION OF POLICE REFORMS BY MAHARASHTRA GOVERNMENT, NOW
It was heartening to observe that alteast the Chief Minister finally decided to reduce the neta cover so that those cops would be  available for ordinary citizens.
We compliment the Chief Minister for this right decision although delayed but never late.. 
We want to remind the Chief Minister the shortfall of 7403 police personnel should be filled up as soon as possible.  To add to this is in 2012,  28420 police personnel were deputed for VIP security. Chief Minister Sir, this deployment of VIP security should also be looked into.
We urge the Chief Minister to finalise the transfers of Sr. IPS Police Officials  and not to leave it to politicking and unnecessary speculations.
As citizen's we are shocked at the complete callousness of the administration in looking after our safety. At any given time only 20% of the police force is available to ordinary citizens.  This means that the effective cover for one person is .021policemen per person( or 21 policemen per lac population). The UN recommended minimum is 220 per lac population. The VIPs on the  other hand has 1 policeman or more  for every one VIPS.
Providing policemen for unnecessary security to a few very privileged people is costing us our lives. This has to stop.   
The city of 1.3 crores deserves to have well trained law abiding boots on the ground available on call for everyone going about their daily business not to create spurious special cases. Rather than making urgent changes in policing so that it can be an effective service for the public the primary concern of every government in power has been to make sure that the police keep doing their bidding.
For 7 years Maharashtra government has resisted the Supreme Court's police reforms package as well as the recommendations made by former police commissioner Mr Julio  Rebeiro and others.  We as people of Mumbai demand that police reforms NOW! When you fool around with Police Reforms, you are fooling around with Women's lives.We want better policing. No Police Reforms No Safety for Women. No safety for you and me.
 The lack of Political will is not only obvious, but also suspicious. It therefore becomes more imperative and we demand  that POLICE REFORMS need to be implemented by Maharashtra State without any further delay.
Warm regards, 
Dolphy Elma D'souza
Convenor
POLICE REFORMS WATCH,
43, Kalina, Santacruz East, Mumbai 400 029.
Cell: 09820226227
Email: [email protected]
Related articles