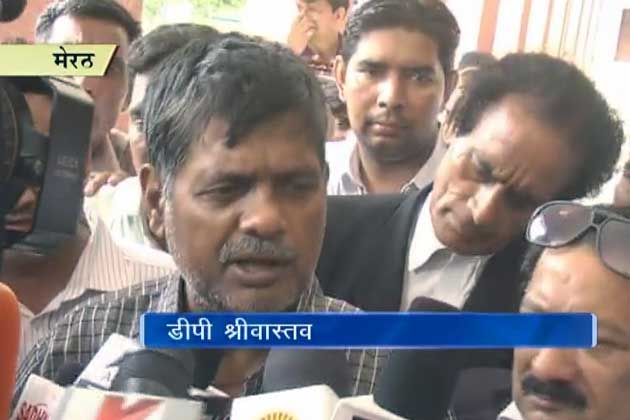 Reference:  FIR No. 111/014 U/S 354, 354(A), 503 and 509 IPC registered at Mahila thana, Meerut.Subject – Changing investigation officer in the above mentioned FIR as she is working in connivance with the accused D.P.Srivastava, IPS, DIG.
Sir
I, Aruna Rai (SI/CP), am posted at PTS Meerut. On dated 23.04.2014 DIG PTS D.P.Srivastava called me in his office and committed offences against me under section 354,354(A),503,509 IPC. I have earlier submitted my written complaint under section 9 of The sexual harassment of women at workplace Act 2013 to DG Training as well DGP through my mail dated 03 May 2014. My complaint was referred to concerned complain committee. Before complain committee
I made a written request to forward my complaint to the police for filing FIR as it is the duty of employer under section 19(g) of ibid Act to provide assistance to the women if she chooses to file a complaint in relation to the offence under the Indian penal code or any other law for the time being in force. However the complaint committee, when I appeared before it on 28.05.2014 to record my statement, advised me to file a FIR at my own level as it is not there mandate to facilitate me in filing FIR. Thereafter immediately I file a FIR at police station Mahila Thana Meerut on dated 31.05.2014.
I was expecting justice by the Police. However to my utter surprise my belief tuned out to be wrong. Through news item published in Hindustan daily on dated 14.06.2014 I came to know that the accused was released on the bail on the ground that the IO submitted report to the magistrate that offences have been committed only under Sec. 354(A) and 509 of IPC which are bailable offence.  Investigation in my FIR was handed over to Srimati Sawarnjeet Kaur C.O office, Meerut. In her report submitted to the Magistrate she has dropped the charge under section 354 IPC in complete disregard to the facts mentioned by me in FIR.  In fact she, in sheer misuse of the power vested in her as IO of the matter, has turned  non bailable offence u/s 354 into a bailable offence u/s 354 (A) and thus facilitated the accused to secure his bail. I have strong apprehension that the I.O. is in influence of accused who is a senior IPS officer and she has dropped section 354 in connivance with the accused with intention to facilitate him. The reasons behind my this apprehension are enumerated below –
1.      I have mentioned in my FIR as well as in my statement before I.O that the accused left his chair in his office, approached me, caught my hand forcefully, kissed it and caressed my cheek.
2.      This act on the part of the accused falls well within the purview of offence punishable under section 354 IPC.
3.      For ready reference section 354 IPC is reproduced – " 354- assault or criminal force to woman with intent to outrage her modesty – whoever assaults or uses criminal force to any woman, intending to outrage or knowing it to be likely that he will there by outrage her modesty shall be punished with imprisonment of either description for a term which shall not be less than one year but which may extent to five year and shall also be liable to fine."
4.      The main ingredient of the offence punishable under section 354 IPC is use of criminal force with intention to outrage modesty of woman. When the accused left his seat, approached me and caught my hand against my will and kissed  it and further caressed my cheek, this was use of criminal force on his part.
5.      Criminal force is defined under section 350 IPC. For ready reference same is reproduced – "350. Criminal force- whoever intentionally force to any person, without that persons consent, in order to the committing of any offence, or intending by the use of such force to cause,  or knowing it to be likely that by the use of such force he will cause injury, fear or annoyance to the person to whom the force is used, is said to use criminal force to that another."
6.      The above act of the accused mentioned at para 4 caused fear and annoyance to me and thus this was criminal force against me by the accused. Kissing hand of some lady and caressing her cheek are sufficient to outrage of the modesty of any woman and thus the accused has committed an offence under section 354 IPC.
However the investigating officer has ignored all these facts with intention to dilute the gravity of offences committed by the accused so that the non- bailable offence punished with minimum on year imprisonment with fine can be dropped against the accused and he may come out of criminal trial without any severe punishment. The I.O. has not considered the evidences submitted by me at all. I have also submitted a phone recording and a video recording to the I.O. but I.O. has chosen to ignore the facts mentioned in FIR as well in my statement before her for obvious reasons. I have no more faith on the I.O. in this matter.
For ready reference I m also attaching electronic copy of following documents-
1.      Statement before complaint committee.
2.      Information given by me in FIR.
3.      Phone recording.
In addition it is also submitted that when a FIR against a senior officer of police itself is filed a junior officer cannot carry out investigation in such FIR. This is a settled principle of law and had statutory force. To detail a CO ranking officer to investigate against DIG level officer is another attempt of district police authorities to create such a situation in future in which court will have no option but to quash charge sheet leading to the acquittal of the accused.
It is therefore submitted that the I.O. in this matter may be changed immediately and a senior officer lawfully competent may be detailed as I.O. in this matter. The conduct of present I.O. may also be looked into.
Applicant/ Victim
Aruna Rai
S.I./CP
PTS, Meerutkk
Dated 15.06.2014
With request to look into the matter and issue necessary direction in the matter as if the accused enjoy such a favorable police investigation etc. leading to his acquittal it will demoralize all females in UPP in particular and of Uttar Pradesh in general and none of them will gather courage to raise voices against such heinous crimes by males at higher position. Ignorance on behalf of authorities in the matter will be nothing but providing license to the mentally sick males like the accused to commit offences and roam free.
Copy to :
1.      The Chief Minister, U.P.
2.      The Home Secretary, UP Government
3.      The Principal Secretary, UP Government
4.      The DGP, UP Police
5.      The DG Training, UP Police
6.      The IG Meerut Range
7.      The DIG Meerut Zone
8.      The State Commission of Women Uttar Pradesh
9.      The National Commission of Women
I have worked honestly and very hard in police deptt….i deserve respect and I'm not asking for too much. मेरे साथ एक सीनियर आईपीएस डीपी श्रीवास्तव द्वारा किये गए misbehave मामले में पुलिस ऐसे रियेक्ट कर रही है जैसे हाँ दुर्व्यवहार तो हुआ तो है लेकिन इसमें ऐसी कोई ख़ास बात नहीं ,….ख़ास बात तब होती जब रेप होता ,या आप बदनामी से डर के जान दे देती ,शर्म से मुह छुपाती चलती,किसी पेड़ से लटकी पाई जाती ,कही किसी कोने में पड़ी रहती,ऐसे में अगर आईपीएस को बेल मिल भी गई तो क्या ? आप दस साल इस बात के लिए कोर्ट में रोज़ सर मारिये कि आपके साथ सच में दुर्व्यवहार हुआ है,साबित तो कीजिये,मै तो उन सबको इसमें सह अभियुक्त मान रही हूँ जिन्होंने बेल दिलाने का लूडो खेला | सारे ठोस सबूतों के बाद भी पुलिस मानती है कि हुआ तो है कुछ…….. पर कुछ ख़ास नहीं ,ये वही कुछ है जिस पर यू,पी.पुलिस की कम्प्लेन कमेटी की रिपोर्ट के आधार पर आईपीएस निलंबित किया जा चूका है,जैसा कि "द हिन्दू" का कहना है | पुलिस मुझे बताती रही हम अभियुक्त को लखनऊ गिरफ्तार करने जा रहे हैं वो ये कहने से मुझ अदना सी लड़की से डर गए कि हम गिरफ्तार नही उसे भगाने जा रहे हैं ताकि वो अपनी जमानत मैनेज कर ले| सभी अपनी दाढ़ियो के तिनको को बचाने में लग गए| आज ससपेंड करेंगे ,कल पुरानी तारीख से बहाल करेंगे ,अच्छे से अच्छी पोस्टिंग देंगे …..और मान लेंगे कि हिंदुस्तान में कैंडल लाइट मार्च का तो फैशन है ,अगर एक और लड़की के लिए लोग पिल भी पड़े तो कैंडल बुझते ही वो अपने अपने घरो में वापस होंगे| i am not embarrassed
 email address is
[email protected]
,