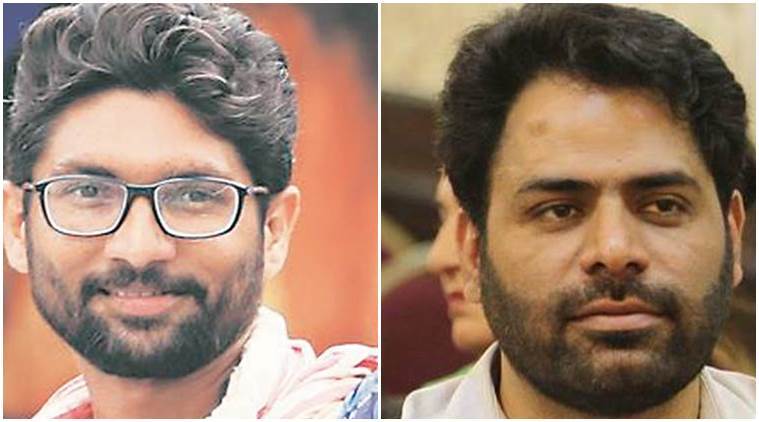 Parvez, chairman of Asian Federation Against Involuntary Disappearances, was barred from participating in a UN Human Rights Council session and Mewani was arrested ahead of Narendra Modi's visit on his birthday to Gujarat.The recent preventive detention (PD) of Khurram Parvez, a Kashmiri human rights activist, and Jignesh Mewani, a Dalit leader from Gujarat, has turned the spotlight on the provision of PD and the purposes it is being made to serve. National Crime Records Bureau data released in September 2015 indicate that over 3,200 people were being held in administrative detention in Indian jails in December 2014.
Parvez, chairman of Asian Federation Against Involuntary Disappearances, was barred from travelling to Switzerland to participate in a UN Human Rights Council session and was subsequently charged under the Public Safety Act (PSA) and arrested. Since a crime was not committed, the ostensible reason for arrest could be because he has been highlighting human rights violations in Kashmir.
Mewani was arrested ahead of Narendra Modi's visit on his birthday to Gujarat. Mewani had launched the Dalit Swabhiman Sangharsh rally, demanding allocation of land to Dalits in Gujarat. His detention and subsequent house arrest was perhaps because of a Facebook post where he said he had had a dream where tables were being flung during the prime minister's sabha.
Grounds for arrests of journalists in Chhattisgarh have been equally imaginative. Prabhat Singh, a Bastar-based journalist, was arrested for an offensive whatsapp message. Reporters Santosh Yadav and Somaru Nag, accused of links with the Naxals, were booked under the Chhattisgarh Jan Suraksha Adhiniyam. Since the commission of a crime or an offence is not a necessary condition of arrests, charges can be framed as imagined. We have come to a pass where Facebook posts, tweets, newspaper articles have become triggers for preventive detention.
Prima facie, the context of the terror attack in Uri may not seem like a great time to talk about preventive detention. After all, threats to the sovereign integrity of the Indian nation formed the raison d'etre of Article 22 (3), (4) — the preventive detention provision that mandates the enactment of extraordinary laws for reasons connected with defence, foreign affairs, or the security of India. But precisely because the Indian state's propensity to misuse extraordinary laws has been directly proportional to threat and nationalist psychosis, we need to place it on the interrogation table.
It was Sardar Patel, a mascot for the advocates of a "hard state", who introduced and got the preventive detention bill passed in 1950. But the bill was not easy on his conscience. He conceded that he spent two sleepless nights before introducing the bill in Parliament and moved it only because of the political and social turmoil that followed Partition and Independence.
Over the last 70 years, provisions of preventive detention have been used with an alacrity and aplomb that has put all associations of political guilt or moral quandaries at rest. From a "necessary evil", preventive detention has come to be normalised as a "necessary condition" of the strong, protective state. Measures such as UAPA, PSA, POTA etc have transitioned from being exceptional measures for exceptional situations, to extraordinary measures for ordinary situations.
The order of the detention under these laws cannot be held to be inoperative or invalid on the grounds of vagueness, lack of evidence or lack of territorial jurisdiction. Conflating common "law and order" issues with "public order" has become a standard recourse to justify the deployment of the heavy artillery of public safety and terror prevention laws, against citizens who at worst can be accused of dissenting or protesting. These laws have come to function as, what the Supreme Court calls, a parallel system of "lawless laws". They are lawless because they perversely invert the very basis of a justice system and presume guilt until proven innocent. It is this conflation that makes the conduct of the preventive detention law a travesty of justice itself.
What is globally considered to be an emergency and a provisional measure, seems more than ever normalised, stabilised and standardised. These extraordinary laws are fast becoming a permanent state of exception where the state suspends the rule of law in exercise of its powers. It is a kind of strategy that has the potential to transform democracies into totalitarian states.http://indianexpress.com/article/opinion/columns/jignesh-mewani-dalit-leader-khurram-parvez-human-rights-activist-3053386/