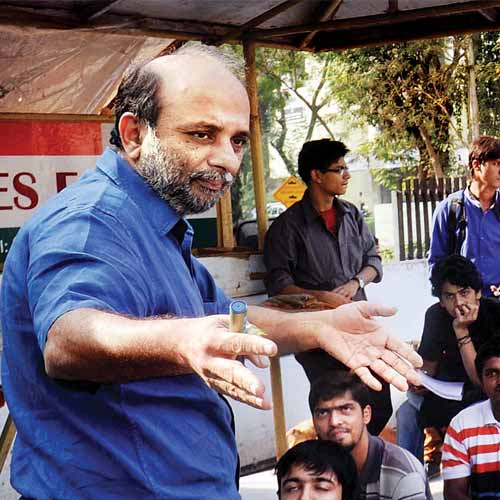 His suspension not only sparked a heated debate over the falling health of the University of Mumbai and rising unrest among the students, but also exposed the functioning of its authorities forcing them to revert their decision. Professor of econometrics Neeraj Hatekar, 47, is the man of the moment. He spoke at length with Kanchan Srivastava.
Your reaction on revocation of suspension?
My suspension was illegal. The charges of moral turpitude and breaching the code of conduct framed against me held no truth as per the university's statute. Still, I was suspended by the vice chancellor with the backing of a politician (refusing to name). Now, if the probe panel finds some substance in the issues raised by me, what would the university do?
You approached the media instead of using the in-house fora?
If someone points out that his emperor is not wearing clothes, does that mean the person has brought disrepute to the kingdom? Did paper leaks, exam delays, blunders in results not get bad names for the varsity? Public universities are run from tax payer's money; I am also a tax payer and it's my duty to raise a voice if I find any wrongdoing. In the past two years, I raised many issues with the vice chancellor, including appointments of ineligible people in various bodies. But I have not received any reply. I filed a PIL in the high court which directed the VC to provide the information to the Chancellor. It didn't happen; so, I filed an affidavit. Approaching the media was my last option. I did so as a convenor of the joint action committee on higher education reforms, not as a teacher.
What's next?
I would continue teaching; but the students' agitation which was launched to support me, would be at forefront now.
Some claim you had mobilised students and teachers to garner support and instigated the agitation.
I didn't instigate anything. Today, writer Rajan Gavas told me that he has gathered signatures of girls from 125 villages of Maharashtra to support me. Jagdish Bhagwati, Ramchandra Guha and teachers from other universities appealed for me on their own.
Do you think autonomy is hampering public universities?
Universities are not given full autonomy as funds come from the government and appointment of a VC is totally political. Actually, too many affiliated colleges and an opaque system of selection of members of various bodies are responsible for the decline of higher education. These bodies are supposed to get people with diverse knowledge so that best decisions can be taken for the welfare of young people. In reality, a small group of people with vested interests rules these bodies.
Some say you nurture political ambitions?
I will never join politics. Even if I take voluntary retirement, I will go to my hometown Panchgani to stay with my mother. Some politicians did come to me. I told them their help was not needed, but if they wished to take up students' issues at their level, they can do so.
Read mor ehere — http://www.dnaindia.com/mumbai/interview-i-have-no-political-ambition-neeraj-hatekar-1953959