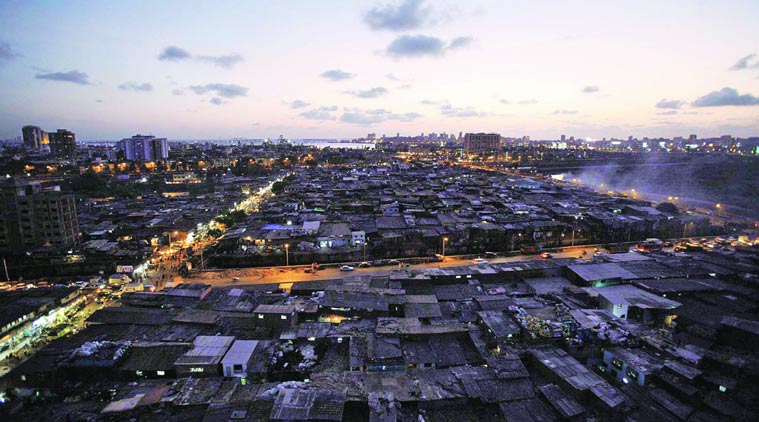 Fadnavis govt plans to amend slum rehabilitation law.
Taking an aggressive stance with regard to slum redevelopment schemes, the Maharashtra government has proposed to amend the existing laws to allow evacuation of dissenting shanty dwellers once more than 50 per cent of the residents have shifted out.
The state housing policy, to be unveiled by Chief Minister Devendra Fadnavis in May this year, proposes to amend the Maharashtra Slum Areas Act 1971 so as to introduce stricter provisions and fix timeframes to meet the government's stated agenda of 'Slum-free Maharashtra by 2022'. The policy also seeks to extend developer-led Slum Rehabilitation Authority (SRA) schemes, currently applicable to only state government and private land in Mumbai, to the entire state, including on Central government land.
The revised draft of the policy dated April 7 says the slum Act will be modified "to provide that non-participants of the slum scheme shall be shifted if more than 50 per cent of slum dwellers have been shifted out". The move effectively eliminates the right of non-consenting slum-dwellers from procuring a legal stay on an SRA scheme.
Senior state government officials said this was meant to expedite the clearing of slums. "Until now, all slum residents were served individual notices for eviction, which allowed them to get a stay on the project. Now, if half the occupants have moved out, the remaining, eligible or not, will be removed after serving them a public notice. We will draw up a list of all evacuees so that they can continue to contest their right legally but they cannot oppose or stall the redevelopment scheme itself," said a senior official.
The SRA scheme allows private developers to house 'eligible' slum-dwellers – those living in slum structures built before January 2000 – in highrises constructed on a portion of the plot occupied by them. In return, the builders are granted a high floor space index and allowed to commercially exploit the remaining public land free of cost. The two-decade-old scheme has managed to rehouse a little more than 1 lakh families as against its intended target of housing 8 lakh families within five years.
Housing activist Simpreet Singh, from Ghar Banao Ghar Bachao Andolan, pointed out that the provision of housing could not be an excuse to make the process non-democratic. "No slum-dweller association has made a demand for free housing under the SRA scheme, which, in its current form, is meant to entirely benefit developers. In fact, we have always maintained that slum residents are willing to bear part of the construction cost under schemes such as Rajeev Awas Yojana. That would ensure the land freed of slums, which currently goes to developers for their profit, can come to the state for creation of affordable housing," said Singh.
On the upside, the draft policy has proposed a 'Whole city – All slums' approach for SRA schemes in Mumbai so that shanties on non-prime plots and untenable plots such as those along water or drainage pipelines, forest area or roads are also taken up for redevelopment. Its implementation will be monitored on a quarterly basis by a high-powered committee headed by principal secretary for housing. A builder taking up redevelopment of a prime slum will be required to also take up a non-prime slum at the same time. In order to weed out malpractices by SRA developers, a survey of all slums and the eligibility of individual slum-dwellers will be determined by the SRA, with the help of private consultants, within six months of the housing policy coming into effect.
Moreover, for Central government land, the ministry concerned can either take up an SRA project on its own or pay the SRA in case it wants to relocate the slums, especially those on non-tenable land. The policy says the SRA can use the money recovered from Central government agencies for acquisition of salt pan land. The eco-sensitive land will then be used for housing the slum residents shifted out of untenable as well as Central government land. The slum Act will also be amended to allow the SRA to raise funds through bonds or from financial institutions. Similarly, slums on private land will have to be compulsorily redeveloped within three years of the policy coming into effect, failing which it will be acquired and compensation given to owners as per the land acquisition Act.
http://indianexpress.com/article/cities/mumbai/proposal-to-throw-out-dissenting-slum-dwellers-if-they-dont-add-up-to-50-pc/99/