Commissioner of police, Guwahati, Deepak Kumar, told The Indian Express, "Certain statements were made in that meeting on January 8 which we thought needed to be investigated."
by Abhishek Saha |Guwahati |Updated: January 11, 2019 7:15:50 am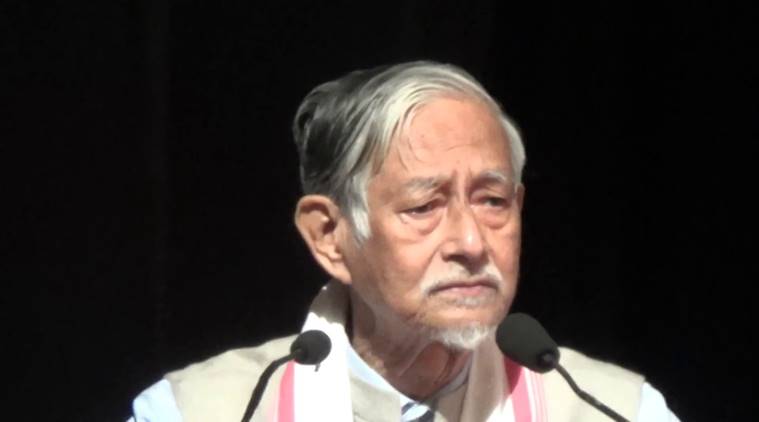 Prominent Assam academic Hiren Gohain (80), activist Akhil Gogoi (42) and journalist Manjit Mahanta (50) have been booked on charges of sedition for their comments during a protest against the Citizenship (Amendment) Bill, 2016, in Guwahati Monday.
Guwahati Police Commissioner Deepak Kumar told The Indian Express, "Yes, we have registered a case. Certain statements were made in that meeting on January 7 which we thought needed to be investigated. We will investigate it."
The complaint was registered by officer-in-charge of Latasil police station Upen Kalita. The complaint, accessed by The Indian Express, states that Gogoi criticised the Bill and talked about "initiating a struggle for a sovereign Assam, independent of India". It added, "Although a democratic congregation, the meeting witnessed anti-India statements by all speakers, so I request action be initiated against them."
The FIR was filed on Wednesday at Latasil police station, charging the trio under Sections 120(B), 121, 123 and 124(A) of the IPC.
The January 7 meeting was organised by the "Save Assam" forum at the heart of Guwahati and attended by eminent citizens, including former Assam DGP Harekrishna Deka, former CMs Prafulla Mahanta and Tarun Gogoi, and several activists.
Kalita told The Indian Express, "We have primary evidence in the form of video footage of the public meeting and the case has been registered based on that."
The video footage shows Gohain saying, "If the question of Independence arises, if no one listens to us, the government, the state and political parties, then it's a different thing, then we will definitely be compelled to raise the demand for independent Assam. But let's not get carried away by temporary emotions, as citizens of India, we will fight as long as we can. If that fight is not successful, then the demand for Independence will come up."
Reacting to the FIR, Gohain told The Indian Express, "I have allegedly made statements amounting to sedition. In truth, some young elements at the rally at their indignation at the attitude of the government mentioned relevance of 'freedom' of Assam. I intervened that such a demand can have relevance if and when all democratic resources have been exhausted and if the state and all democratic parties and organisations reject the legitimate demands of people of Assam."
Akhil Gogoi told The Indian Express, "This government is a fascist government. It's an Emergency-like situation in this country right now. They are trying to stop this movement and hence this case. I have not said anything seditious and I have all the courage to face this case."
Gogoi said he never mentioned "secession" or "armed struggle". He said, "I had mentioned that people will 'think' of a recourse if they do not get required powers within India's existing federal structure. And I stand by that statement.