Tuesday, 23 September 2014 – 12:17pm IST | Place: WASHINGTON | Agency: PTI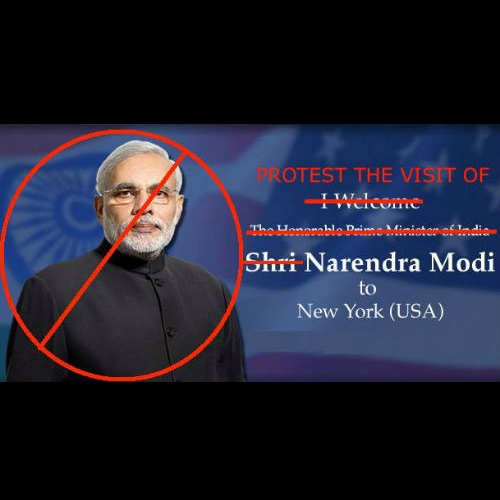 Several anti-Modi groups in the US will hold a series of protest rallies against Prime Minister Narendra Modi when he travels to New York and Washington this month.
The recently formed Alliance for Justice and Accountability (AJA) yesterday announced that it will show black flags to Modi when he heads to the Madison Square Garden in mid-town Manhattan in New York on September 28.
The Sikh For Justice announced to convene a "Citizens' Court" to "indict" Modi at a park in front of the White House on September 30, when the Prime Minister would be meeting US President Barack Obama at his Oval Office. "The 'indictment' proceedings will be conducted in a replica court room set up in the President's Park right in the front of the White House. The 'charge sheet' issued by SFJ lists actions of Modi" during the 2002 Gujarat riots, a statement from the Sikh group said.
"Black Flags for visiting PM Modi," said the AJA in a flyer sent to its members yesterday. AJA mostly comprises of Indian-American organizations and individuals who were part of Coalition Against Genocide (CAG), which had successfully campaigned against US visa to Modi, when he was the Gujarat Chief Minister.
"Alliance for Justice and Accountability is a coalition of individuals and organizations that are concerned about the rapid erosion of human rights and religious freedom in India," said Dr Shaikh Ubaid, a founding member of the Coalition Against Genocide, who is now instrumental in forming this new alliance. "The Alliance has been formed in the wake of increasing violence and incendiary rhetoric against minorities led by organisations and parties aligned with the Sangh Parivar. Its initial objective is to use the high profile visit of Narendra Modi to draw attention to the threats to India's pluralism," Ubaid told PTI. "Come join us as we stand in protest of Narendra Modi's visit and talk in New York City at Madison Square Garden on September 28th," the alliance said in a Facebook Post.
http://www.dnaindia.com/india/report-protest-rallies-await-narendra-modi-during-us-visit-2020873