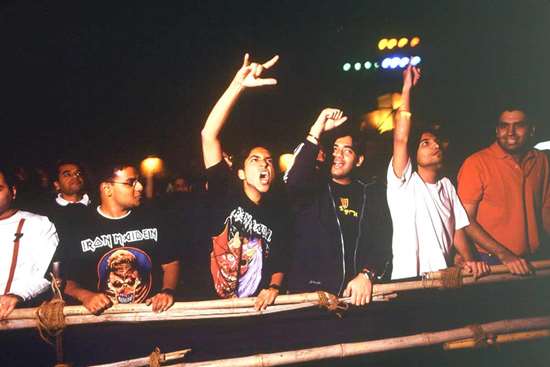 ATUL LOKE
MAHARASHTRA: PUNE VIOLENCE
A City Interrupted
A hub for culture, education, IT. But Pune, communal violence hub?
It has been three weeks since a young Pune techie, 28-year-old Mohsin Sheikh, was killed in a mob attack on the outskirts of Pune, but Punekars are yet to recover from the shock. Until May 31, when the Hindu Rashtra Sena unleashed a weekend of bloody mayhem in the Unnati Nagar and Satav Plot area of the Hadaspar suburb, they would have vouched for their city's cosmopolitan and secular fabric. Suddenly they are not so sure anymore. Some are even wondering if it existed at all.
"Pune has a very complex social fabric," says Dr Abhijit Vaidya, a practising cardiologist, well-known health activist, socialist and Pune resident. "Here we have had Mahatma Phule and Dr B.R. Ambedkar, and at the same time Brahminical organisations like the RSS or Sanatan Prabhat also flourished; it had many left-leaning socialist leaders as well. Pune stayed relatively safe bec­ause of the dominance of secular and progressive forces—small in number but with towering personalities like S.M. Joshi. "What needs to be understood is the timing and the place. The polarisation of Hindu votes helped the BJP in UP after the Muzaffarnagar riots. Now, the assembly elections are around. One cannot say there is no connection."
Unnati Nagar and Satav Plot essentially house middle-class and lower-middleclass families. Despite a few Muslim-dominated localities, in most areas they live with an overwhelming majority of Hindu neighbours. Many like Mohsin would live on a cot-share basis in the only Muslim household in their lane and get tiffin from outside. The congested byla­nes, in fact, have both a small temple as well as a mosque, betraying no apparent undercurrent of any communal angst.   "No one ever had any problem with azaan or puja. We celebrated all festivals, Diwali or Id," says Shakil Hamid Shaikh, one of the 'original' residents of Unnati Nagar. "We have often voted Shiv Sena and Muslims have served on several party positions."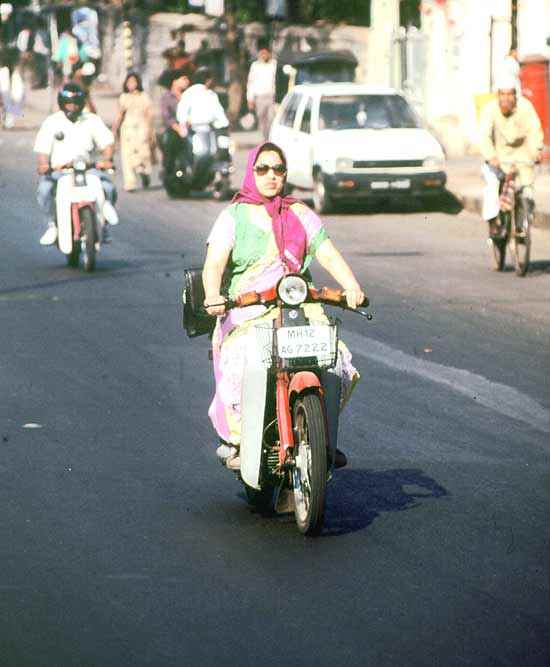 Losing The Drive Will the Punekar be able to ride free of fear on these roads? (Photograph by Atul Loke)
Which is why the Sena found itself caught in a tricky situation. The Facebook content that sparked off trouble riots was on Shivaji and Balasaheb Thackeray. Yet the Sena chose to distance itself from the protests and violence unleashed by the HRS because, ironically, the party has many Muslim supporters in the same pockets where the HRS went on a rampage and if they want their support, they cannot be seen as anti-Muslim. The balance in its alliance with the BJP in the state has shifted in the Sena's favour, with the death of BJP leader Gopinath Munde.
"There is no question about our revere­nce for Shivaji but we're certain the Pune Muslims had nothing to do with the post," says Shiv Sena MLA in the area, Mahadev Babar. Some Muslims spoke of his efforts in ensuring no violence took place in his areas. "He made teams of Hindu and Muslim youth who would protect members of either community when mobs attacked," says Shakil Sheikh. "We have nothing to do with HRS," says Babar on his part. "It is our demand that the culprits be caught and punished."
| | | |
| --- | --- | --- |
| | | |
| | Just a few days before he was killed, Mohsin had celebrated his 28th birthday at work, cake, song and all. | |
| | | |
The police have already made controversial HRS head Dhananjay Desai an accused in the Mohsin murder case. Another 21 people have been arrested. There are reports of a special public prosecutor being appointed in the case and the trial may be expedited.
Yet, several issues remain. Anwar Shaikh, a former police official and now a member of the Socialist Party, voices them: "So why is this happening in the outskirts where vulnerable and isolated Muslim groups stay? These incidents don't happen in areas like Mominpura as there'll be a strong reaction from the other side."
And that is what worries Akhalaque Shaikh, Mohsin's cousin, a Pune resident by birth. "We have never felt threatened in Pune. In fact, fear has not been a factor. But there are different groups with different agenda. Just like the militant Hindu groups, there will be those who want to retaliate among Muslims too. I did not inform many people of Mohsin's death until the body had been sent to Solapur because it would have increased communal tension," he says.
"It takes only a few people to start riots but what needs to be investigated is the funding of such organisations and the protection they receive in the event of such vandalising incidents," says Anwar Shaikh.
The Hindu Rashtra Sena, which fancies itself as a reincarnation of Nathuram Godse's original, is a relatively new outfit, active only for the past five years. In this time, its head Dhan­anjay has already totted up over 20 cases pertaining to making inflammatory speeches and instigating violence.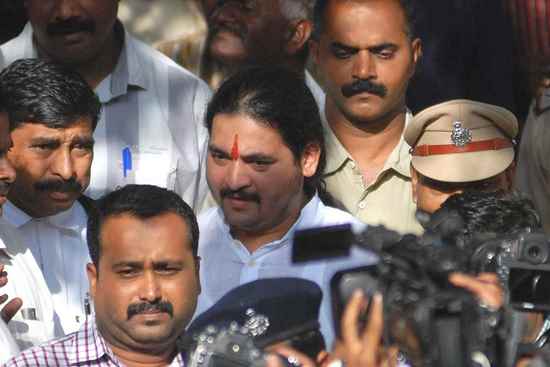 Fear Factor HRS head being led to court. (Photograph by Nitin Lawate)
"The spawning of organisations like the Hindu Rashtra Sena, with reportedly over 4,000 members, is not just worrying for inter-communal harmony but it is also a test for the law and order machinery," says human rights activist Teesta Setalvad. "We know Dhananjay Desai was a suspect in the Narayan Dabholkar murder yet no direct evidence could be linked to him. The speeches he makes, circulating freely on social media like WhatsApp, are hate-filled and inflammatory. Why does action follow only after a brutal killing? Also what are the HRS connections with the Shiv Sena or the RSS?"
The answer perhaps lies in what Professor Joseph Pinto has to say. "The RSS/BJP/Modi want to see just sufficient polarisation so that they are able to gain 'first-past-the-post' majorities in the Lok Sabha, assembly and corporation elections. Learning from 'the Gujarat model' of the 2002 riots, these right-wing forces want to polarise the electorate. If they achieve that aim, the violence of the Right will have served its purpose. All the political parties are interested in pandering to the Hindu Right because it builds their res­pective bases among the poor youth."
Meanwhile, a compensation of Rs 5 lakh has been declared for Mohsin's family, and more might be coming from the min­ority affairs ministry and other government departments. The money is important for Mohsin's family because they depended entirely on Mohsin. "He used to send his entire salary home and lived very frugally," says Sujeet Mittal, Mohsin's friend and boss at Ujwal Enterprises, the company in whose billing department the young techie was employed. "He was a most trustworthy person, a saint, the only one who had a key to the office apart from me. He had no friends in the  city, let alone enemies." Mittal had rushed to the hospital when he heard the news and waited till Mohsin's body was sent to Solapur.
In Solapur, Mohsin's family is no longer willing to send their younger son to Pune, where he has got a job, thanks to Mohsin's goodwill. "His mother is still in shock. We want justice for our son and have faith in the police and judi­cial system," says his father Sadiq Sheikh over the phone from Solapur.
Mohsin's relatives in Pune too feel the same. Says Akhalaque, "We want better laws and implementation so that no one tries to indulge in violence. But more importantly, we don't want anyone's safety and security to be compromised."
"This has never happened here," says Nikhil Bhat, a filmmaker who belongs to Pune and is now based in Mumbai. "Not even after the 1993 blasts and riots. It is a students' city, with youth coming here from all over the world. This is some kind of vested outside int­erest at play here. No common man—Hindu, Muslim, anyone—wants to disrupt his own house. My family is still there. I don't feel scared."
---
By Prachi Pinglay-Plumber in Pune
Read more here – http://www.outlookindia.com/article/A-City-Interrupted/291102#.