Puja Sakat had seen her house being burnt in the violence during the commemorative march in January when thousands of Dalits had gathered at Bhima Koregaon near Pune.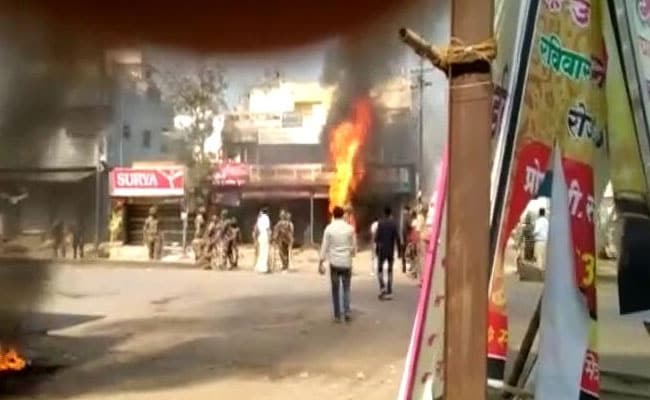 PUNE: 
 A 19-year-old Dalit woman, a witness in the clashes at Bhima Koregaon in Maharashtra, was found dead in a well on Sunday. The police have arrested two men.
Puja Sakat had seen her house being burnt in the violence during the commemorative march in January when thousands of Dalits had gathered at Bhima Koregaon near Pune.
Her family alleges that she was under intense pressure to withdraw her statement against the men who burnt their house down. Her relatives had complained about threats and harassment from local people.
Based on the family's statement, the police suspect her death to be a case of suicide. They have registered a case of abetment to suicide.
Puja had gone missing on Friday. Her body was found on Sunday morning near a rehabilitation centre for those who were affected in the Bhima Koregaon violence.
Suvez Haque, a police officer, told NDTV that the family had never complained about the teen being under pressure to withdraw her statement in the case. But he said the family had blamed her death on people with whom they had a legal dispute. The police are also investigating whether she committed suicide because of the delay in compensation.
The two men who have been arrested were allegedly in a dispute with the teen over construction on a plot belonging to her family, a top Maharashtra Police official said.
The family had been trying to get compensation and relief from the government to rebuild their house.
The girl's house was situated where clashes broke out on January 1 when thousands of Dalits gathered to mark the 200th year of the battle of Bhima-Koregaon despite objections by right-wing outfits. It was burnt down during arson in the village and surrounding areas. A right-wing leader, Milind Ekbote, was arrested for allegedly instigating the violence.
WHAT HAPPENED AT BHIMA KOREGAON THIS YEAR
For decades Dalits have been celebrating the victory of the Battle of Bhima Koregaon, that was fought on January 1, 1818, but this year they were opposed by 'right wing' groups.
Two hundred years ago, Maratha forces led by Peshwa Baji Rao II tried to attack Pune which was held by the British. The British authorities had dispatched a strong contingent of forces to defeat the Marathas. The battle was fought for 12 hours after which the Marathas were forced to retreat. Dalits traditionally celebrate this day as most of the soldiers in the Bombay Native Infantry which fought the Peshwa's men were Mahar Dalits. Dalit thinkers and activists consider this victory as a significant episode in history. Many Dalit activists think it was a victory of the oppressed over the upper-caste establishment of the Marathas.
Like every year, members of the Dalit community from all over Maharashtra gathered in Bhima Koregaon to celebrate what they call their victory over Maratha Peshwas. This year, January 1 marked the 200th anniversary and hence attracted a much larger crowd of Dalits on the outskirts of Pune.
'Right wing' groups opposed the Dalit celebrations saying they cannot observe a 'British' victory over fellow Indians. The clash between 'right-wing' groups and Dalits who had congregated there turned violent with stone pelting and arson between both groups. One person, Rahul Fatangale, died in the violence and several others were injured.
Protesters had also blocked traffic on the Pune expessway and rail tracks. Chief Minister Devendra Fadnavis was quick to order a probe and warned that there is no place for casteist violence in Maharashtra which is a progressive state. This year the celebrations at Bhima Koregaon got a political colour with Jignesh Mewani, the newly elected MLA of Gujarat attending the event.
https://www.ndtv.com/pune-news/dalit-girl-witness-to-bhima-koregaon-violence-found-dead-in-well-near-pune-1841886?pfrom=home-topstories