Ropar court gives benefit of doubt to accused; victim's kin to move HC
Timeline
October 24, 1990: Kuldip Singh of Amrali village kidnapped by unidentified persons from Morinda
May 15, 1991: His father, Ajaib Singh, reads a newspaper report carrying statement of then Patiala SSP (SK Sharma) that Kuldip Singh was killed in an encounter on May 1
August 13, 1998: Kidnapping case registered
March 14, 2002: Complaint filed in Ropar court against four police officials
June 3, 2014: Charges framed against the officials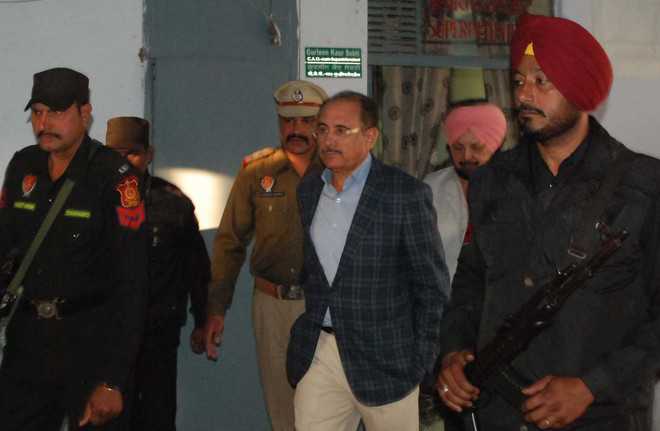 Tribune News Service
Ropar, December 3
Over two decades after a youth was kidnapped and allegedly murdered in a 'fake' encounter, District and Sessions Judge BS Sandhu today acquitted the four accused, including former DGP Satish Kumar Sharma, giving them the benefit of the doubt.In 2014, the court had framed charges against Sharma, the then Patiala SSP, the then Ropar SP (operations) SPS Basra, the then Morinda SHO Balkar Singh and ASI Gurcharan Singh under Sections 364 (kidnapping), 302 (murder), 201 (causing disappearance of evidence of offence), 120-B and 34 of the IPC. Sharma, a 1983-batch IPS officer, retired last year as DGP, Training and Community Policing.
The others acquitted are retirees too.On October 24, 1990, 21-year-old Kuldip Singh of Amrali village was kidnapped by unidentified persons from Krishna Mandi in Morinda. He was then doing graduation from Punjabi University, Patiala.
The victim's father, Ajaib Singh, ran from pillar to post to locate Kuldip, but the police denied that he was in their custody.On May 15, 1991, Ajaib Singh read a report in The Tribune that carried a statement issued on behalf of the then Patiala SSP Satish Kumar Sharma that one Kuldip of Asrali village, falling under Morinda police station, was killed in an encounter on May 1.
There was no village by this name in Morinda. Assuming that the case pertained to Amrali village (and his son), Ajaib approached the authorities for justice, but to no avail.Finally, a case was registered under Sections 364 and 34 of the IPC on August 13, 1998. Following this, the police declared Kuldip untraced twice and sought permission to close the report.
However, Ajaib lodged a protest petition in the court of Additional Chief Judicial Magistrate AS Grewal, who ordered to start proceedings against the accused.Immediately after the judge pronounced the verdict, the victim's cousins, Jasbir Kaur and Satwinder Singh, created a ruckus in the court room
. On coming out of the court, they raised pro-Khalistan slogans.Ajaib said he would move the Punjab and Haryana High Court against the Ropar court's decision.
While Sharma refused to comment, Balkar and Gurcharan said they always had full faith in the judiciary.
From 1984 to 1995, Indian security forces engaged in systematic human rights violations in the state of Punjab, India, as part of counterinsurgency operations aimed at crushing a violent self-determination movement. During this time Director General of Police KPS Gill expanded upon a system of rewards and incentives for police to capture and kill militants, leading to a dramatic increase in disappearances and extrajudicial executions. Although all Punjabi Sikhs were vulnerable to disappearance and killing, police especially targeted Amritdharis (initiated Sikhs), those who were politically active with the Akali Dal parties, and families and friends of alleged militants.
By the end of the "Decade of Disappearances" in 1995, security forces had disappeared or killed tens of thousands of Sikhs. In order to cover up their crimes, Punjab security forces killed human rights defenders such as Jaswant Singh Khalra and Sukhwinder Singh Bhatti, as well as secretly cremated thousands of victims of extrajudicial executions between 1984 and 1995. As demonstrated in Ensaaf's joint report with Human Rights Watch, Protecting the Killers: A Policy of Impunity in Punjab, India (Oct. 2007), India's institutions have failed to acknowledge the systematic and widespread nature of the abuses, and accordingly have not provided truth, justice, and reparations to the victims and survivors.