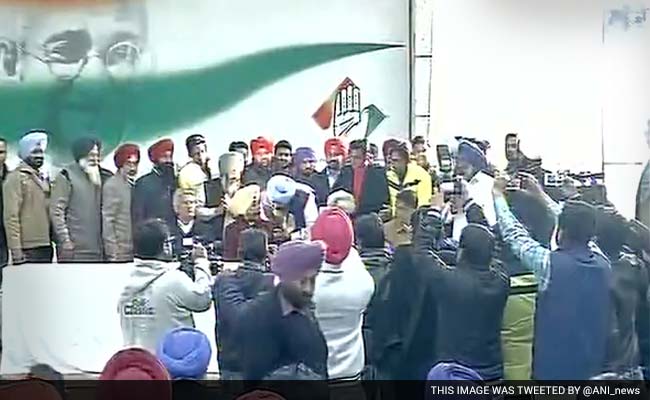 CHANDIGARH:  A day after outspoken Congress leader Sukhpal Khaira joined the Aam Aadmi Party (AAP) in Punjab, the opposition party Congress said leaders of the ruling Shiromani Akali Dal and AAP have joined its fold.
Punjab Congress President Amarinder Singh announced that 34 members of the Akali Dal from Suman and 21 leaders of the AAP from Sangrur district have joined the party.
Those who joined included former SGPC (Shiromani Gurdwara Parbandhak Committee) member Inder Mohan Singh.
Interacting with the media here, Amarinder Singh apologised that senior Congress leader and former lawmaker Jagmeet Brar was not invited to address a big rally that the Congress party organised in Bathinda earlier this month.
"I apologise to him for this," Mr Amarinder said, with Mr Brar seated next to him at the press conference.
Mr Amarinder said that the exit of Mr Khaira from the Congress would not affect the Congress in Punjab.
The Punjab Congress had yesterday suffered a major setback when its firebrand leader and former MLA from Bholath, Sukhpal Khaira, joined the AAP in the presence of its senior leaders Sanjay Singh, in-charge of Punjab affairs and MP Bhagwant Mann.
Khaira, who had been Congress party's spokesperson and the most vocal face of the party submitted his resignation from the primary membership of the party to Rahul Gandhi. Sanjay Singh formally inducted Khaira and applauded him for "taking on Badals single-handedly by exposing their misdeeds".
"I was upset with Rahul Gandhi who always promised to bring honest and young people and qualitative change in the polity of India. Unfortunately, he compromised on his own principles and ideology by forming new Punjab Congress team including Amarinder Singh, Ambika Soni and Lal Singh just to win polls in Punjab," Khaira said.
http://www.ndtv.com/india-news/34-akali-dal-21-aam-aadmi-party-leaders-join-congress-in-punjab-1259191