Cross-complaints by shop manager and pro-Hindu outfit activists.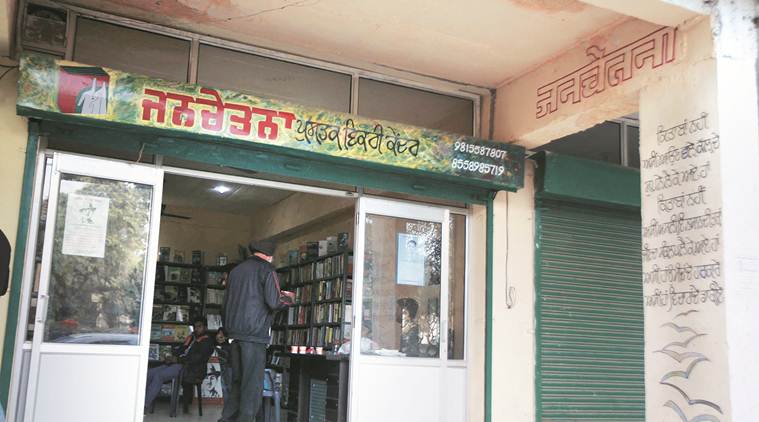 Jan Chetna Book store at Punjabi Bhawan in Ludhiana. Gurmeet SinghA day after being "sealed" by the police amid high drama, Jan Chetna Publishers book shop at Punjabi Bhawan reopened Tuesday following protests by various left-wing organisations against police and pro-Hindu outfits outside division number 5 police station. Trouble began Monday when Shivani, a 21-year old girl, refused to go home from the book shop, after which her family reached the spot with members of some pro-Hindu outfits and raised slogans against Jan Chetna for "brainwashing youths" and "propagating anti-India ideology among youths".
Shivani, however, told police she wanted to teach poor children and did not want to go home. Later, she agreed to go to her sister's place after police's intervention.
Meanwhile, both parties have submitted separate complaints to the police.
In her complaint, the book shop manager, Binny, has accused the pro-Hindu outfit activists of misbehaving with her, abusing her and vandalising the shop in the presence of police.
She said in her complaint, "Hindu outfit representatives abused me and said they would put our shop on fire. They said we were brainwashing youths to leave their religion and family. They also threatened to put all our literature on fire. All this happened in the presence of police and they illegally sealed our shop. Moreover, all titles they have sealed is legal literature being published for years. None of them is banned. We demand an FIR against them."
In their complaint, pro-Hindu outfits have accused Jan Chetna publishers of "printing and propagating anti-Hindu literature and brainwashing youths".
Various literature titles with allegedly anti-Hindu content were also submitted by the pro-Hindu outfits to the police. These included Why I am An Atheist by Shaheed Bhagat Singh, Ishwar Ka Bahishkaar by Radha Mohan Gokul, The Nature of Human Brain Work by Joseph Dietzgen, Dharam Ka Dhakosla by Radha Mohan Gokul and some other books by Lenin.
Rohit Sawhney from Sri Hindu Takht claimed, "We never misbehaved with that woman and took police along. They are propagating anti-Hindu sentiments among youths and we demand an FIR against them for hurting religious sentiments."
Various outfits which protested Tuesday outside the police station included Textile Hosiery Kamgar Union, Punjab Students Union, Naujawan Bharat Sabha, Inquilabi Kender Punjab, Democratic Employees Front, Tarksheel Society Punjab, Lok Ekta Sangathan etc.
Beant Juneja, SHO division number 5 police station, said, "We are taking legal opinion on the complaint submitted by Hindu outfits alleging anti-Hindu text in books, but none of the titles are banned so we got the shop reopened. Matter is being probed from both sides. No FIR has been registered yet.http://indianexpress.com/article/cities/ludhiana/ludhiana-a-day-after-being-sealed-by-cops-book-shop-reopens/