At receiving end of cow protection groups in state, manufacturers and transporters count losses, question motivation
Dispute over use of tallow
"Gau rakshaks" oppose the use of tallow (in soap industry) on the pretext that it originates from cow meat, not buffalo. "They must know that tallow is just 1% byproduct of an animal slaughterhouse. Going by their argument, it must be the cows which are being slaughtered in meat plants and not buffaloes. The entire supply of tallow is coming from four meat plants in Dera Bassi. Why don't they go check it themselves?" asks Yash Bhandari, who heads the Soap Manufacturers and Traders Society. He says the waste originating from meat plants is being used in over 100 items, of which 50 are edible. "Why are they targeting only the soap industry? Because we are small people?" he asks.
Satish Kumar, the state head of Gau Raksha Dal who is based in Rajpura, seems aware of what vigilantism has done to the soap industry. "You are talking about destruction of business? They are out to destroy people's religion," he says.
Asked how he knows it is cow tallow, he responds: "People bathe with soaps manufactured with cow and buffalo tallow and go to temples. We won't allow it."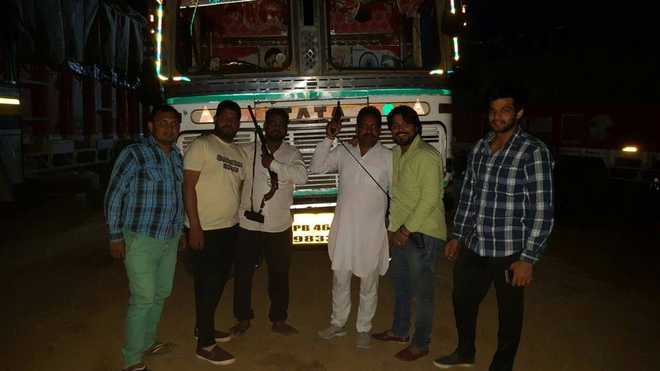 Vishav Bharti
& Neeraj Bagga
Chandigarh/Amritsar, July 19
Chamba Soap Mills is a 100-year-old brand, the mainstay of Ludhiana-based Manoj Jain's family. They've never seen such difficult times, he says.Last month, the police, accompanying cow vigilante groups, raided his factory, sealed it and booked him for hurting religious sentiments. He was arrested for "using cow tallow — fat originating from animal meat — in soap manufacturing".
Punjab's soap manufacturing industry is reeling under a crisis after the threat posed by cow vigilante groups in their campaign against the use of tallow. There are around 350 soap manufacturing units in the state.Amritsar-based Govardhan Anand, 71, could foresee this. However, when last October he shut down his 31-year-old small factory on Tarn Taran Road all of a sudden, it left many wondering. Now a trader, he was also a victim of cow vigilante groups. "I can't bear humiliation at this age," says Anand.
Subsequently, several units in Ludhiana and Jalandhar have shut down, says Jalandhar-based Yash Bhandari, president of the Soap Manufacturers and Traders Society, Punjab. He says all soap units in the state are running at just 50 per cent capacity because they are not getting the required supply of tallow. "For how long can we feed the labour without work?" he asks.It's a Rs 200-crore industry and employs thousands directly and indirectly, points out Bhandari. "Most of them will be on the road if this goes on."
As per the sales tax records, in the last financial year, tallow worth Rs 102 crore came to Punjab for use in the soap and candle manufacturing industry. Everyday, a large number of trucks load tallow from the four meat plants in Dera Bassi, where only buffalo slaughtering is allowed. These plants mainly export meat and related products.Apart from soap manufactures, the biggest brunt of the gau rakshak vigilantism is borne by transporters, like Delhi-based Rajiv Arora. Into tallow transportation for almost three decades, he runs 15 tankers. In the last nine months, there have been eight instances when either his tankers have been impounded, drivers arrested or cases registered against him.
According to the Punjab Gau Sewa Commission, in the past four months, various Hindu organisations stopped 21 trucks carrying tallow and handed these over to police. "My two tankers are still with the police, one with Ropar police and another with SBS Nagar police," says Arora. Accompanied by the police, "they beat up drivers and hurl abuses. The drivers are not even ready to work now", he rues.One of his tankers was stopped in Ropar in March and the vigilantes allegedly taunted him by asking why he had written 'Jai Mata Di' on the tanker while carrying 'cow tallow' in them. The  driver remained in jail for 15 days, before getting bail. Arora has started winding up the business and many Delhi tanker companies too have either left the business or shifted base to UP.
---
Both present their side of opinion
Since religion is at the core of the issue, most soap manufacturers and dealers pose a simple question: "How are we less Hindu and what makes the 'rakshaks' think that the cow is not sacred to us?"However, the BJP says they are small puppets in the big game. "Soap can be manufactured even without tallow. There is no legal provision under which it can be used in soap in Punjab. So it should be banned immediately," says Tikshan Sud, a senior party leader. When asked why it has become an issue in the last one year, he says Hindu bodies are more active and the media is also helping them.
The manufacturers have a different take. "Even various government lab reports have confirmed we use tallow originating only from buffalo. If the government has allowed it, why they are harassing us? It was going on for decades, why has this become a problem only in the last one year?" asks Manoj Jain of Chamba Soap Mills.
http://www.tribuneindia.com/news/punjab/soap-truck-industry-bear-gau-rakshak-brunt/268421.html