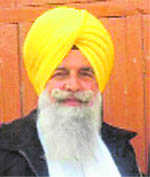 Strap: Gurnam Singh Johal of Tarn Taran was victim of 1994 torture, that left 7 dead, 21 injured
Sarbjit Dhaliwal
Tribune News Service
Chandigarh, May 14
A Pilibhit jail detainee, who suffered serious injuries during the nightlong torture in November 1994 that left seven inmates dead, has said he is willing to appear as a witness before any investigating agency or commission against the jail staff to "highlight their brutality".Gurnam Singh Johal, a resident of Tarn Taran, was one of the victims of the jail staff's brutality. "No one from the Uttar Pradesh Government called us to appear as witnesses in the court against the jail officials," he recalls.Johal, president of truck union at Tarn Taran and senior vice-president of SAD, was shifted to a hospital in Lucknow for treatment of his broken feet.
Expressing his surprise over the quiet burial of the case, Johal, who was released on bail in 1995 after his arrest on "terrorism-related" charges, says though a case was filed against some jail officials involved in the killing and beating up of the Sikh inmates, no summons were sent to him or any other victim to testify.Johal, who spent about eight years in Pilibhit and other jails of Uttar Pradesh, said at one stage, "we were about 500 Sikh inmates in Pilibhit Jail.
Officials used to humiliate us by locking us up with inmates who were addicted to smoking"."We used to insist on full ration as mandated in the jail manual to prepare food on our own. As jail officials used to pilfer the ration, our insistence used to annoy them," says Johal as he narrates the fateful night of November 8-9."They brought about 300 jail and police officials and took Sikh prisoners to another barrack in batches of four to five. After thrashing one batch with sticks, rods, they used to take another batch. Turn by turn, they took about 30 inmates. They broke their legs and limbs.
The first to die was Labh Singh, who was about 18. I still remember, he asked for water but no one gave it to him. A little later, Ajit Singh succumbed to his injuries. After him, Karaj Singh and Saravjit breathed their last. Hours later, Sukhdev Singh and Tarsem Singh died. Vachitar Singh died some days later at a Lucknow hospital."
He says: "Besides Vachitar Singh, Arjun Singh and I were sent to the Lucknow hospital where a Punjabi doctor provided us with clothes and tried hard to save our lives." He adds that other survivors such as Pargat Singh, his namesake and Swaran Singh live in villages near Amrtisar.
Johal was arrested by Tarn Taran police on the pretext that "I am involved in terrorist activities in UP. The UP police took me to Puranpur. My relatives, who followed me to UP, were also arrested but they were released after a week".Johal said the Tarn Taran police gave an affidavit in the High Court claiming that the UP police arrested him from a forest after an encounter. "However, the UP police showed my arrest after a week from the day the affidavit was filed."http://www.tribuneindia.com/news/punjab/victim-ready-to-testify-against-pilibhit-jail-staff/236956.html