Raise pictorial warnings on tobacco products: Ex-Health Minister Ramadoss urges Centre
Friday, 3 April 2015 – 3:22pm IST | Agency: dna webdesk
Ex-Health Minister
Anbumani Ramadoss
took on the Centre by asking them to raise pictorial warnings on tobacco products on Friday, say news chanel reports. He said that the warnings must be increased from 40% to 80%.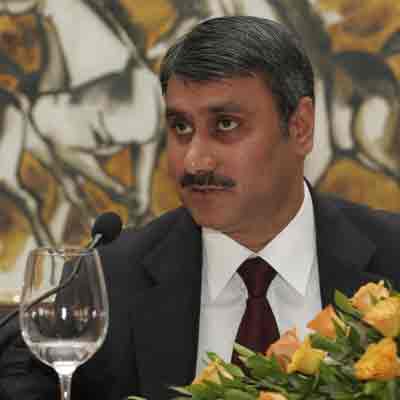 Ex-Health Minister Anbumani Ramadoss took on the Centre by asking them to raise pictorial warnings on tobacco products on Friday, say news chanel reports. He said that the warnings must be increased from 40% to 80%.
"It is high time the Prime Minister intervened. I appeal to him to order the Health Ministry to increase pictorial warning to 85 per cent immediately," PMK founder leader and former Union Health Minister Anbumani Ramadoss told reporters here.
The Health Ministry has put in abeyance the move to increase pictorial warning in tobacco products to 85 per cent effective April 1.Ramadoss noted that an MP had stated that there are no studies to link tobacco use leads to cancer, to which another Parliamentarian had said that by using the same logic, sugar should be banned.
BJP MP and chairman of a parliamentary panel Dilip Gandhi had said there were "no India-specific studies" to link cancer to tobacco use, while party MP Shyama Charan Gupta had said that "sugar causes diabetes" and it should be banned by the same logic. Ramadoss said both these were ignorant and foolish utterances without any scientific basis and said the Centre should stop it "as the country should not be put to shame." He noted that globally acclaimed institutions, including the Indian Council of Medical Research, had done hundreds of studies linking tobacco use to not just cancer, but to diseases related to kidney, lungs and brain as well.
He alleged that people were apprehensive of a "collusion between health ministry and tobacco lobby." Stating that the tobacco industry's market size was only Rs 40,000 crore, he said the expenditure to tackle tobacco caused diseases were of Rs.1,15,000 crore "So what and where is the benefit in growing or using tobacco? he asked and suggested that tobacco farmers opt for alternative crops.
He alleged government had not taken any efforts to bring such new crop options for tobacco rots.
On the recommendation of a Parliamentary panel to put the move on hold, he said there was no need to abide by its advice as it was just recommendatory. He also wondered why this has been done now when only in 2013 a Parliamentary panel had suggested increasing the warning size to 90 per cent. "We are now moving in the opposite direction, it is painful."
"This is a public health issue and when one million people die of tobacco related diseases every year, it is the responsibility of a responsive government to bring out this warning to save people using it," he said, adding India is a signatory to the WHO Framework Convention on Tobacco Control. Terming the tobacco lobby as one of the most powerful,he alleged it 'instigated' employees to speak against such proposed rules, claiming that "it would hurt the employees in tobacco growing and beedi manufacturing firms." "I was myself a victim of this lobby," he said.
The Centre had earlier stayed the decision to increase the size of pictorial warnings on tobacco products following a Parliamentary panel's assertion that it needs more time to deliberate on the issue. Health Minister J P Nadda, however, had insisted that the government was committed to its stand on increasing the size of pictorial warning and curbing tobacco consumption in all its forms and have informed the panel on the same. "The committee has said that they want to deliberate it further. They have asked for more time for deliberation. Till that time, the warning which was to come up on advertisement and on the packets has been stayed," he had said.
"But the Health Ministry, when it went to the Committee, whatever we have said, we are firm on that. We have pleaded that there was a necessity for this (warnings). Health Ministry is very much on its stand," Nadda said.
A controversy broke out on Thursday over remarks by 'beedi' baron and a parliamentary committee member from BJP Shyam Charan Gupta suggesting "nil" effect of smoking, evoking sharp reaction from Opposition parties which sought his removal from the panel.
"I can produce a lot of people in front of you who are chain smokers of beedi and till date they have had no disease, no cancer… You get diabetes due to eating sugar, rice, potatoes. Why don't you write warnings for all these things as well," said Gupta, a Lok Sabha MP from Allahabad.
His remarks were criticised by Opposition parties including Congress, SP and CPI-M which alleged that there was a "conflict of interest" as Gupta was in tobacco trade and also a member of Parliamentary Committee of Subordinate Legislation looking into the rules regarding tobacco sale in the country.
Significantly, Gupta remarks came barely days after the panel head Dilip Gandhi's statement that there was no Indian study to confirm that tobacco use leads to cancer, leaving the government embarrassed and rival parties and the medical fraternity gunning for him.
Sunita Tomar, the poster woman for anti-tobacco drive in India who died on Wednesday after fighting a long battle against cancer had written to prime minister Narendra Modi on the issue two days before her death.
Tomar's decision to shoot off a letter to the PM came after BJP MP from Ahmadnagar Dilip Gandhi, who is also the chairman of the committee on subordinate legislation, recently made a recommendation to the union health ministry on this. Mentioned in a report submitted by the committee, the recommendation is that a medical board first examine the health effects of tobacco on the Indian population before going ahead with the decision of mandating pictorial warnings covering 85% of the packages.
Tomar, who was the mother of two, said, "When I started consuming tobacco, there was no warning on its ill effects. I did not know that tobacco chewing would lead to cancer and spoil my life. Doctors say though I have been cured, the oral cancer can strike back. After being through the pain, I decided to warn other users through my experience."
In the letter, Tomar had expressed her unhappiness on Gandhi's statement. Her views are being echoed by doctors, public health advocates and tobacco control activists from across India, who too are shocked by what Gandhi said, that there are no studies in India that have examined the ill effects of tobacco on people's health.
The Parliamentary Committee on subordinate legislation examining the provisions of Cigarettes and Other Tobacco Products Act, 2003 headed by BJP MP Dilip Gandhi had "strongly" urged the government to keep on hold its proposal to increase the size of pictorial warnings on tobacco packets from 40 % to 85 % which was to come to effect from April 1.
"It is the recommendation of the committee to keep it abeyance till they decide and deliberate on it. They are deliberating. Till that time it has been stayed. Health Ministry is committed whatever stand we have taken, we want to take it forward," Nadda said.
Senior Health Ministry officials said the committee has recommended that notification regarding increase of pictorial warning area shld be kept in abeyance as all stakeholders have not been consulted yet. "The ministry has to follow recommendations of the committee. There is no change in the ministry's commitment to curb tobacco consumption in all possible forms," a senior official said.
Citing "adverse impact" on livelihood of people involved in the tobacco industry, the panel said a large number of representations expressing "serious" apprehensions from MPs as well as other stakeholders against the proposed notification.
The panel in its report had said, "it strongly urges the government that the implementation of the notification viz GSR 727-E dated October 15, 2014 may be kept in abeyance till the committee finalise the examination of the subject and arrive at appropriate conclusion and present an objective report to the Parliament".