We walk in fear of one another. It has happened before.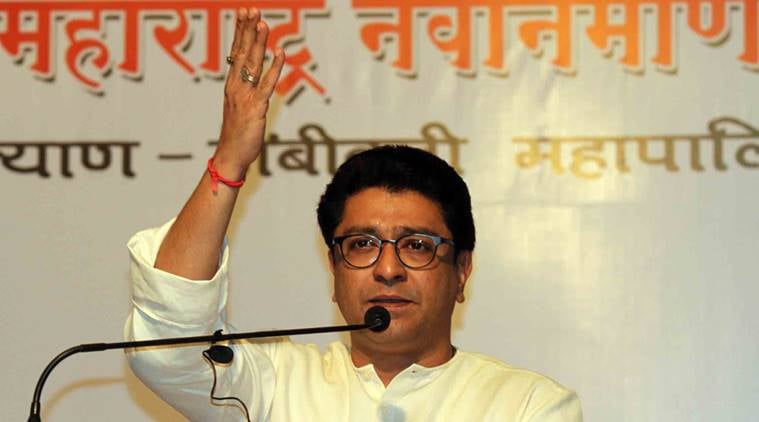 MNS chief Raj Thackeray. (Express photo By Deepak joshi)Would it be inappropriate to ask, "Have you no sense of decency, sir? At long last, have you left no sense of decency?" This question was directed by Joseph Welch to Senator Joseph P. McCarthy in 1954, during the Army-McCarthy Hearings in Washington. I ask the same question to Raj Thackeray, president of the Maharashtra Navnirman Sena (MNS). What we saw in Karan Johar's video statement was a snivelling, begging creature, professing his patriotism and promising never to be naughty again by hiring Pakistani actors. No human being should be reduced to such indignity. Should we blame Johar? I cannot. I blame the bullies who reduced him to this mess.
Raj Thackeray, in yet another exploitative move, announced MNS would not allow Johar's film Ae Dil Hai Mushkil to be screened because Pakistani actor Fawad Khanwas acting in it.
Is it fair to compare McCarthyism to MNSism? McCarthyism is defined as: "The practice of making unfair accusations of subversion or treason without proper regard for evidence." What are the similarities between Joseph McCarthy and Raj Thackeray?
One, both created an atmosphere of suspicion of being a traitor to their country around any person they choose. Two, both targeted actors, producers and writers, in the film industry. Three, anyone who held dissenting views was labelled a communist and a traitor by McCarthy. Anyone who dissents from Thackeray's views is labelled a traitor to his country.
Four, two years after Richard Rovere wrote his book Senator Joe McCarthy (1959), he said that, "like Hitler, McCarthy was a screamer, a political thug, a master of the mob." Ring a bell?
McCarthy went after Hollywood to weed out those he considered communists and unpatriotic. Initially, the people of America supported him and believed communists were trying to take over their country. Paranoia ruled the country. Many famous names were hounded. Hundreds of lives were destroyed. The legendary journalist Ed Morrow investigated Joseph McCarthy and attacked him in what would become an iconic programme — See It Now.
That was the beginning of the end for McCarthy. Morrow said, "We will not walk in fear, one of another. We will not be driven by fear into an age of unreason, if we dig deep in our history and our doctrine, and remember that we are not descended from fearful men — not from men who feared to write, to speak, to associate and to defend causes that were, for the moment, unpopular."
How does MNS take policy decisions on Pakistan when it is a political party and not the government? The government has not issued any statement banning the hiring of Pakistani actors.
It is not surprising that actors Shah Rukh Khan, Aamir Khan, Amitabh Bachchanhave pointedly stayed away from any statements. Imran Khan told reporters, "I have many views but my concern is if I voice those views, I am going to have people come and try to burn my house. I don't want people to threaten me or beat me up, I want to avoid these things. I will keep my opinion to myself." We walk in fear of one another.
Question to consider: Is it unpatriotic to hire Pakistani actors? Is it unpatriotic to do business in Pakistan? Numerous Indian companies have dealings in Pakistan and consider it a good market for their products. Raymond has a store in Lahore where they do brisk business. Is the "complete man" then unpatriotic? How do you gauge the level and temperature of patriotism in a person? By insisting they shout Bharat Mata Ki Jai? Should we have a Patriotic Patrol Force that checks levels of patriotism with a breath analyser? Who sets up the agenda of deciding whether you are patriotic enough? It can't be Raj Thackeray. It can't be Anupam Kher. It can't be lawyers turned goons. It can't be internet trolls. We, as a nation, cannot be reduced to unreason at the mercy of bullies and thugs.
A "deal" was brokered in a meeting with Chief Minister Devendra Fadnavis, MNS and the film producers. Company T was most impressed with itself. Thackeray claimed victory and said he would allow the film to be screened if the producers gave Rs 5 crore to the Army Welfare Fund. But the army brass was not impressed and has unofficially refused such a donation. They sniffed that they only accept donations that are voluntary and not coerced or through extortion. Now will Company T call the army unpatriotic? The Indian army, determinedly secular, is clearly in no mood for politicisation of their actions or to be used as a pawn in a political game.
In this consumer-oriented culture, patriotism has become just another product to be used for personal profit and political gains. Did we forget patriotism is a feeling? It cannot be put in a box and marketed. Subverting it for personal gain is unpatriotic. It is shocking how many people succumb to this marketed, fake concept of patriotism. When we define patriotism, compassion for your country must lie in the kernel of your feelings. Does Company T have compassion for his country?
http://indianexpress.com/article/opinion/columns/raj-mccarthy/