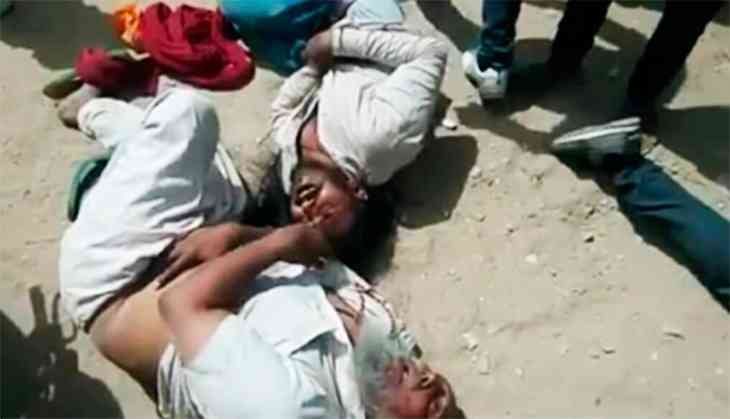 Yet another fake accusation. Yet another mob attack. Yet another minority community targetted. This pattern is becoming all too common across the country.
A video of Sikhs being thrashed by a mob in Rajasthan has gone viral over the last couple of days. The video is highly disturbing and shows a mob mercilessly thrashing and abusing the Sikhs one of whom was an elderly man. At the end of the 51 second video, the elderly man can be seen groaning in pain.
3 Sikh Sewadars mercilessly beaten in Rajasthan, villagers labelled them as child kidnapper when they were asking directions (abusive audio)
What's more, a complaint was reportedly filed against the victims! Sure enough, it was found that the Sikhs weren't involved in any act of molestation and the attack was entirely unprovoked.
This is similar to the recent incident in Jharkhand in which men falsely accused of being child-traffickers, were lynched to death.
In Rajasthan itself, cattle trader Pehlu Khan was lynched to death by Hindutva vigilantes in Alwar in March this year.
According to Additional Director General of Police (law and order) N Ravindra Kumar Reddy, the incident had occurred "nearly a month-and-a-half ago in Chainpura village falling under Nasirabad Sadar police station of Ajmer district.
He told the media that "three to four sewadars (Sikh members) of a gurdwara from Alwar district had visited the village to collect donations. The local residents had then beaten them up alleging that they molested their women".
According to PTI, the Rajasthan State Commission for Minorities has sought a factual report from the local police.
It took cognisance of the matter only after the video went viral.
"The matter has come into my notice. The incident location was unidentified. In fact, I got a vehicle number traced and found that the incident happened somewhere in Ajmer….I have asked the Ajmer police administration to check the matter. A factual report has been sought within 10 days," Chairman, State Minorities Commission, Jasbir Singh told PTI.
This isn't the first time Sikhs are being targetted in Rajasthan. In April, a Sikh student was told to remove his articles of faith, which included the kara (metal bracelet), before appearing for an examination.
A Twitter user @akdwaaz, who writes on human rights and issues related to the Sikh community, listed a number of other incidents in which Sikhs were attacked in Rajasthan.
Rajasthan is notoriously saffronised. Last year an ASI cut a Sikh boy's hair and threw off his turban in Alwar.
Rajasthan is notoriously saffronised. Last year an ASI cut a Sikh boy's hair and threw off his turban in Alwar.
Guru Granth Sahib was also desecrated in Hanumangarh, Rajasthan last year and its pages were thrown on roads
http://www.catchnews.com/india-news/mob-thrashes-sikhs-in-rajasthan-why-did-it-take-a-viral-video-for-govt-to-act-62585.html