In PPP mode, primary health centres (PHCs) will be run by NGOs and private hospitals or colleges, with profit making as a goal.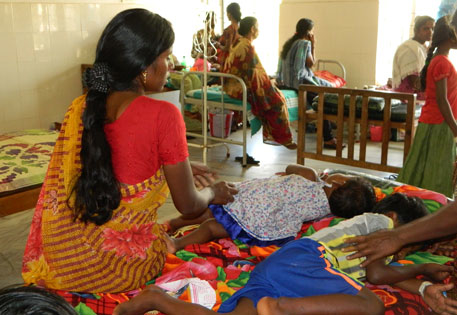 Rajasthan government continues its spree of privatising the foundational units of its public health services – the Primary Health Centres (PHCs). After handing over 42 rural PHCs to private parties to be run on the public-private partnership (PPP) mode in 2016, the Vasundhara Raje-led BJP government has now privatised 43 urban PHCs .
The pretext, as in all instances of privatisation of public services, is that the state-run PHCs are functioning poorly. But instead of putting in more financial and human resources that are required to fill in the gaps, the government seems to believe that outsourcing PHCs to private players would improve their performance.
"There is no evidence of any public service anywhere being improved while still remaining accessible to the public after it is given over to private operators," Chittorgarh based Dr Narendra Gupta, convener of the Jan Swasthya Abhiyan (JSA) said,
Wherever privatisation in health has taken place, even elsewhere in India, it has resulted either in decline in quality and corruption or in skyrocketing costs for the patients, he added.
"Except for a few explicitly philanthropic groups, why would any private party take over public health if not for profit? The PHCs are the foundation of our public healthcare systems. Treating them as business proposition is risking the health of the people of Rajasthan," said Dr Gupta.
In Rajasthan, there are a total of 2,211 rural and 245 urban PHCs. A PHC typically covers a population of 30,000 in plain areas and 20,000 in hilly, tribal, or difficult areas. A PHC also covers 6 sub-centres, the first point of contact for people in rural areas as part of the networked public health system. Besides providing curative medical services free of cost, PHCs carry out preventive and promotive healthcare activities – which assume all the more importance in rural areas.
Rajasthan's health indicators are nothing to be proud of. It has one of the country's highest infant mortality rates (IMR) and maternal mortality rates (MMR). In 2015, its IMR was 43 per 1000 live births as against the national rate of 37 per 1000 live births (SRS 2015). The MMR in Rajasthan was 244 per 100,000 live births as against the national rate of 167 (SRS 2011-13), while the under-5 mortality rate was 51 compared to the national average of 50 (NFHS 4) .
With private establishments taking over PHCs, one likely outcome is that the private player will use the PHC and its activities as a conduit to redirect patients to for-profit medical services that are provided at a cost, say experts.
Chronology of events
The Rajasthan government has made repeated attempts to privatise the primary healcare system in the state. On July 23, 2015, the Rajasthan government floated a Request for Proposal (RFP) inviting private players to take over 299 PHCs in rural areas on a pilot basis. The government offered to pay up to Rs 30 lakh per PHC, in return for the private entity taking over the management and all operations. The RFP had a provision that the private operator could provide additional services to patients in return for a fee.
But the move faced massive opposition in the state. The Jan Swasthya Abhiyan (JSA), a network of organisations and activists working for the people's health movements, challenged the tender by filing a PIL in the High Court in September 2015. Activists also met the health minister with their objections.
"We argued that 299 was a huge number of PHCs for a pilot. And many of the PHCs on the list were not from remote and hard to reach areas, as the government had initially claimed," Chhaya Pachauli, who works with JSA and is a senior programme coordinator with Prayas in Jaipur, told Newsclick.
"We also strongly objected to the clause that said the private agency could deliver additional services apart from what a PHC is mandated to provide and charge patients for the same."
Even then, the government hardly found takers because the scope for profit is severely limited in rural and remote areas, as private players would obviously prefer to operate in more lucrative districts, where at least some part of the population can afford to pay.
Following the opposition, the government withdrew the tender on December 23, 2015. The government issued a revised RFP on December 28, 2015. The second RFP had a list of 213 PHCs. And this time the explicit clause allowing additional services was removed. JSA filed two more PILs in the High Court against this.
An RTI filed by Prayas in January 2017 revealed that the government had already handed over 41 PHCs to private agencies. Of these 41, 19 PHCs had been given to WISH Foundation.
In June 2017, the Rajasthan government issued tender notice for contracting another 50 urban PHCs on PPP mode, and in August, a tender for 50 more rural PHCs was issued.
On July 18, 2017, the court had directed the state to submit a status report of the PHCs operational under the PPP mode, which Rajasthan is yet to do.
On October 26, the government signed MoUs with 14 private parties, who will take over 43 PHCs located in urban areas of 13 districts. So, in all 85 PHCs – urban and rural – stand privatised.
Fallout of privatisation
The private parties that have been handed over the rural and urban PHCs include private hospitals and other organisations.
"Private hospitals especially are bound to use PHCs as catchment areas to access patients for for-profit activities. This is done in the form of asking patients to take unnecessary tests and treatments, sending them to particular laboratories and hospitals, etc. Patients that visit PHCs are usually vulnerable and can be misguided and forced into paying more," said Pachauli.
Also, given the limited scope for profit in PHCs, the private operator is bound to cut corners, which will result in inferior quality of services. The private partner will also be responsible for hiring the manpower, which would likely lead to understaffing to save costs. This would result in workers being underpaid and overworked – as usually happens in private establishments.
Besides many of these organisations and private hospitals have no experience in conducting the kind of public outreach activities that are required of a PHC, such as holding camps and providing counselling for family welfare services, vaccinating children, etc.
"There are some organisations on the list, such as one named Chitransh, which do not even have a website," said Pachauli.
"And how will the government monitor the services delivered by the private player? The existing systems of monitoring are so weak, and the government is not able to monitor its own activities, how will it keep a tab on private entities?" she said.
https://newsclick.in/rajasthan-pushes-ahead-privatisation-primary-healthcare