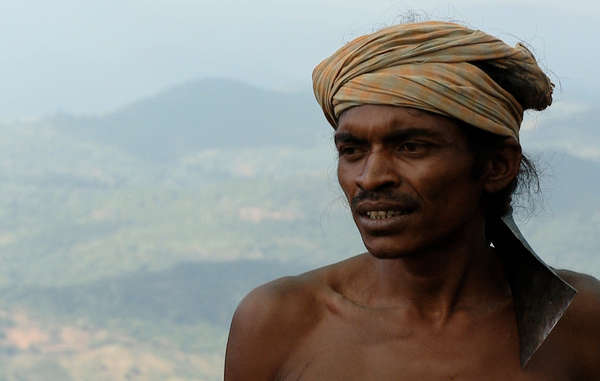 Dongria leader
Lodu Sikaka
has called for an end to the harassment of village leaders and vowed to defend Niyamgiri.
© Survival
During a rally of defiance, India's Dongria Kondh have vowed to defend their Niyamgiri Hills against an open pit mine by British mining giant Vedanta Resources, and demanded the release of village leaders ahead of consultations about the mine.
Dongria leader Lodu Sikaka addressed a crowd of thousands determined to save their hills and said, 'We are not going to let go of Niyamgiri … Let the government and the company repress us as much as they can. We are not going to leave Niyamgiri, our Mother Earth.'
In a landmark ruling in April 2013, India's Supreme Court rejected Vedanta's appeal to mine in the Niyamgiri Hills, and decreed that those affected by the mine must be consulted.
But while over a hundred villages will be affected by the mine, only twelve village councils (gram sabhas) around the hills have been invited for consultations, a move condemned by the Dongria and the
Ministry of Tribal Affairs
, and the final decision about the mine will lie with the central government.
Survival has received worrying reports that police and paramilitaries are exerting pressure on the Dongria by intimidating the residents of the twelve villages. A delegation of Dongria has traveled to the state capital to complain about the harassment and to demand that 150 villages are included in the consultations.
The Niyamgiri Hills are central to the livelihood and identity of the 8,000-strong Dongria Kondh, which could be destroyed by the mine. Recently, their leaders have faced increasing harassment and several have been arrested.
Addressing the rally, Lodu added, 'We believe in the state, in democracy. Let them release all our people who are jailed and then we go for the gram sabha. Otherwise we will not!'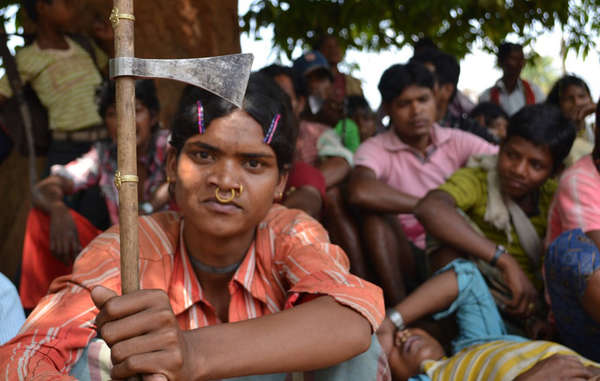 The Dongria have rallied together in opposition to an open pit mine in their Niyamgiri Hills.
© Bikash Khemka/Survival
The Dongria's struggle has been likened to the Hollywood story of 'Avatar' and won them the support of many celebrities including Joanna Lumley and Michael Palin. It resulted in shareholders such as the Church of England and the Norwegian government pension fund pulling out of Vedanta.
Stephen Corry, Survival's Director, said today, 'Harassing people's leaders prior to 'consultations' about an invasive mine, which the same people have rejected for years, is neither fair nor democratic. It's another example of how the language of 'rights' and 'consent' is now being manipulated by governments and companies bent on stealing tribal lands, at any human cost.'
Note to editors:
– Read the letter by India's Ministry of Tribal Affairs condemning the lack of villages involved in the consultations(pdf, 492kb)
Related articles