In a severe jolt to the Modi sarkar's tall claims that last year's note ban had destroyed black money in India, RBI data shows that 99% of the banned 1000-rupee notes were returned to the RBI.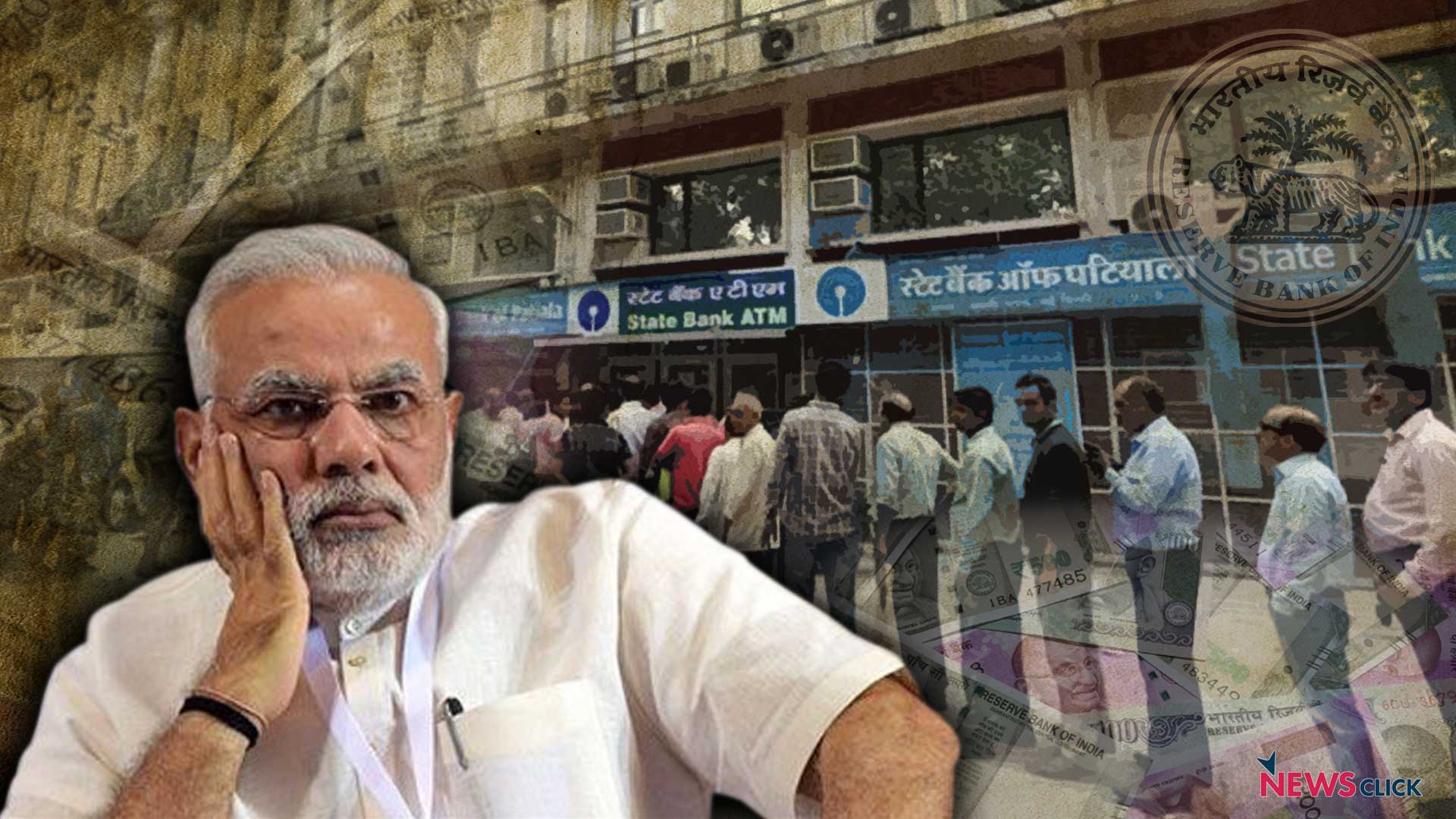 In a severe jolt to the Modi sarkar's tall claims that last year's note ban had destroyed black money in India, recently released data from the Reserve Bank of India (RBI) shows that almost 99% of the banned 1000-rupee notes were actually returned to the RBI. This means that either black wealth held in these notes was successfully manipulated back in to the legal system or such black money was not being held in 1000-rupee notes. Either way, the govt.'s move of demonetization or note-bandi has come a cropper.
At the Modi sarkar's behest, the RBI had declared 500-rupee and 1000-rupee notes illegal on 8 November 2016. Prime Minister Modi had personally gone on air and dscribed it as a historic strike against illegal wealth. A few days later he had claimed in emotion choked voice that he was willing to accept any punishment if it turned out that this move was a failure.
But a spectacular failure it has turned out to be. The govt. has refused to reveal the details of how much money in banned notes was deposited back with the RBI although 8 months have passed since the window of exchange closed in January this year. Despite repeated questioning in Parliament, Supreme Court and through RTIs, the govt. and RBI has doggedly maintained that old banned notes were still being counted. In June this year, finance minister Arun Jaitley claimed that each note was being checked whether it was counterfeit and that the process would take "a long time".
The whole country had seen through these lies because how can it take 8 months to count the notes. Obviously there was some hanky panky going on. Despite statutory responsibility to release data related to currency in circulation and its accounts, the RBI too was not doing so for this period. They were under instructions to fiddle around and not reveal the truth.
But now the reality is emerging. Analysis of data recently released by the RBI shows that when financial year 2016-17 ended on 31 March 2017, there were Rs. 8925 cr worth of 1000-rupee notes still in circulation. This means that these are the notes that were not deposited with the banks after note-bandi.
How many total 1000-rupee notes were there in circulation on 8 November 2016? According to a statement made by Santosh Kumar Gangwar, minister of state for finance, in the Lok Sabha on 3 February 2017, 6858 million pieces of 1000-rupee notes were in circulation on 8 November. The value of these notes works out to Rs. 6.86 lakh cr.
So, out of Rs.6.86 lakh cr, just Rs.8925 cr is unreturned. That is a mere 1.3% of the total. The overwhelming balance of 98.96% of 1000-rupee notes is back in the RBI coffers.
The total value of demonetized currency on 8 November 2016 was Rs.15.44 lakh cr. Of this, 1000-rupee notes made up about 44% and 500-rupee notes 56% approximately.
Similar calculation cannot be done for 500-rupee notes because unlike the 1000-rupee notes, new 500-rupee notes were printed and circulated in parallel to withdrawal of old ones. So, figures of 500-rupee notes in circulation on 31 March 2017 are mostly for new notes.
Experts say that what goes for 1000-rupee notes is equally applicable for 500-rupee notes. Although data is not released but in all probability 98-99% of 500-rupee notes must also have come back.
Former JNU professor of economics Arun Kumar, in an analysis published in EPW in June, has suggested that 98.8% of all banned currency was deposited back with RBI.
In other words, no black money was unearthed by Modi's historic folly. As has been shown earlier, terrorism has also not gone down after demonetization and neither has circulation of counterfeit currency. So, it was a failure on all counts, a point that has been predicted by economists worldwide.
What the note ban did was cause untold suffering and misery to common people, destroy livelihoods of millions of wage workers, caused bankruptcy to farmers because prices of their produce crashed and disrupted the economic life of the whole country. The only people who benefited from the note bandi were companies that own digital payment systems (like PayTM, MobiKwik etc.) and credit card companies.
It also seems now that ultimately, the black money owners have benefited because they managed to convert all their black wealth in to white using proxies.

https://newsclick.in/rbi-data-confirms-note-ban-was-total-failure