Begum Akhtar was influenced by the music of Chandra Bai, a theatre artist, at a very young age. She then went on to train under Sarangi exponent Ustad Imdad Khan. It is Begum Akhtar's 103rd birthday today and Google has dedicated a Google doodle in her memory.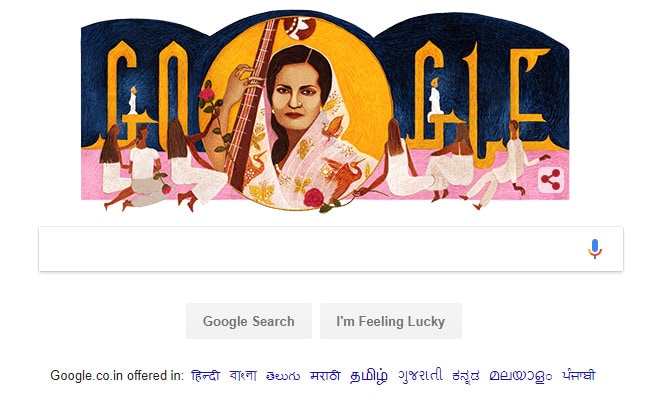 NEW DELHI: 
 Google today celebrates 
Begum Akhtar's anniversary
 with a doodle that marks the immense contribution she made towards 
Hindustani classical music
. The doodle very aptly shows Begum Akhtar playing sitar. The doodle is coloured in the shades of yellow, blue and pink.She was among the earliest female voices to stage public performances and her first disc was released by the Megaphone Record Company.
For Begum Akhtar, mistress of melancholy, pain remained a part of her art
While Begum Akhtar's music was the most defining aspect of her personality, her music in turn was defined by her life's journey, in a sense making her life and music inseparable. A journey that began in a salon in Lucknow as a young teenager – set up by her mother Mushtari bai, also a tawaif – Akhtar in a short span became an artiste of calibre. Only the very distinguished were allowed access to her mehfils. She became popular across north India through a number of 78-rpm recordings released under the Megaphone label. At a very young age, she went through many creative phases in her career including acting in theatre in the 1920s in Calcutta, mostly as a 'vamp' ("in a black velvet Western dress and smoking a cigarette with a long black holder"), a short stint in films where she sang and acted (remembered mostly only for a thumri she sang in Satyajit Ray's Jalsaghar). In her quest to be socially accepted, and for the married life of a "mainstream homemaker", she became an "acchiammi" and then went on to be a begum who ruled the world of ghazal gayaki for decades.
Through all of these transitions, pain and sadness remained a part of her life. What started with a difficult childhood in later years became a habit, so much so her admirers recollect she would feel restless without the sadness. Perhaps this also explains the choice of poetry-through-ghazal as her chosen form of musical expression. She gave this form a new voice, a musicality unique to her, only to be followed by several others in later years. Eminent Urdu poets of her day-Jigar Moradabadi, Kaifi Azmi and Shakeel Badayuni-wrote for her and she shared close friendships with several of them. Although her marriage to the well known barrister Ishtiaq Ahmed Abbasi brought many restrictions to her public singing, it did on the other hand bring her closer to Urdu poetry, owing partly to his scholarship.
Begum Akhtar
Born Akhtari Bai Faizabadi, Begum Akhtar came to a certain section of Hindustani classical music, with her raspy voice and formidable vocal range. She dabbled in Ghazal, Dadra and Thumri genres.
Initially trained under the renowned sarangi exponent Ustad Imdad Khan and later under Ata Mohammed Khan, Begum Akhtar went on to win the moniker 'Mallika-e-Ghazal'. She was posthumously awarded the Padma Shri and Padma Bhushan by the government of India. The 'Queen of Ghazals' may have passed away over four decades ago, but she continues to rule hearts.
Begum Akhtar  was an outstanding Indian singer of Ghazal, Dadra, and Thumri. She had earned the title of Malika-e-Ghazal (Queen of Ghazals). The year 2014 was devoted and  observed as her anniversary year.
Begum Akhtar real name Akhtari Bai Faizabadi was born in Bada Darwaza in Bhadarsa Bharatkund in Faizabad in Uttar Pradesh on October 7,1914 and breathed her last on October 30, 1974 at the age of 60 years.
For her rare contribution in the field of  music and singing, she received the Sangeet Natak Akademi Award for vocal music, and was awarded Padma Shri and Padma Bhushan (posthumously) by Government of India. Her modulation of voice, matchless singing  style especially of Urdu Ghazals of most reputed poets made her the most admirable singer.
Tough Training
Ms Akhtar was barely seven when she was captivated by the music of Chandra Bai, an artist attached to a touring theatre group. However, at her uncle's insistence she was sent to train under Ustad Imdad Khan, the great Sarangi exponent from Patna (Bihar) and later under Ata Mohammad Khan of Patiala (Punjab). Later, she travelled to Calcutta (now Kolkata in West Bengal) with her mother and learnt music from classical stalwarts like Mohammad Khan, Abdul Waheed Khan of Lahore and finally she became the disciple of Ustad Jhande Khan.
Her first public performance was at the tender age of fifteen. The famous poetess, Sarojini Naidu, appreciated her singing during a concert which was organised in the aid of victims of a Bihar earthquake of 1934. This encouraged her to continue singing ghazals with more enthusiasm. She cut her first disc for then famous  Megaphone Record Company. A number of gramophone records were released carrying her ghazals, Dadra, Thumris which instantly shot her into limelight and her popularity graph too sharply shot up.
Begum Akhtar's good looks and sensitive voice made her to jump into a film career in her early years. When she heard great musicians like Gauhar Jan and Malak Jan, she decided to forsake the glamour of the film world for a career in Indian classical music. Her supreme artistry in light classical music had its deep roots in pure classicism. She chose her repertoire in primarily classical modes: a variety of raags, ranging from simple to complex. After the advent of talkie era in India, Beghum Akhtar acted in a few Hindi movies in thirties. East India Film Company of Calcutta ( Kolkata) approached her to act in "King for a Day" (alias Ek Din Ka Badshah) and famous Nal Damayanti in 1933.
A rare feature was that she sang her songs herself in all her films. She continued acting for  some years only. Subsequently, Begum Akhtar moved back to Lucknow where she was approached by the famous producer-director Mehboob Khan, as a result of which she acted in "Roti" which was released in 1942 and its music was composed by maestro Anil Biswas. "Roti" contained  her ghazals which was one of the attractions of this poppular movie. All her film ghazals are available on Megaphone gramophone records. Beghum Akhtar, later on left and returned to Lucknow.
In 1945, Akhtaribai married a Barrister, Ishtiaq Ahmed Abbasi, and became known as Begum Akhtar. However, after marriage, due to her husband's restrictions, she could not sing for almost five years and subsequently, she fell ill, that is when her return to music was prescribed as a befitting remedy, and it was only in 1949 that she returned to the music world. She sang three ghazals and a Dadra at Lucknow Radio Station. She wept afterwards and returned to singing in concerts, a practice that lasted until her death!
Her voice matured with time, adding richness and depth. She sang ghazals and other light classical pieces, singing them in her inimitable style. She has nearly four hundred songs to her credit and  was a regular performer on All India Radio. She usually composed her own ghazals and most of her compositions were raag based.
Urdu being the official language of Jammu and Kashmir, Begum Akhtar's Ghazals and songs are frequently broadcasted on pressing public demands. She paid visits to this part of the country and regaled the audience with her sweet song and melodious Ghazals.
During her last concert in Ahmedabad she raised the pitch of her voice as she felt that her singing had not been as good as she had wanted it to be and she felt unwell. The additional demand and stress that she put herself under resulted in her falling ill and was rushed to the hospital.
She died on October 30, 1974 in the arms of Nilam Gamadia, her friend, who invited her to Ahmedabad, which has become her final performance. But Begum Akhtar is still alive in the hearts of lakhs of fans for her matchless style of singing especially the Ghazals, Dadra and Thumri.
In her quest to be socially accepted, and for the married life of a "mainstream homemaker", she became an "acchi ammi" and then went on to be a begum who ruled the world of ghazal gayaki for decades.