by Hasan Suroor Jun 5, 2014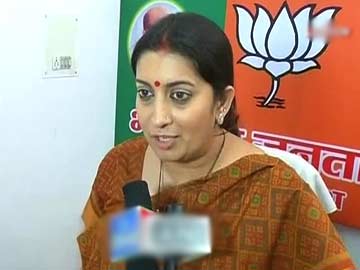 There we go again. Barely days into power and the BJP is already into tinkering with school textbooks to bring them in line with its Hindu-centred worldview. Smriti Irani has opened her account as the Human Resources Development Minister by announcing plans to give a "Hindu perspective" to school curriculum, setting the stage for a fresh round of hostilities in the old phoney culture war between the Left and the Right. Or as one commentator put it, the "New Right'' and the "Old Left''.
Irani may have been a surprise choice to head the HRD ministry, given her featherweight political status and zero experience in government, but she clearly knows the script well and has stuck to it with the zeal of a new mullah. Details of her plans are rather hush-hush. All that is officially known is that she is "keen" to include "ancient Hindu texts" in the syllabus for classes 8th, 9th and 10th. Indeed, she is reported to have already set up a committee which will study ancient literary works such as the Upanishads and the Vedas and identify suitable texts highlighting the Hindu contribution to science, mathematics and philosophy. According to media reports, officials have been asked to develop teaching material "encapsulating'' the glories of the Hindu "golden age''. On the face of it, there's nothing wrong with it.
Though I believe ancient India is already taught in history classes, never mind. Anything that broadens pupils' horizons should be welcomed. But look closely at the small print, as it were, and the history of previous such efforts and you begin to doubt if the move is really as innocuous as it is cracked up to be. Smriit Irani taking charge of HRD ministry. PIB What Irani is propounding as her own simple idea –"her desire to preserve the ancient culture and heritage of the country", as one official is quoted as saying –is in fact an RSS project and has its fingerprints all over it. Official pretence to the contrary notwithstanding, everyone knows where it is all coming from. As Deccan Chronicle pointed out, the move is "being viewed as an attempt by the government to push through the RSS' educational revamp agenda
The RSS has been critical of the Congress governments for ignoring the contribution of Hindu culture and religion to nation-building. The rightist organisations have labelled current textbooks as Left-leaning". "Saffronisation'' of education has been a pet RSS project dressed up as a campaign to purge textbooks of "foreign'' influences, and to promote "patriotism''. It was taken up with extraordinary zeal by RSS-loyalist Murali Manohar Joshi when he headed the ministry.
There was extensive revision of NCERT books and pro-RSS historians were brought in to prepare heavily nationalistic teaching material. Key educational bodies, including the NCERT and the Indian Council of Historical Research, were "reconstituted'' and packed with people sympathetic to the BJP thinking. As someone who covered the HRD ministry at the time I still remember the controversies Dr Joshi's action generated. He faced a virtual revolt from non-BJP state governments many of whom refused to introduce new NCERT books which they claimed were full of factual errors. So Irani is, in effect, picking up where he left. A clear giveaway as to who is driving the agenda is the role of the RSS-affiliated Shiksha Sanskriti Utthan Nyas (SSUN) which has demanded a "total change'' in school education.
Its lead campaigner is RSS pracharak Dinanath Batra who also runs the controversial Shiksha Bachao Andolan,which has earned notoriety for seeking ban on any book it regards "anti-Hindu''. It is important to remember that Batra was also the driving force behind Dr Joshi's "reforms". And he is back with a bang. Shortly before Irani announced her plans, he let it be known that he planned to meet Prime Minister Narendra Modi and push for a "revamp'' of education. "I am meeting Narendra Modiji after the swearing-in. We have already sent our demands. Political change has taken place, now there should be total revamp of education," he told The Times of India. Pulling no punches and speaking like someone who knows he has the right clout, he said, "NCERT textbooks will be rewritten according to the aim and objects of the nation so that it inculcates feeling of patriotism among children.
Modernity is not westernisation. We want modernity with Indian base (marked by) patriotism and spiritualism.'' Mark the words, "will be rewritten''. No "ifs'' and "buts''. So,the writing on the wall is clear. It's not going to end with a few bland chapters on ancient India. Irani's move is the first salvo towards finishing the unfinished business started by Dr Joshi . Fears that it could be the start of a slippery slope towards "Hindutvisation " of the education system are real.
There are reports that academics are busy downloading NCERT textbooks fearing that they might be withdrawn. They may be accused of over-reaction but in the light of what happened under Dr Joshi can they be really blamed for panicking? Historian Ramchandra Guha tweeted, "MM Joshi redux. Surely the HRD ministry should focus on institutional reform, not communalisation of the curriculum.'' Communalisation or not, he is right in emphasising that the focus should be on institutional reform rather than tinkering with books.
It is simply amazing that given the myriad problems facing the government school sector—a shocking lack of infrastructural facilities, poorly qualified and indifferent teachers, low enrolment, high dropout rate—the first thing that the new HRD minister chooses to do is talk about introducing "Hindu perspective''. Dr Joshi was often derisively dismissed as someone stuck in a time warp because of his age and old-fashioned style, but how does one explain such lopsided priorities coming from a young and supposedly "dynamic'' minister brought in to clear the "mess'' blamed on the UPA government? Either she is hopelessly incompetent and has no understanding of her complex brief,or she is simply doing the RSS bidding. My money is on the latter possibility for reasons I've already stated. Either way she is not the best of advertisements for a government that claims to be flush with talent and is desperately trying to project a moderate image. Just when one thought that the Modi sarkar was making all the right noises she has ended up reviving anxieties about its real agenda.
Meanwhile, emboldened by the BJP victory Mr Batra has struck again. After forcing Penguin to pulp Wendy Doniger's book on Hinduism, he and his organisation are now seeking withdrawal of Sekhar Bandopadhyay's popular textbook, Plassey to Partition: A History of Modern India, claiming that it is defamatory and derogatory to the RSS. Its knock-on result has been that in sheer panic its publisher, Orient Blackswan, has decided to "set aside" (an euphemism for temporary withdhrawal) Oxford Rhodes scholar Megha Kumar's book,Communalism and Sexual Violence: Ahmedabad Since 1969. How about a chapter on "free speech in ancient India'' in the new textbooks Irani has ordered?
Read more at: http://www.firstpost.com/politics/return-of-saffron-textbooks-whos-behind-smritis-plans-1557779.html?utm_source=ref_article