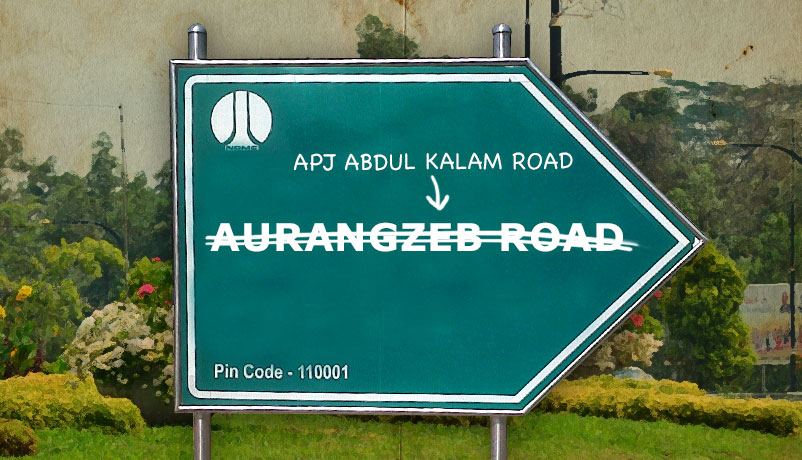 ITU CHAUDHURI DESIGN
REWRITING HISTORY
The action
Many on social media welcomed the move, but many others opposed it too
The reaction
Historians are sceptical about efforts in rewriting history
Sohail Hashmi questions the qualification of those behind the renaming
Great historical figures, even if problematic, can't be excluded
Aurangzeb has also been misread, argue many
What started with hooliganism has ended in a policy decision. And the decision seems to favour the hooligans.
One night last May, a bunch of miscreants defaced street signs in Delhi with Muslim names, apparently to protest against 'Islamisation in India'.
The hooligans' hitlist that night included Aurangzeb Road, the name of which now stands altered forever – the New Delhi Municipal Corporation just renamed it as APJ Abdul Kalam Road.
Delhi Chief Minister Arvind Kejriwal tweeted on Friday, congratulating everybody while announcing the decision.
This may be the Aam Aadmi Party's way of pleasing the right-wing, but the BJP has been at it for long. In July, Maheish Girri, the party's MP from East Delhi, asked Prime Minister Narendra Modi to replace Aurangzeb's name with the former president's to correct "historical wrongs".
A quick scan of the social media shows the move has a lot of support as Aurangzeb is perceived to be an anti-Hindu tyrant, while Kalam, who died recently, was nothing short of a national hero.
A necessary move?
However, not everybody has taken kindly to the renaming of the road in Lyutyen's Delhi.
Immediately after Kejriwal's announcement, online petitions have been introduced and signed by many. "To many of us, the renaming is symbolically as incorrect and unfortunate as the 1992 demolition of Babri mosque in Ayodhya, since that was also done on 'public demand' and to 'correct the wrongs of history," said Yousuf Saeed "What qualification do these people have to decide who was good and who was bad in history?" asked Sohail Hashmi. "Will lumpens now write our history? If I give them 2,000 signatures, will the AAP government change the name of, say, Hedgewar Road?"
There can be two arguments against the Delhi government's decision: First, Was Aurangzeb really the tyrant he is made out to be? Second, even if he was, is it not important to accommodate important historical figures despite them not conforming to modern sensibilities.
Aurangzeb, the last of the great Mughals, has been said to be particularly harsh on Hindus and Sikhs, forcing people to convert to Islam.
At the same time, historical accounts show that there were several Maratha and Rajput warriors in the emperor's army. He is even said to have given grants for building temples in Mathura and Vrindavan.
Social media perception swung between calling Aurangzeb an anti-Hindu tyrant & Kalam a national hero
"The Germans have preserved the Dachau concentration camps, not demolished them. Historical figures aren't artificially cut personalities suited to our present. Mature societies remember their history in a way which is not to take sides based on what is popular today," said historian Najaf Haider.
Haider, who teaches Aurangzeb at the Jawaharlal Nehru University, pointed out that the ruler held the Mughal empire together longer than anyone else (including Akbar) and thwarted all invasions. His legacy can't just be wished away.
"Undoubtedly, he was harsh on Hindus by imposing higher taxes on them. But the problem really started when Pakistan started to lionise him, referring to him as Aurangzeb Rehmatullah. After that, he was known here as a bigot and tyrant."
According to Hashmi, Aurangzeb has been demonised in the popular narrative for crimes he never committed. "He was not trying to convert everyone to Islam as many believe. Take the case of the Hindu businessmen of that time in Rajasthan – they always supported Aurangzeb against Dara Shikoh for several reasons," he said.
Mukul Manglik, who teaches history at Delhi University, said renaming the road was bad politics.
"There is a particular monochromatic conception of Aurangzeb that is being pushed. This is despite the multi-hued personality he is now coming out to be."
Calling it unfortunate, Manglik said lawmakers were not interested in complex figures. They want to be able to easily deal with their reduced and communalized versions of Muslim historical figures.
"We should encourage people to interpret and reinterpret history, but not to try and change it."
The ruling parties are not the only ones to be blamed, said a Delhi-based historian and writer who wished not to be named.
"Why was the road named after Lord Curzon, an extremely important figure in our history, changed to Kasturba Gandhi. What contribution did she have?" the historian asked and pointed out the example of how people Mani Shankar Iyer got Connaught Place renamed to Rajiv Chowk."
Aurangzeb Road was named by British scholar Percival Spear who spent a lot of his life studying and teaching in India.
This was the road where senior Indian and British officials were put up. Senior members of judiciary stayed there and important policy decisions that impacted the whole nation, were made in the offices and residences of Aurangzeb Road.
Haider said the road was named after a person who emerges as a hero in India's history. "But our heroes are like Greek heroes, full of tragedy. They are often callous, brutal and scheming, yet they have their roles because they have shaped lives of people they have ruled over forever.
http://www.catchnews.com/india-news/from-aurangzeb-to-kalam-where-does-this-road-take-us-1440876849.html