" 'O to Live Again!' – at my age, this desire is almost a mischievous one; look at all the damage I've done being around longer than I should have!" These opening words of author and social activist Mahasweta Devi, in her keynote address, at the Jaipur Literature Festival had the audience completely charmed throughout her speech.
Taking up the cause of Naxalites, Mahasweta Devi said: "All my life I have seen small people with small dreams. It looked like they wanted to put them all in a box and keep them locked up…but somewhere, some of them escaped, as if there has been a jailbreak of dreams. Like the Naxalites. Their crime is they dared to dream. And why shouldn't they?"Addressing the gathering during the inaugural session of the Jaipur Literature Festival, she said: "The right to dream should be the first fundamental right of people."Mahasweta Devi scorned at "the middle class morality where everything is suppressed".
Going around the circle of life, of youth, of motherhood, and as a writer, she said "sometimes, I feel like an old house privy to simultaneous conversations of its inhabitants," as she spoke of all the characters she had met and written about coming alive and haunting her.Giving the audience glimpses of what she hopes to write next, she shared her 'recipe' to stop gobalisation. "Just a small plot of land, covered with grass. Grow a single tree on it, let your child's bicycle rest on it, let some poor kid play there, let a bird sit on it. Small dreams….after all, you save your small dreams, don't you?" she paused, leaving the rapturous audience with this moving thought.
Later in the day, Tibetan Tibetan spiritual leader the Dalai Lama, addressing a jam-packed session, invoked the age-old catch phrase 'Hindi-Chini bhai bhai'.When questioned about the tension between India and China with regard to Tibet, he said that good relations between the two nations are essential. "The saying — 'Hindi-Chini bhai-bhai, is unfortunately not implemented," he rued and said that he strongly advocates democracy.
"We must not be taken for granted," the Dalai Lama said and added, "The 21st century should be the century of dialogue. This is the only way forward."A fulfilling romance at JLF
Jaipur: "Write in the language that comes most naturally to you…write in the language in which you dream." That's the advice Mahasweta Devi – arguably, one of the most iconic writer-activists of our times – had to give to a young school-girl who wanted to know which language she should choose to begin her literary career with.A little while later, Fahmida Riaz — celebrated Pakistani writer-poet and feminist — informed the Bengali writer (to her surprise) that her books had been translated into Urdu and were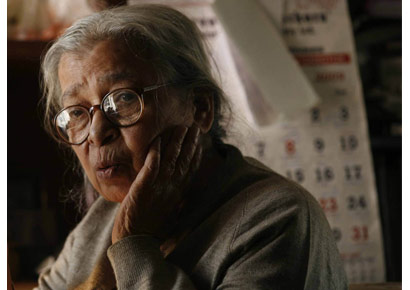 Mahasweta Devi —Joshy Joseph