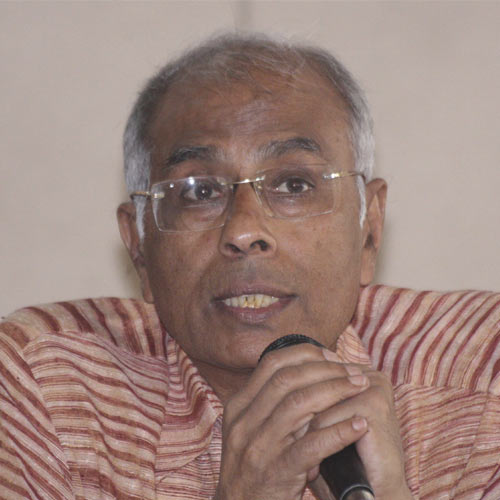 A rationalist to the core Dr Narendra Achyut Dabholkar was born on November 1, 1945. He gave his life for fighting against all kinds of superstitions and also worked in a constructive way to create scientific temper within the society. He has penned more than a dozen books and had been editor of the Marathi Weekly Sadhana for 16 years. He founded Andhashraddha Nirmoolan Samiti which was the first of its kind organisation in India. Later named as Maharashtra Andhashraddha Nirmoolan Samiti, it has 180 branches in the state.
Born in a family of progressive parents, Dabholkar was one among seven brothers and was introduced to the progressive movement during his encounter with the Rashtra Seva Dal. After medical practise for a few years he decided to work full time as a social worker and worked against superstitions in society for the last 25 years.
In the initial years after its formation, the Andhashraddha Nirmoolan Samiti exposed many so called Babas, Sadhus and Tantriks who claimed to perform miracles of various kinds. Dabholkar organised programmes in all parts of the state which exhibited a number of tricks which can be used to fool people by terming those as miracles.
He exhibited how a person can walk on fire and explained the science behind the same. He organised special camps to inculcate scientific temper in the students and trained more than 10 thousand teachers in the last 15 years. A mobile laboratory kind of Vidnyan Bodh Vahini used to travel through out the state to demonstrate experiments along with the science behind it.
Dabholkar wrote articles for various prominent Marathi dailies based on his experiences during the expose of one or the other Baba. He has penned hundreds of such articles in the last 25 years and has penned more than a dozen books. He has delivered hundreds of lectures on the anti-superstitions movement to inculcate the value of conscience.
Dabholkar launched Samajik Krutadnyata Nidhi which meant raising a fund for expressing gratitude towards those who have worked selflessly for society. Dabholkar was the secretary of this Nidhi right from the inception and noted theatre and film artistes like Dr Shriram Lagoo, Sadashiv Amrapurkar and Nilu Phule had chipped in for this activity.
The Samajik Krutadnyata Nidhi gives Rs1000 honararirum for fifty activists and this activity is going on for last 23 years. Dabholkar was also founder secretary of Parivartan which is working for de-addiction on a residential basis. It also works for organic farming, adolescence counselling and training for rural paramedical women.
Dabholkar had challenged the astrologers asking them to prove that it is a science. Dabholkar along with internationally acclaimed astrophysicist Jayant Narlikar had challenged astrologers by giving a questionnaire to them. Dabholkar and Narlikar had challenged astrologers to identify as to whether the Kundli can reveal that a person is mentally retarded and a few other questions which astrologers could not accept.
Dabholkar completed his MBBS from Pune's BJ Medical college and was an accomplished Kabaddi player during his college days. He was a National player and was selected in Indian team which played Kabaddi Test Match against Bangla Desh. He was a Shiv Chhatrapati award winner for Kabaddi after winning the Shiv Chhatrapati Yuva award and becoming the first player to achieve this fate