Thursday, 10 July 2014 – 8:50pm IST | Place: Mumbai | Agency: DNA Webdesk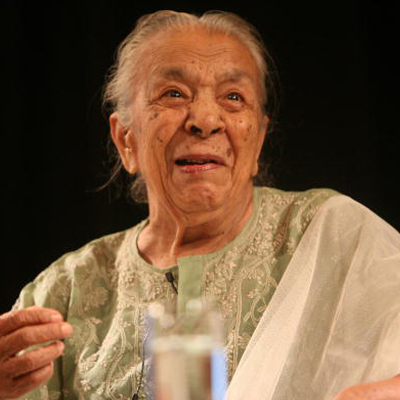 Veteran actress Zohra Sehgal passed away at 4:00pm in Delhi on Thursday. Her death was confirmed by her family. She was 102.
Here is her profile published on dna on the occasion of 102nd birthday in April, 2014.
—
There is something about Zohra. As she talks, the creases across her face tighten. Her eyes glimmer in delight and mischief. Her hand move animatedly, as if trying to make a point by themselves. That is Zohra Sehgal for you, the quintessential Bollywood diva. She may be at the other side of 100, but her zeal and enthusiasm for life would put a 20 year old to shame.
Born on the April 27, 1912, Zohra is an Indian actor and dancer. Born Sahibzadi Zohra Begum Mumtaz-ullah Khan in a traditional Muslim family in Sahranpur, Uttar Pradesh, she was sent to Lahore to pursue her higher education. "I was never a Pakistani. I was always an Indian," said the 102 year young lady in an interview with ANI, a few years back. Her journey from India to Pakistan and back again, encapsulated the entire Indian freedom struggle. She was a witness to the partition and it pained her a lot, she said.
Acting and dance came naturally to Zohra, after all Uzra Butt, a leading lady with Prithvi theatre, was her sibling. Trained in ballet, the woman was and continues to be a born charmer. "Ballet was difficult at the beginning, but I wanted to learn it," said Zohra said in an interview in 2012.  She started off her journey with Uday Shankar's dance troupe and has today completed over eight decades of her journey in the industry.
Love came calling when she met Kameshwar Sehgal. The man was a scientist, but his penchant for art is what brought them close. The Hindu boy from Indore, was eight years younger than Zohra. Reluctant to get married, Zohra took time to realise she couldn't live without Kameshwar. Marriage was imminent. In the year 1942, as India fought the Quit India movement, the couple tied the knot. However their togetherness was short lived. After Kameshwars's death in 1952, Zohra knew she had to raise her kids by herself.
Travelling to England to pursue her acting career was a choice that was the most sensible decision she made in her life. The Raj Quartet, The Jewel in the Crown, Tandoori Nights, My Beautiful Laundrette etc. came along. Over the last few years, she dabbled in numerous Bollywood movies too. Her performances in 'Cheeni Kum' alongside Amitabh Bachchan, 'Dil se' alongside Shahrukh Khan and Manisha Koirala, 'Veer-Zara', 'Hum Dil De Chuke Sanam', 'Dillagi', 'Bend it Like Beckham', 'Sawariya' and many more, were widely appreciated. Zohra, though approached for a slew of films even later, decided she had to stop; after all she was ageing.
"I would have loved to be a beauty when I was younger. I was flat chested, big bottomed, dark skinned and not even appealing. I was mischievous and was nothing less than a prankster," Sehgal had previously claimed. Even though she regretted doing lot of things, she agrees these mistakes were her best teachers.
As she ushered in her 102nd birthday on Sunday, she admits she is truly blessed.Settled now in Delhi, the agnostic believes the only tragedy in her life would be that the sex-spurred, mystery novels will now have to rest in her shelf (Her eyesight is dwindling). The feet that would once dance across stages and the eyes that could once express any emotion, now move in a different tune. They may not be as crisp and as they once they used to be, but she awaits her future, with a wide smile.
There is more to do, more to live – Zohra Sehgal