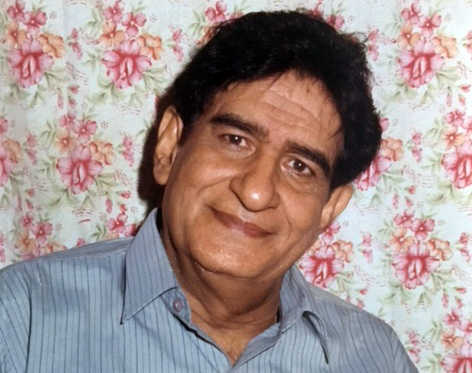 Mehar Mittal (1935-2016). Photo courtesy: Family
Jasmine Singh
Chandigarh, October 22
Veteran Punjabi actor Mehar Mittal passed away in a hospital in Mount Abu, Rajasthan, on Saturday after a prolonged illness. He was 81.His family members rushed to Mount Abu for his last rites, to bid final adieu to the actor who entertained the audience in more than 300 films.
The rumours of his death made rounds in social media two weeks back. So strong were the rumours that many from the Punjabi film industry posted 'RIP' messages on their Facebook pages.Sanjeev Gupta, an advocate in the Punjab and Haryana High Court and Mehar Mittal's grandson, confirmed the news of his demise. "He was in coma for 3-4 days.
On Saturday afternoon he suffered a stroke which he couldn't bear," said Gupta, who can't help but talk about the last time he met Mehar Mittal. They had met recently. "He looked happy and at peace," Gupta said.
As Sanjeev painstakingly recollects the memories of going out with this brilliant actor, he tells us how his fans would surround the versatile actor wherever he went. "He was something like the characters he portrayed on celluloid."Born in a Bathinda village on October 24, 1935, Mehar Mittal worked as a comedian in over 300 Punjabi films.Not many would know Mehar Mittal was a law graduate, who practised law in Chandigarh for almost eight years before the acting bug struck him.
He started his film career with 'Sacha Mera Roop Hai' in 1974.Thereafter he was seen in many films — Chann Pardesi, Lambhardaran, Walayati Babu, Putt Jattan Da and Qurbani Jatt Di to name a few.Mehar Mittal was awarded the Dadasaheb Phalke Academy Award for his work.
He also produced two films, Ambe Maa Jagdambe Maa (1980) and Walayati Babu (1981).He used to play small roles in Ram Leela and audience used to like his comedy more than Ram Leela. He even acted in few plays which helped him to get a break in movies.Speaking at a function in Bathinda some years back, Mehar Mittal had revealed that he was paid only Rs 5 that included travelling allowance as remuneration for his first Punjabi film in 1972.
Role model for Punjabi comedians'
Recalls actor-comedian Binnu Dhillon, who had the chance of meeting Mehar Mittal at a function where Mittal was being honoured, "The young generation or the old timers, he was a role model for all Punjabi comedians."Binnu talks about an incident when the distributors refused to take up 'Chann Pardesi' because it didn't have Mehar Mittal in it.
Later, the makers had to include him in the cast. "Such was his popularity that a film would sell only in his name. People would watch a particular film because it had Mehar Mittal in the cast," says Dhillon.Mehar Mittal got into meditation, and it was only four years back that he moved to Mount Abu to meditate, a place where he breathed his last.
http://www.tribuneindia.com/news/punjab/punjabi-actor-mehar-mittal-passes-away/313228.html