December 01, 2014 10:01 IST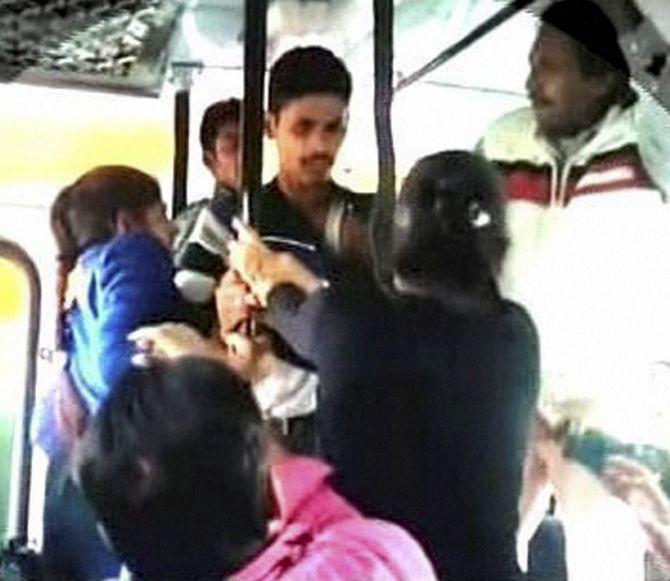 The Haryana police, finally acting in the incident in which two sisters from Rohtak took on three molesters in a moving bus as the other passengers remained mute spectators, arrested all three youths.
Police arrested the alleged molesters, Deepak, Mohit and Kuldeep, after the incident was highlighted in the media. They have been booked for molestation and assault.
The state police had drawn flak for not being able to take any action after an incident came to light in Rohtak town.
The brave girls, Aarti and Pooja, thrashed the youths even as they were themselves assaulted by them. The girls hit one particular youth with a belt and their hands and legs in the incident that took place Friday.
The matter came to light after a woman travelling in the same bus recorded the incident on a mobile phone, police officials said Sunday.
Police, following a complaint by the girls, registered a case against the youth.
"We fought the assaulters all alone. No one came forward to help us as the youth hit us and even pushed us out of the moving bus," said Aarti and Pooja.
The father of the girls alleged that police officials were mounting pressure on them to strike a compromise in the matter.
The girls alleged that the boys were blowing kisses at them and throwing slips towards them on which their mobile phone numbers were written. When the girls objected to this, the youth made lewd gestures and passed comments on them. A fellow woman passenger also objected but she was also harassed by the youth.
Other passengers in the bus, including the bus driver and conductor, did not come to rescue or help the two girls. The bus kept moving as the girls were being assaulted.
THE VIDEO