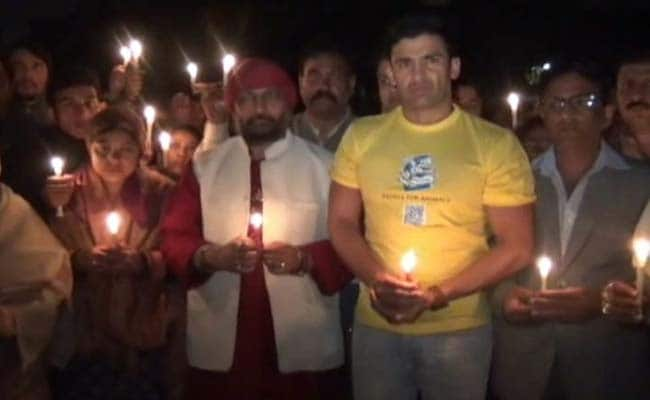 CHANDIGARH: 
The brutal gang rape and murder of a mentally challenged woman in Haryana's Rohtak has sent shockwaves across the town. A week after the gruesome incident, civil society members and notable faces from the city joined hands with the family to take part in a candle light vigil to demand justice. Police say they are investigating the case and that they will catch the guilty soon.
The candle light vigil also protested the perceived inaction of the police in the case, given that no arrests have been made after the victim was found dead in a field near Bahu Akbarpur village last Sunday.
"We want the culprits to be hanged," said the victim's sister at the candle light vigil. "This is not just about my sister. It's about every daughter and daughter-in-law. But the police investigation is too slow," she added.
Other prominent citizens of Rohtak too expressed their solidarity with the victim's family and took part in the vigil. "Something like this first happened in Delhi and now it has happened here, where people are supposed to be more educated and cultured. I fully support this campaign for justice," said TV personality Sangram Singh, at the candle light vigil.
"We can get justice only if we all stand together. We will stand with the family and fight till the end, even if we have to go up to (Prime Minister) Modiji," he added.
Police meanwhile say investigations into the incident are progressing. "Our teams have got some crucial leads. Some local people have also provided us some clues. We are working on them in the most comprehensive way possible. We will soon arrest those responsible and ensure that they get the most stringent punishment," said Rohtak's Senior Superintendent of Police (SSP) Shashank Anand.
Police have also announced a cash reward of Rs. 1 lakh for information leading to the arrest of the culprits.
The victim's body had been found with key organs missing, with sticks, stones and condoms stuffed into her private parts.
The gang rape and murder of the mentally challenged woman has drawn parallels to the gruesome Nirbhaya case of Delhi, which had led to changes in the law in a bid to prevent crimes against women.