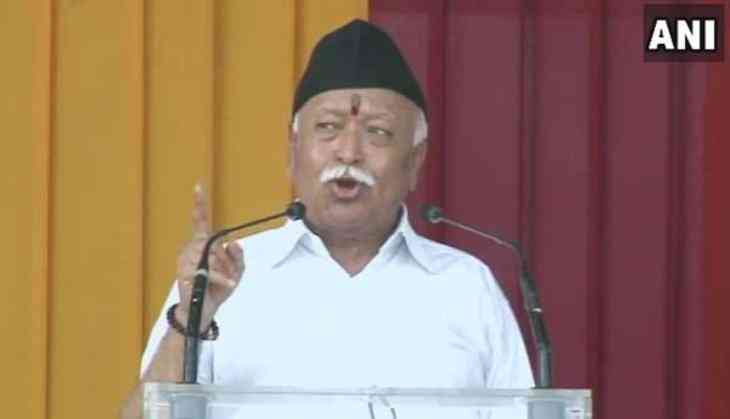 Mohan Bhagwat, the Sarsanghchalak of the Rashtriya Swayamsevak Sangh, virtually gave a free hand to Gau Rakshaks, absolving them from any blame of being involved in violence.
Delivering his annual Vijayadashmi address, Bhagwat said cow-protectors should not worry about statements by government or the Supreme Court which has called for curbing rise in cow vigilantism.
Bhagwat said that with cow smuggling emerging as a serious issue, particularly near the Bangladesh border, cow-protection has assumed more significance.
"After inquiries in the recent incidences of violence and atrocities, it has become amply clear that these activists (gau rakshaks) were not involved in those acts of violence.
"On the contrary many activists who were peacefully involved in cow protection were attacked and killed. This issue is neither discussed nor is it being inquired. It is unfair to link cow protectors or cow protection with violent incidences or communalism, without knowing the facts," said Bhagwat.
He said there is a nefarious campaign against cow-protection and a bid to create tension among people of different religions.
"In such a situation, cow-protectors and promoters who are piously involved in the activity should not worry or get distracted with the well-intentioned statements by highly placed persons in the government or remarks made by the Supreme Court," said Bhagwat.
The Supreme Court recently directed all the states to crackdown on cow vigilantism and also observed that state governments were obliged to compensate victims of such violence.
"People who are criminals and involved in violent activities should be bothered about that.
Vested interests are misinterpreting these statements to influence larger public opinion. The government and administration should stay away from such misinterpretation and should ensure that the criminals get penalised and innocents are not troubled.
"The legal and virtuous work of cow-protection and cow-promotion is in the interest of the people and will increase in coming days. It will also be the apt answer to the situation," he asserted.
FARMERS IN PAIN
Speaking about the crisis in agriculture sector, Bhagwat said farmers in India were depressed.  He said:
• "Our farmer is in pain today. He is depressed after facing the onslaught of floods and droughts, export-import policy, meagre pricing, mounting loans and losing everything once the crop is ruined.
• While appreciating schemes like crop insurance, soil testing and e-marketing for agriculture products, Bhagwat said that Union and state governments should be more vigilant to ensure effective implementation of these schemes.
• He also said that the "loan waivers" were signs of sensitivity and goodwill of the governments, but are temporary measures and not a solution to the problem.
• "New technology and traditional non-polluting methods should be amalgamated for farmers so that they can do farming with less investment and without getting into debt trap.
• "Farmers should get the minimum price with a profit range over his investment so that he can bear his family expenditure and save some capital for the next year's farming. The purchases of crops based on the support price will have to be ensured by the government. Organic farming, mixed farming and farming with cow-based animal husbandry should become a new trend. The chemical farming that is poisoning our food, water and soil and also increasing the expenditure of farmers should be slowly done away with," he said.
SCRAP SPECIAL STATUS FOR KASHMIR
Bhagwat again reiterated the RSS's stand for withdrawing autonomy to the state of Jammu and Kashmir.  He said
• "There is an urgent need to take the benefits of development to the masses in the entire state of Jammu and Kashmir, including the Jammu and Ladakh regions, without any discrimination and through transparent and clean governance.
• "The problem of refugees is still not resolved in the state. Despite being citizens of India, they are still far away from the basic facilities of education, employment and democratic rights, and leading a backward life," he said referring to the Article 35 A and Article 370 which grant special status to the state.
• "We have to create conditions so that our these brothers can lead a happy, dignified and secure life…
• "For this just work, necessary Constitutional amendments will have to be made and old provisions will have to be changed. Then and then only, the residents of Jammu Kashmir can be completely assimilated with rest of Bharat and their equal cooperation and share will be possible in the national progress," he said.
ROHINGYAS A THREAT TO INDIA
Bhagwat also articulated the RSS' hostile position on Rohingya refugees. He said:
• "Nation already has been facing the problem of illegal Bangladeshi migrants and now Rohingyas who are chased away from Myanmar have infiltrated and many more are ready to migrate illegally. They are being driven out of Myanmar mainly due to their continuous violent and criminal separatist activities and linkages with the terrorist groups.
• "Any decision regarding them should be taken by keeping in mind that they will definitely be a threat to national security and integrity. The government seems to be thinking on the same lines. In such complex situation, success is not possible without cooperation of the entire society," he said.
He also slammed the Mamata Banerjee led government in West Bengal and the Left government in Kerala for "patronising infiltrators".
• "The situation in Bengal and Kerala is known to all. The State Governments and their systematically politicised administrative systems are not only apathetic to this serious national crisis but are also lending a helping hand to the anti-national forces for petty political interests.
• "Information pertaining to all these anti-national activities reaches the Union government and they must be taking necessary steps to foil these nefarious designs," he added
http://www.catchnews.com/politics-news/rss-chief-mohan-bhagwat-s-message-to-gau-rakshaks-don-t-worry-about-sc-govt-83778.html