RSS women's wing focuses on gender-specific roles to uphold family values
While training the young girls to combat, the Rashtriya Sevika Samiti also teaches them the importance of 'upholding the family values'.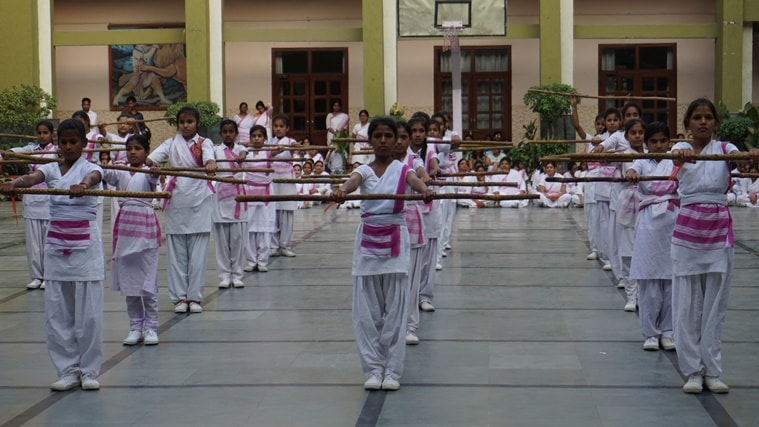 Rashtriya Sevika Samiti girls exhibit their lathi-wielding skills. Source: Express Photo/Radhika IyengarOver fifty school-going adolescent girls, armed with laathis, swords and knives, with a saffron ribbon tied around their wrists, brandished their weapon-wielding skills in the open courtyard of GLT Saraswati Bal Mandir school in New Delhi on Sunday. Dressed in crisp pink-bordered, white salwaar-kameez and white canvas shoes, they appeared confident and ready for combat.
This was the culmination of a 15-day training camp, which began on May 27, organized by the Rashtriya Sevika Samiti, the right-wing RSS women's wing, which trained the girls to fight while also instilling moral values in them. During the performance, the girls exhibited yoga aasanas and later huddled to form pyramids, where they cried in unison, "Bharat maata ki jai!" (Long live India!)
"This is the goal of the sanstha," said Rashtriya Sevika Samiti's Uttar Shetra Karyavahika, Chandrakantha, who was the chief guest at the event. "We teach the girls to be fully empowered and equipped – that is, physically, mentally and spiritually strong, so that a girl is capable of protecting herself and is able to guard her country, its traditions, its sanskriti and its languages. The Samiti instills pride for the nation in her."
While training the young girls to combat, the Samiti also teaches them the importance of upholding the family values. Wearing a pink-bordered white saree, with her hair pulled back neatly in a bun, the 70-year-old, Chandrakantha said that at the end of the day, a woman was responsible for keeping the family together as a tight unit. "Jo bachiyan hain, unko yasasvi kis prakar banana hai, parivar ko kaise rakhna hai – jo kammi dikhti hai parivaron ke andar, jo parivar tooth rahein hain humare — usko jordhne ki kala yeh rashtriya sevika samiti sikhti hai." (Rashtriya Sevika Samiti trains the girls the skillful art of uniting and keeping the family together. How to be victorious, how to maintain peace in families which are weak or broken – this is what is taught).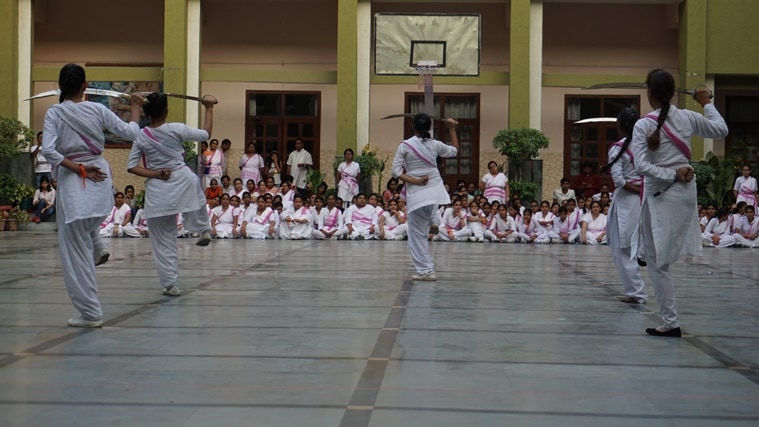 Rashtriya Sevika Samiti girls exhibit their sword-wielding skills. Source: Express Photo/Radhika IyengarThe Samiti informs the girls that becoming good mothers is important, since it is the woman who is responsible for sculpting the nature of her child. "Maata nirmata bhaviti hai, ma chahe toh nar se Narayan bana sakti hai, ma chahe toh vidhwansak bana sakti hai." (A mother is the ultimate creator. If she wants, she can bring up her child to be a saint or a destroyer).
Speaking to the indianexpress.com, she added that there should be specific gender-defined roles which should be practiced in society. "Purush ka hai bahar ka kaam karna, dhann ka kaam karna – paurush uska gunn hai. Stritiya, matritav ka gunn hai. Uss gunn ko aurat ko kabhi nahin bhoolna chahiye." (A man's job is to make money – masculinity is his quality, whereas a woman's quality is motherhood. She should never forget that).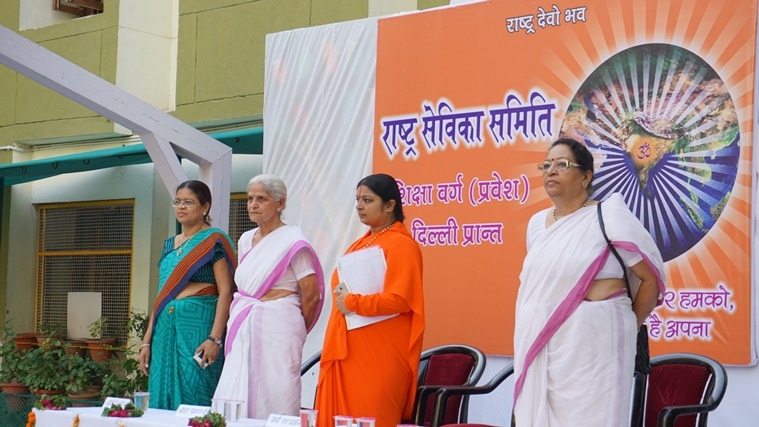 Rashtriya Sevika Samiti camp chief guest, Chandrakantha (second from left). Source: Express photo/Radhika IyengarThe true embodiment of motherhood, she said, was Maratha king Shivaji's mother, Jijabai Shahaji Bhosale. "Unhone Shivaji ka nirmaan uss samay kiya jab, apne aap ko koi Hindu kahi hi nahin sakta tha. Uss samay Jija maa ne Shivaji ko taiyaar kiya, jisne apni buddhi aur chaturai se, Hindu samrajaya ki sthapana ki." (She brought up Shivaji at a time when no one could call himself a Hindu. At that time, she trained Shivaji in such a way fight, that he used his intelligence to to establish the Hindu empire).
As the sun set, a tired lot of girls settled down in the courtyard to listen to Chandrakantha, who narrated to them the history of the Samiti and the leadership qualities of Laxmibai Kelkar, who founded the organization in 1936. When the evening came to an end, the girls stood up to sing Vande Mataram, their palms pressed together and heads bowed in deference. Soon after, the unified group broke and scrambled across the courtyard to meet their friends and families who had attended the event. Many dispersed later to get platefuls of prasaad (halwa and mathi) and sherbet.
http://indianexpress.com/article/india/rss-womens-wing-tells-its-women-a-mans-job-is-to-make-money-womans-quality-is-motherhood/