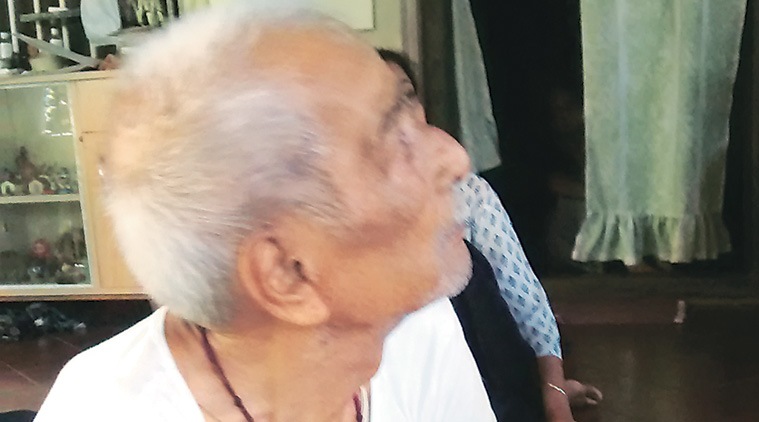 Victim Baliga's 85-year-old father RamachandraThe Mangaluru police on Tuesday opposed the anticipatory bail plea of NaMo Brigade founder Naresh Shenoy claiming that his call details revealed he was in constant touch with the men already arrested for the murder of an RTI activist on March 21. It said the presence of a Toyota Qualis linked to him near the crime scene and the statements of the three arrested accused clearly showed Shenoy's involvement in the murder.
Shenoy (39) is the prime suspect in the murder of RTI activist Vinayak Baliga. He has been missing for a month, and has sought anticipatory bail.
The 51-year-old RTI activist was hacked to death barely 75 metres from his house while he was out for his customary morning visit to the city's Venkatramana temple. The alleged hired killers, Nishith Devadiga (23) and Vinith Poojary (26), were arrested by the Mangaluru police on March 28. The probe further revealed that the killers were allegedly hired through two individuals, Shiva P and Shrikant M.
While Shrikanth was found to be an employee of Shenoy, the investigations also showed that one Vignesh, another employee of Shenoy, was allegedly present at the crime scene in a Toyota Qualis to facilitate a getaway.
Shenoy's counsel, however, told the court that his client had no personal vendetta against Baliga. But the elderly parents of the murdered RTI activist sought denial of bail on the grounds that the accused would influence witnesses in the case. The district court Tuesday posted Shenoy's bail plea for orders on April 29.
Baliga was involved in a series of RTI campaigns against illegal activities in Mangaluru. He was engaged in a campaign to expose the alleged misappropriation of funds by the Venkataramana temple authorities. Shenoy, sources said, is believed to be a close associate of the temple authorities.
To pinpoint the motive behind the crime, the police is also believed to be looking into the campaign to unearth illegalities in usage of funds and property of the Venkataramana temple.
See more at: http://indianexpress.com/article/india/india-news-india/rti-activists-murder-namo-brigade-founder-in-constant-touch-with-killers-says-police-2771987/#sthash.7jFI4tBq.Xik6uQKx.dpuf