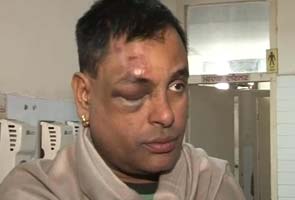 PIC- COURTESY ndtv
The ruling Shiromani Akali Dal(SAD) has been hogging the limelight for all the wrong reasons these days.
After the murder of a police officerand assault on another policeman allegedly by its members recently, the party's leaders and their supporters thrashed a local singer at a marriage party in the state.
Punjabi singer Subhash Sharma was thrashed at the wedding of a relative of senior SAD leader Balwant Singh Ramoowalia. Sharma alleged that he was beaten up by the party leaders for not performing at the function.
"There was a function of my friend who is a sitting MLA. He had organised a programme. Some people forced me to sing and when I refused I was thrashed badly. They also told me that they will see me," Sharma alleged.
"I read in newspaper about misrule in Punjab and I confirm this today. I have not joined any political party. Earlier I was an Akali supporter, but now I don't support it."
"As a man and a voter I am saying that there is rowdy rule in Punjab," he added blaming SAD for the growing incidents of violence in the state.
Earlier, a SAD activist had assaulted a constable in Gurdaspur district on December 8. The same day, nephews of an Akali leader opened fire in Muktsar district over a property dispute.
They fired several rounds at two people against whom they had a grudge.
Just a couple of days before these incidents an Akali leader had allegedly killed an assistant sub-inspector in Amritsar as the latter attempted to prevent his daughter from being harassed by the leader and his friends.
Related articles