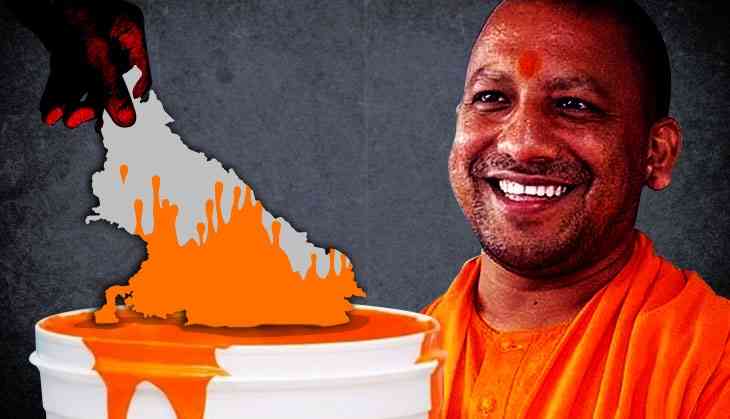 There's no stopping the Uttar Pradesh government from renaming important places.
Having renamed Mughal Sarai railway station and the Indian Air Force's airport at Agra after party ideologue Deen Dayal Upadhyay, Chief Minister Yogi Adityanath on Thursday announced that the air force's airport at Chakeri would be named after freedom-fighter and journalist Ganesh Shankar Vidyarthi.
Because Panki, known for its 660 megawatt power plant and a 1, 46, 385 KL storage plant of the IOC Limited, also has a Hanuman temple, the chief minister said the railway station here would henceforth be known as Panki Dham.
Before becoming the chief minister he had given Hindu names to some markets and localities in Gorakhpur, replacing their original Muslim names. He is also not averse to the renaming of Taj Mahal to Tejo Mahalay after a debate.
Asked if in his zeal to rechristen landmarks, the chief minister would also name Lucknow as Lakhanpuri after Lord Ram's younger sibling Laxman, a BJP spokesman laughed and said he won't be able to comment on that. Nor would he say anything on whether Adityanath will stop changing names whimsically.
Also, as part of the Bharatiya Janata Party's saffronisation agenda, the Uttar Pradesh Transport Corporation would soon get a fleet of saffron-hued buses.
Not to be left behind, the state power corporation planned to paint electric poles 'bhagwa', the colour of the ruling party's flag as well as Mahant Adityanath's attire.
The fleet of 50 saffron buses was being readied at the UPSRTC workshop in Kanpur would cost Rs 24 lakh each and was expected to roll out on September 25.
The saffron and white touch was being given to the buses as part of Deen Dayal Upadhyay's birth centenary celebrations and would be called Antyoday buses. They will be compatible with Euro IV emission norms.
After the saffron-white buses came the announcement by Alok Kumar, Principal Secretary, Energy, that electricity poles in the state would be painted saffron. The "colour coding", he said, would be done at the colonies where power connections have been regularised.
The state has about 30000 unauthorised colonies, 350 of them being in Lucknow, which survive on illegal connections and where legal power has to be provided to prevent power theft and increase revenue. This drive was aimed at realising the Central government's plan of "Power for All", said an official of the UP Power Corporation.
Poles in colonies with legitimate connections won't be changed, except in unelectrified areas where, under the state government's Sugam Sanyojan Yojna, the corporation would bear the cost of poles if three consumers applied for it. These poles would also be painted saffron.
While the UPPCL has taken up the responsibility of colouring of electric poles in colonies with regularised connections, in Agra the municipal corporation has decided to give all the street light poles the distinctive saffron coating.
The Agra civic body decided to paint the 38,000 street light poles for a different reason. The poles which will be numbered will also bear the ward number to make it easy to for officials to attend to complaints, an official was reported to have said.
Colouring each pole would cost Rs 1,345 and the tendering was underway. The process was expected to begin this month.
Uttar Pradesh was not alone in painting utilities saffron. In Gujarat, the government has ordered bus stops to be painted in saffron. Over two dozen bus stops have been painted in saffron in Ahmedabad and Gandhinagar inviting criticism from the Congress.
Last year Maharashtra Transport Corporation also decided to acquire saffron and white coloured buses for its fleet.
All the political parties in UP have, however, used colour coding to stay in the minds of the people. Samajwadi Party's red and green and Bahujan Samaj Party's blue were ubiquitous colours when these parties were in power.
A Samajwadi Party spokesman hoped that this colour scheme won't be extended to houses being built under the prime minister's scheme as the BJP appeared to aggressively pursue its Hindutva agenda.
https://www.thequint.com/