All India | Edited by Devesh Kumar | Updated: January 08, 2014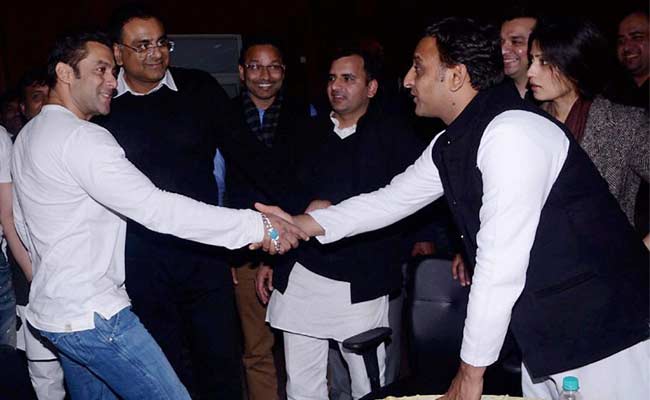 Uttar Pradesh Chief Minister Akhilesh Yadav greets Bollywood actor Salman Khan at Saifai
Saifai, Uttar Pradesh:  Unfazed by all-round criticism for its sheer scale and extravagance at a time when his government was being pilloried for being insensitive to Muzaffarnagar riot victims, Uttar Pradesh chief minister Akhilesh Yadav made it a point to watch performances by Bollywood top draws Salman Khan, Deepika Padukone and Madhuri Dixit, which brought down the curtains on the fortnight-long 'Saifai Mahotsav' on Wednesday night. (See Pics)
Seven jets were chartered to fly the Bollywood entourage – including Ranveer Singh, Mallika Sherawat, Alia Bhatt and Varun Dhawan – into Saifai,  the ancestral village of the Yadav clan, to take part in the grand finale of the jamboree.
Wary of criticism from the media, organizing committee chairman Dharmendra Yadav, who is also an MP and Samajwadi Party president Mulayam Singh Yadav's nephew, said reporters would be allowed into the show, but barred them from carrying their cameras, to prevent live telecast.
The festival, part of an annual ritual, was into its 15th edition, but it had come under heavy shelling from the Opposition parties as it was held against the backdrop of the controversy over the relief camps for Muzaffarnagar riot victims, and their plight. As many as 34 children are reported to have died in these temporary shelters after failing to withstand the bitter cold that has swept the region. The state government has drawn flak for trying to drive the inmates of these camps back to their homes.
"They have lost all human values as they are celebrating at a time when so many kids have died in Muzaffarnagar," BSP leader Sudhindra Bhadoria said.
SP leaders, however, remain defiant, and continue to defend the festival. "I want to clarify again that UP government has conducted Saifai Mahotsav to promote arts and culture," minister Rajendra Chaudhary said.
Organisers are tightlipped about the budget, but critics have panned it for drawing heavily from the state's coffers.
Related articles