By Countercurrents.org
25 November, 2015
Countercurrents.org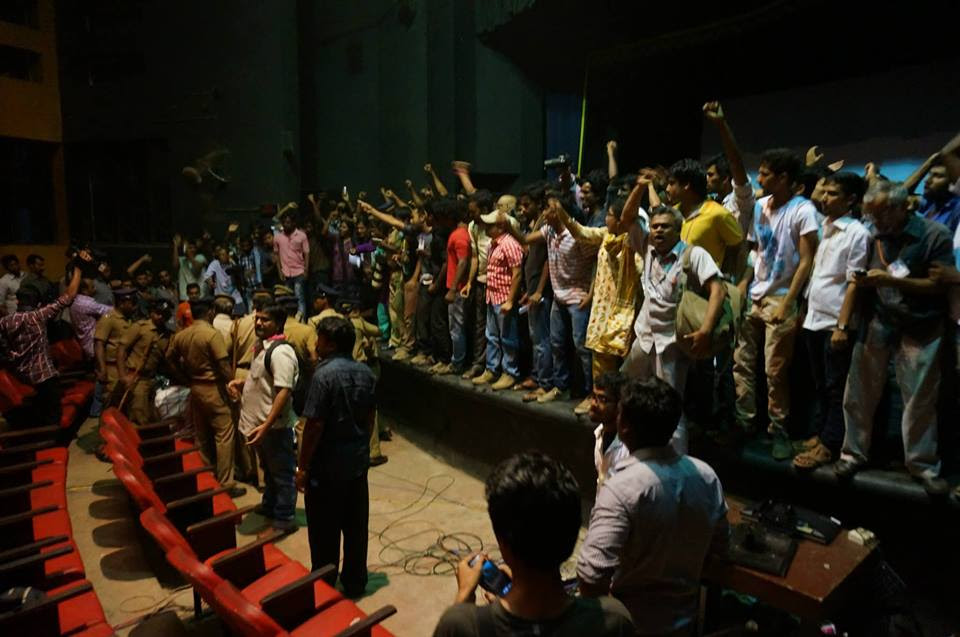 The Sangh Parivar goons threatened witnesses who were coming out of Chief Judicial Magistrate Court, in Thrissur, Kerala after giving their statement before the magistrate in the case filed by VIBGYOR Film Collective against vandalism committed by the Sangh Parivar activists in an effort to stop the screening of the film "Ocean of Tears" by Kashmiri film maker Bilal A. Jan. About 25 Sangh Parivar goons led by BJP leader Advocate Goplakrishnan surrounded famous Malayalm poet Anwar Ali and VIBGYOR Film Collective Secretary Sarath Cheloor in the court premises and threatened of grave consequences if they did not withdraw their testimony. They even tried to manhandle them.
Threatening witnesses is a grave crime in Indian criminal justice system. The threat happened in the court premises itself raises the graveness of the crime. The gang who threatened the witnesses included at least three advocates is even more serious crime.
In the last edition of the VIBGYOR film festival, on 14 February, 2014 Sangh Parivar goons tried to disrupt the screening of "Ocean of Tears" by barging into the venue and damaging the office of VIBYOR. They tried to man handle viewers present. But people resolutely resisted the fascist forces by shouting slogans "Fascist Go Back". Saddest part was that police allowed the miscreants to go scot-free. None of them were arrested, nor any cases charged against them. It was the VIGBYOR film collective that later filed a case against the miscreants. Later, the screening of the film went ahead as planned.
Earlier a local leader of the BJP had served notice to the organisers not to go ahead with the screening. The organizers sought police protection as they deemed it as a violation of the fundamental right to free expression and creative freedom. The notice alleged that the film showed Kashmir in bad light.
The film details atrocities against Kashmiri women by the security forces and militants, with testimony from victims of molestation, widows of the deceased and disappeared, and dependants of missing persons. According to the film maker the film was made "to create awareness among the public about the humanrights violations against Kashmiri women."
The film was produced by Public Service Broadcasting Trust of Government of India and is also U certified by the Censor Board of India on August 3, 2012. Sangh Parivar elements had blocked the screening of the film at Kashmir University and Aligharh Muslim University.
VIBGYOR is the largest alternative film festival in South Asia.