Hadiya's parents refused to accept her marriage to Shafin Jahan, who returned from Oman recently, and they allege that she was being indoctrinated and will be taken to Syria.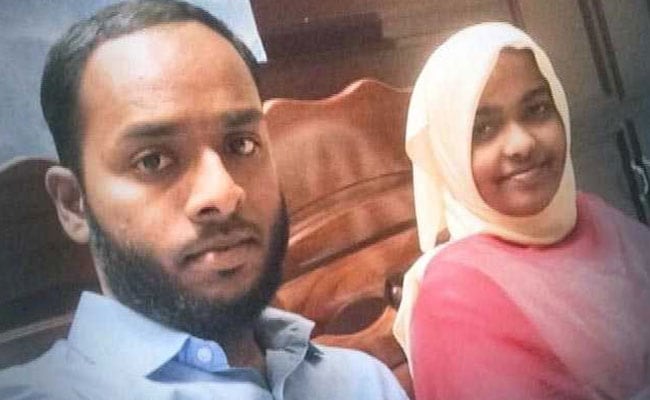 NEW DELHI: 
HIGHLIGHTS
Hadiya's marriage to a Muslim man annulled by Kerala High Court last year
Her parents allege she was brainwashed and forced to convert
Supreme Court freed Hadiya from her parents last yearThe Supreme Court said on Tuesday that 25-year-old Hadiya – the Muslim convert from Kerala whose marriage to Shafin Jahan was annulled by Kerala High Court – was the only one competent to decide about her marriage.

Hearing the case, the SC bench headed by Chief Justice Dipak Misra said that it cannot go into her marital status, since she herself told the court that she was married.

"She can choose independently. She is 24 years old," the bench observed.

"How can the court compel, she is an adult, she appeared and made the statement," the court said.

The SC bench has also made Hadiya a party in the case and has asked her to file her response before the next hearing, which is on February 22.

The SC bench also said that the National Investigation Agency (NIA) cannot investigate the marriage of Hadiya and Shafin Jahan, although they can look into other aspects of any criminal activity.

Although Advocate Madhvi Diwan, appearing for Hadiya's father Ashokan argued that she was concerned about Hadiya's safety. The bench pointed out that Hadiya was no longer in illegal confinement. Madhvi Diwan also argued that the circumstances that led to the marriage should also be investigated. However, the bench said that Hadiya was to decide who is a good human being or not. The bench said that the court cannot dictate that.
The NIA objected, saying the top court had asked it to check if vulnerable women were being preyed on and recruited as terrorists, and they have made sufficient progress. The agency had told the court earlier that it found an "emerging trend" in the conversions.
The court responded saying "We are not concerned with the NIA probe. You can probe anything, but not on marital status".
Hadiya, the court said, is 24 years old. "She told us in court she is married.  We can't question the legitimacy of her marriage," added the court, which had freed the young woman from her parents' custody and sent her to complete her studies at a homeopathy medical college in Salem in November.
The top court had spoken to Hadiya after Shafin Jahan had appealed against the high court's annulment order. "We will only examine whether the court can cancel the marriage," the judges said today.In November 2017, the Supreme Court directed Hadiya to complete her education. Following this order, Hadiya came out of the custody of her parents, under whom she has been under house arrest since May last year.
The court also ordered that Hadiya be returned to the Sivaraj Homoeopathic Medical College in Salem, where she will complete the rest of her course.
While Hadiya has consistently insisted that her conversion and her marriage have both been fully of her own volition, her father Ashokan has claimed that Hadiya has been indoctrinated as part of a plan to lure her and take her away to Syria.
The NIA had in December questioned Shafin Jahan. Shafin was questioned by the NIA for many hours at their office in Kochi. According to reports, the agency had decided to question him again as they believed there had been discrepancies in his earlier statement.
Hadiya has been in the eye of a storm ever since she converted to Islam and left home in January 2016.
Her case has taken many twists and turns, with the Kerala High Court annulling her marriage to Shafin Jahan, her being confined to her parents' home for months on end, and the Supreme Court ordering a National Investigation Agency probe into her case.
agencies