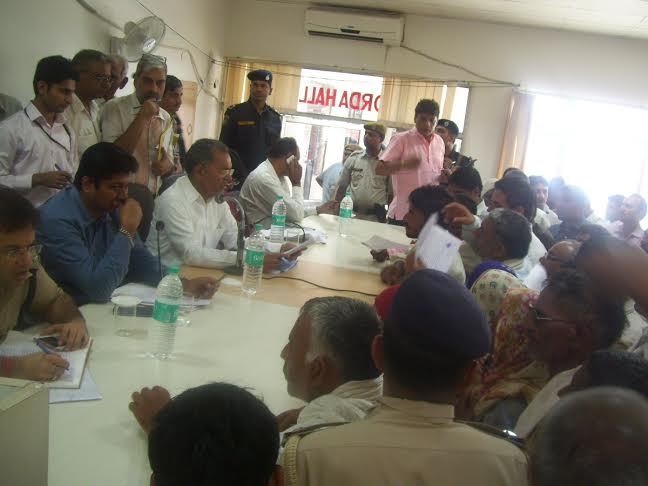 Members of
National Commission for Scheduled Castes
hear
complaints
in Jind on Friday. Tribune Photo
Parvesh Sharma
Jind, July 17
A Dalit family of Muana village alleged harassment by village upper caste families and repeated attacks on his family members in front of National Commission for Scheduled Castes (NCSC) member Ishwar Singh, today.
The commission member directed Jind SP for a quick DSP-level probe and strict action against the accused. As per a written complaint submitted by Prem Singh, five persons including — Leelu, Vipin, Amit, Jitender and Kalu — all from various Rajput families attacked his son Basant on July 13 in the village twice after accusing his son of making phone calls to their daughter.
Prem Singh also alleged that his son was once again attacked at the Safidon government hospital when he was getting treatment."No action has been taken against any of the accused, who have been openly threatening us. I asked them to show us the call details to prove their allegations, but they could not," alleged Prem in front of the commission members.The panel directed Jind SP Abhishek Jorwal for quick action.
When SP Jorwal was contacted, he confirmed that he had directed Jind city DSP for a thorough investigations of the matter, but said the complainant did not submit any complaint to the police nor did he get any medico-legal report issued on the day of the attack.
http://www.tribuneindia.com/news/haryana/sc-panel-asks-jind-sp-to-probe-attack-on-dalit-family/107952.html