November 13, 2014 19:39 IST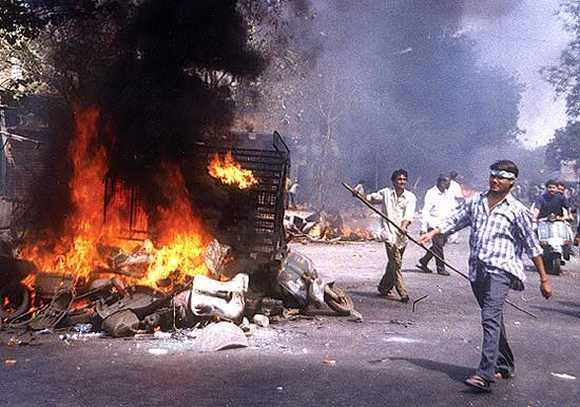 The Supreme Court on Thursday asked a trial court in Ahmedabad to wind up within three months the proceedings in Gulberg Society massacre case of 2002 Gujarat riots in which former Congress MP Ehsan Jafri and 67 others were killed.
Expressing concern over the accused languishing in jail due to delay in trial, a special bench headed by Chief Justice H L Dattu asked the Special Investigating Team, which probed the nine riot cases, to expeditiously proceed in the case.
The bench, however, said that judgement should not be pronounced by the trial court without its permission.
Former CBI Director R K Raghvan, who is heading the SIT, said that it would be difficult to wind up the proceedings within three months.
The bench, thereafter, asked him to proceed expeditiously and allowed him to approach the court in case it is not completed within three months.
The bench in it earlier hearing had said it was considering to pass some order as letters have also been received from some of the accused that they are in jail for almost 10 years.
During the hearing on April 3, the court had expressed satisfaction over the progress of nine cases of post-Godhra riots in Gujarat probed by SIT which had given a clean chit to then Chief Minister Narendra Modi.
"There has been a lot of progress and out of nine cases, six are over and three are almost at final stage," the bench had observed after perusing the progress report filed in a sealed cover.
The apex court has been monitoring nine sensitive cases after the National Human Rights Commission and various NGOs termed the investigation into these to be shoddy and unreliable.
Those cases were about the riots in Gulberg Society, Ode, Sardarpura, Narodao Gaon, Naroda Patya, Machipith, Tarsali, Pandarwada and Raghavapura.
An estimated 2,000 people were killed in post-Godhra riots in 2002.
The SIT had submitted its final report in the apex court in March, 2012 regarding Ahmedabad's Gulberg Society riot case giving a clean chit to Modi and others in the 2002 riot cases.
http://www.rediff.com/news/report/sc-tells-trial-court-to-expedite-riot-case-within-3-months/20141113.htm