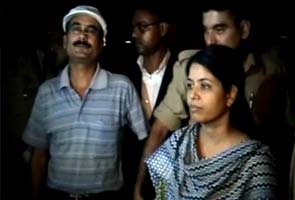 NDTV, june 8, 2012
Allahabad: A couple who were arrested by the Uttar Pradesh special task force in February 2010 and suspected of being Naxals have been sentenced to life imprisonment by a lower court in Allahabad.
Seema Azad and her husband Vishwa Vijay were found guilty of waging war against the state, criminal conspiracy under various sections of the Unlawful Activities Prevention act.
The case against the two was being tried for more than two and half years in the Court of the Additional Chief Judicial Magistrates in Allahabad.
They were detained in the Khuldabad area of Allahabad on February 3, 2010, while they were returning from Seema's brother's house in Delhi.
Banned Maoist literature and Rs. 40,000 were found on Azad and her husband Vishwa Vijay which the police claimed was being used to exhort people to become Naxals.
32-year-old Seema Azad, a Master in Psychology from Allahabad University was the Organising Secretary of People's Union for Civil Liberties (PUCL) in Uttar Pradesh. She also edited a magazine called Dastak.
In 2010, several PUCL members had opposed the couple's arrest alleging that they had been framed because they were working extensively against land mafias and unfair policies of the government.
Their arrests were made by the special task force, but the case was later handed over to the anti-terrorism squad of UP.
The Supreme Court had ordered a day to day trial in the case.
After the sentencing was announced today, the couple's lawyer Lalji Kaithwas said that he still believes this is a case of poor evidence and that he will challenge their conviction and sentencing in the High Court.