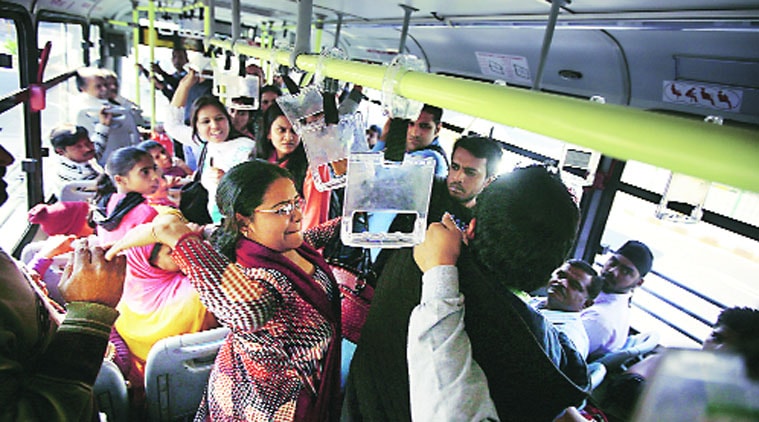 Mock slapping of the mock molester. (Source: Praveen Khanna)
Written by 
Dipanita Nath
 | New Delhi | Posted: December 4, 2014 10:46 am
The bus was partly occupied and ambling from ITO towards Mandi House when a young woman shouted at the man next to her: "Theek se khade ho (Stand properly)." He glared at her and yelled back.
Another woman and a few men quickly joined the shouting match. "You women don't dress up properly and then you think men are the problem," said a man rushing in from the back of the bus. At this, a woman rose from her aisle seat and let it rip, "What about the little girls who get raped? Is it their fault, too?"
Tempers rose. The first woman raised her hand and slapped her "harasser". People stood on their seats, a child drew his mother away and an elderly man in a turban pleaded for peace. By now, the bus was near the Mandi House Metro station and, suddenly, the bickering group of men and women began to clap and sing, "Tu chup rahkar jo sahti rahi, toh kya yeh zamana badlega… (If you went on suffering silently, will this world change for better?)"
It was a play all along, stridently titled, Sunn raha hai na tu? (You are listening, right?). It aims to shake up commuters and involve them in protesting harassment of women on buses. Created to mark the anniversary of the Delhi gangrape on December 16, the play has been travelling through Delhi on public buses.
"We board buses as regular commuters, buy tickets and then begin the play. This kind of guerrilla theatre provokes people," Madhuri, 'the woman on the aisle seat', said.
Most actors are activists with youth group DYFI and have little or no formal training in acting. Well-known theatre director N K Sharma conceptualised the play, Pramod Singh, one of the actors, said. The group, mostly in their early twenties, trained with Sharma for four days, during which they finalised the script.
"This is no conventional acting. This was designed to grab the attention of the audience. There have been many cultural interventions over the Delhi gangrape, but we wanted something that would evoke an instant reaction from the people," Sharma said.
Singh said the group begins around 9.30 am and boards about seven buses every day. They were in Dhaula Kuan, Gole Market and Connaught Place on Tuesday and the second day took them from Mandi House towards Krishi Bhavan.
On Thursday, the team will perform on buses along the Metro route from Uttam Nagar. The play ends on December 11.
– See more at: http://indianexpress.com/article/cities/delhi/seen-on-a-moving-bus-how-not-to-treat-a-woman/#sthash.6BgL1pI3.dpuf