'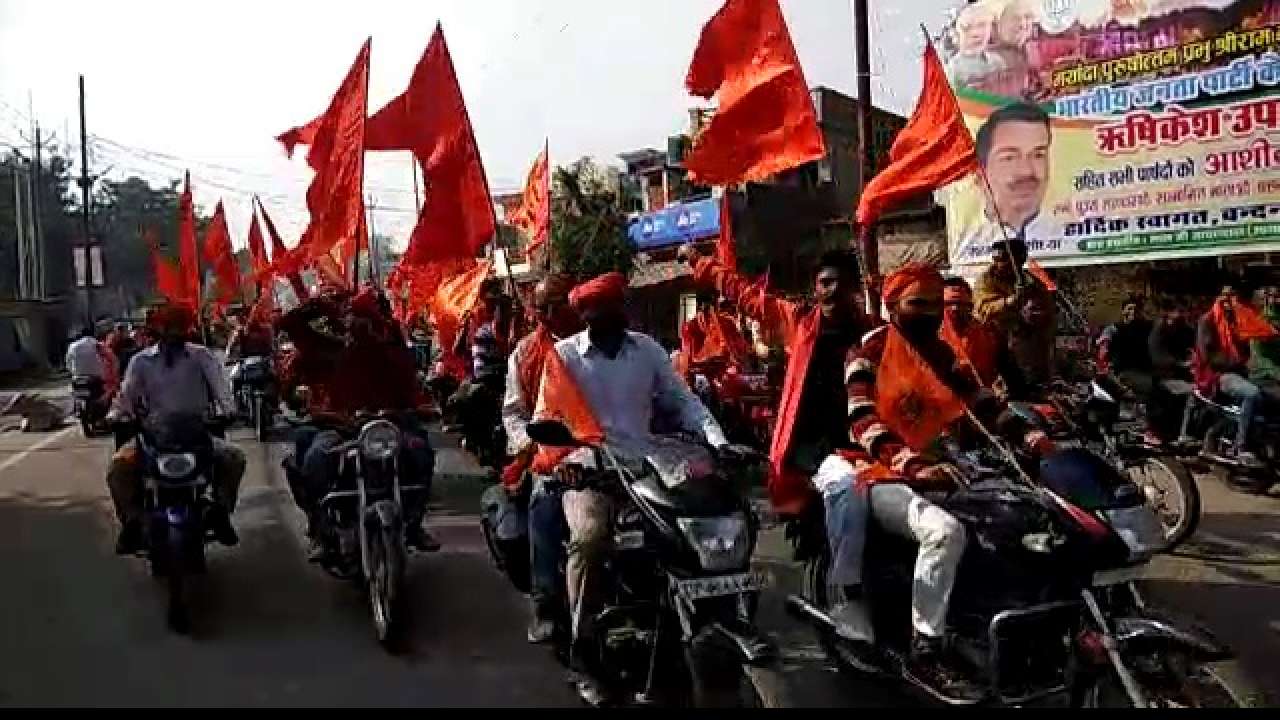 Bajrang Dal and Shiv Sena activists taking out a 'victory procession' in Ayodhya on December 6, 2017 – Srawan Shukla
Wednesday 6 December 2017 21:18 IST
Raising 'Jai Sri Ram' slogans, saffron-clad Bajrang Dal and Shiv Sena activists took out a 'victory procession' in Ayodhya on Wednesday to celebrate 25 years of Babri mosque demolition in gross violation of Section 144 of the IPC enforced in the temple town and the advisory issued by the Central government.
It is for the first time in the aftermath of Babri mosque demolition that slogan-raising saffron brigade activists took to streets to create communal frenzy in Ayodhya, despite enforcement of Section 144. The procession went through main thoroughfares of communally-sensitive town in Faizabad district, including high-security zone of the disputed site and Muslim-dominated areas of the temple town.
Pitch of slogans was shriller when they passed through Muslim-dominated areas and outer of high-security disputed complex. Each year on the day (December 6), prohibitory order under Section 144 is enforced in Ayodhya to disallow congregation of more than five persons. The Vishwa Hindu Parishad (VHP) programs are restricted within the precincts of Karsevakpuram and no one from either side is allowed to take out victory procession on Ayodhya streets.
Watch Bajrang Dal and Shiv Sena activists'  'victory procession' in Ayodhya: 
Emboldened by pro-Hindutva governments at the Centre and state, Bajrang Dal and Shiv Sena activists blatantly defied the prohibitory orders on Wednesday. Interestingly, the police and security forces did not bother to stop the procession at any place or dare to arrest any saffron brigade activists for violating prohibitory orders.
The SSP Faizabad Subhash Singh Baghel has taken strong note of the victory march despite prohibitory orders.
"We had not given permission for any victory procession. Since Secion 144 was enforced in Ayodhya, it amounts to violating the prohibitory orders. We have arrested two activists and lodged an FIR against 250 unidentified workers," said the Faizabad SSP.
The SSP has however denied that anyone in the procession was carrying swords or any arms.
Earlier, Shiv Sena activists took a holy dip in river Saryu and renewed their resolve to construct grand Ram temple at the disputed site, irrespective of court verdict.
"Where is Babri mosque? The land belongs to us. We are in possession of the land and are doing puja there. Ram temple is to be constructed at that site only. I don't know why media calls it a disputed site when we are the owners," reacted Vinay Katiyar, BJP Rajya Sabha member and founder President of the Bajrang Dal, the youth wing of the VHP.
"What shall we expect from the BJP government when they allowed a new tradition today in Ayodhya. It reminded us of December 6, 1992 when hundreds of thousand kar sevaks attacked us and brazenly celebrated demolition of Babri mosque on streets. Police and security forces were a mute spectator then and today also," rued Iqbal Anasri, a petitioner in the title suit pending at the Supreme Court.
Iqbal's father late Hashim Ansari was one of the oldest petitioners in the title suit. Ansari's house was torched on December 6, 1992 by kar sevaks. However, Hashim and his family had escaped unhurt in the attack. Iqbal, who is now contesting the case after his father's death, said that they will lodge a complaint in this regard with the SSP and DM to initiate action against these activists for violting Section 144.
"After seeing today's 'tamasha', do you think that they (read Hindus) will abide by the Supreme Court final verdict if it went against them?" questioned UP Sunni Central Wakq Board petitioner Haji Mehboob.
"Both sides should patiently wait for the Supreme Court verdict instead of issuing public statements," advised Maulana Khalid Rashid Firangi Mahali, a prominent Sunni Cleric and a member of the All-India Muslim Personal Law Board  (AIMPLB).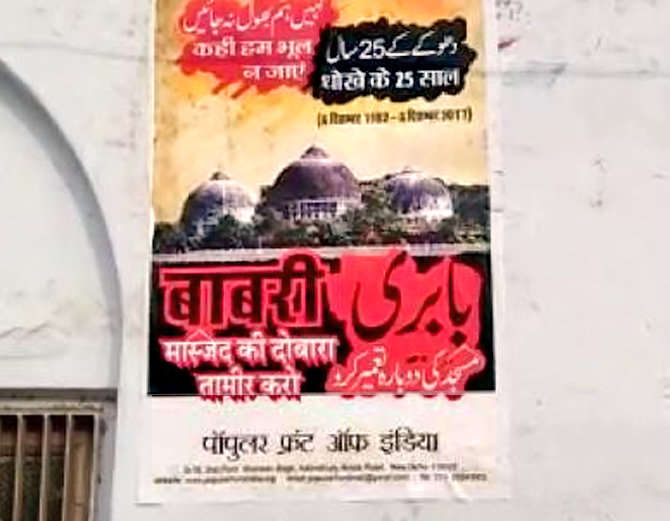 Posters from the PFI pasted in Meerut (Image courtesy: Srawan Shukla)
Meanwhile, controversial posters from the Popular Front of India (PFI), reminding Muslims "not to forget 25 years of betrayal and fight for re-building Babri mosque", were pasted in Muslim-dominated areas of Meerut district on Tuesday evening. The posters were issued by PFI with G-78, Second Floor, Kalindi Kunj Road, New Delhi. "Posters have been removed and an FIR has been lodged," said the SSP Manjil Saini.
At Karsevakpuram in Ayodhya, the VHP celebrated 'Shaurya Diwas' to celebrate silver jubilee of mosque demolition. Amidst fiery speeches of saffron-clad sadhus and saints and VHP leaders, they took a pledge to begin the construction of Ram temple at the earliest.
"Temple will be built at the birthplace of Lord Ram only whatever the court verdict," said Mahant Satyendra Das, Chief Priest of Ram Lala makeshift temple ate the disputed site.
"We will not allow construction of any mosque in Ayodhya, only Ram temple. Dharam Sansad has already passed a resolution in this regard," stated Mahant Nritya Gopal Das, Chairman, Ram Janambhoomi Nyas, which is spearheading the Ram temple movement.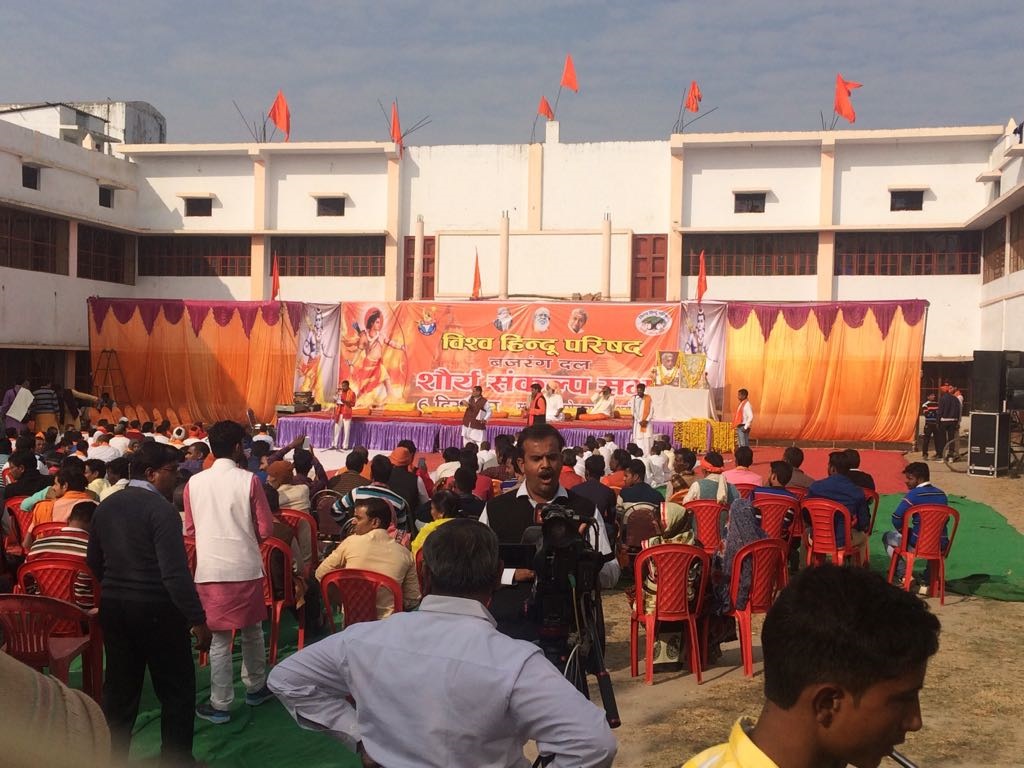 VHP celebrating 'Shurya Diwas' at Karsewakpuram in Ayodhya (Image courtesy: Srawan Shukla)
Mahant Ramdas of Nirmohi Akhara pointed that two third of the land is with Hindus, the court battle is to get remaining land for the construction of grand Ram temple in Ayodhya.
Ever since Yogi government removed hurdles after ban by the Akhilesh government, about 20 trucks of stones have arrived at the VHP workshop in Ayodhya. About 60 per cent stones have been carved as per the design of the temple, work on remaining is in full swing.