Under sexual harassment cloud, RK Pachauri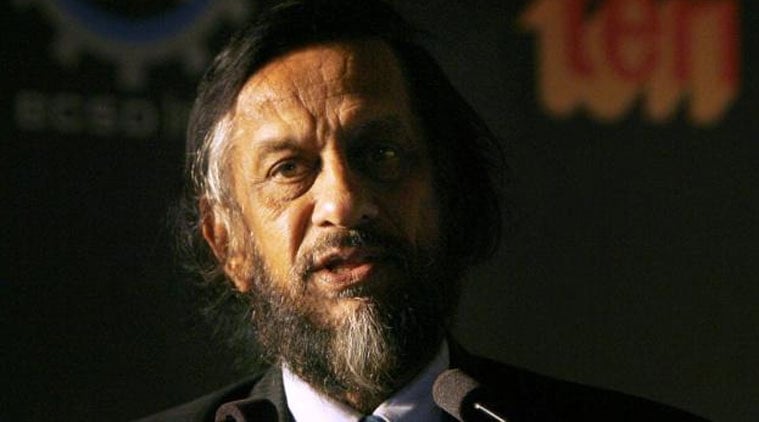 TERI chief Rajendra K Pachauri (Source: PTI photo/file)
Facing a charge of sexual harassment, Rajendra K Pachauri on Tuesday resigned from his post as chairman of the Nobel Prize-winning Intergovernmental Panel on Climate Change (IPCC), an organisation he has headed since 2002.
The Energy and Resources Institute (TERI), which he has headed for over three decades now, also announced today that Pachauri had "proceeded on leave for the time being". It is learnt that m\embers of the TERI governing council advised Pachauri to step down temporarily before he eventually decided to go on leave.
Pachauri is the director general of TERI and the chairman of its governing council, whose members include top corporate leaders like Deepak Parekh, Naina Lal Kidwai, Hemendra Kothari and Kiran Mazumdar-Shaw. The governing council has decided to meet within the next two weeks to discuss a succession plan in case Pachauri has to resign or remain absent for long.
"Some members advised him to step down for a while. I understand he has gone on leave now. There was a governing council meeting some time back. Though I did not attend it, I understand this issue (sexual harassment charge) was not on the agenda," Parekh told The Indian Express.
"There is greater awareness of sexual harassment and every organisation has to deal with it. These are issues where due processes are to be followed. He has to take moral responsibility and decide what is right for TERI," said Kiran Mazumdar-Shaw, adding that Pachauri had done the right thing by stepping down as chairman of the IPCC.
Pachauri, who was in his second term as chairman of IPCC, was scheduled to complete his tenure in October this year.
"The IPCC needs strong leadership and dedication of time and full attention by the chair in the immediate future, which under the current circumstances I may be unable to provide, as shown by my inability to travel to Nairobi to chair the plenary session of the panel (IPCC) this week. I have, therefore, taken a decision to step down from my position as Chair of the IPCC some months before completion of my term, and with effect from February 24, 2015," the 75-year-old globally known face of IPCC wrote in his resignation letter addressed to UN Secretary-General Ban Ki-moon.
IPCC, a UN-backed scientific body, is currently meeting in Nairobi for its 41st session which Pachauri was also scheduled to attend. He had to cancel his trip after a junior associate at TERI filed a police complaint last week accusing him of sexual harrasment.
Pachauri, a railway engineer with a PhD in industrial engineering and economics, is also a member of the Prime Minister's Council on Climate Change. There was no information on whether he had quit that panel as well. The Council, which guides the broad climate policy of the government, meets sparingly. It met last month — the first time after the new government came to power.
The Geneva-based IPCC has designated vice-chair Ismail El Gizouli as acting chairman till a new chairman is selected.
IPCC, which makes periodic assessments of threats from climate change, won the Nobel Peace Prize in 2007 after it released its fourth assessment report. As its chairman, Pachauri received the prize on behalf of the organisation.
Its most recent report, the fifth assessment report, came out last year and is widely acknowledged as the most comprehensive assessment of climate science till date. IPCC reports have been the basis on which countries are negotiating an international climate agreement.
In his resignation letter, Pachauri, a pre-eminent global voice on climate change, has said he wanted to step down last year itself. "I had intended to announce on November 2, 2014, when we released the AR5 (fifth assessment report) synthesis report (SYR) in your august presence in Copenhagen, that my work was done and that I was voluntarily ending my spell as Chairman, IPCC on that date. But close friends and colleagues advised me against that action and to continue with outreach efforts worldwide based on the SYR. I have endeavoured to do so in the past three months and will continue to do so assiduously throughout my life in whatever capacity I work," he said.
"For me the protection of Planet Earth, the survival of all species and sustainability of our ecosystems is more than a mission. It is my religion and my dharma," he said.
Meanwhile, \Leena Srivastava, Honorary Executive Director (Operations), TERI, and Vice Chancellor, TERI University will be the acting DG. Started in 1974, TERI dabbles in research, policy and consultancy in the energy, environment and climate space.
http://indianexpress.com/article/india/rk-pachauri-resigns-as-chairman-of-un-climate-change-panel/99/