SGPC denies offering robe to pro-gay Ontario premier, her office releases photo –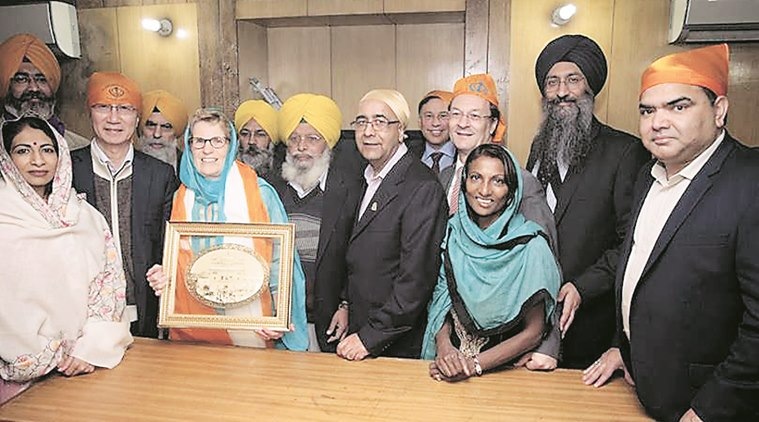 Ontario premier Kathleen Wynne wearing a siropa. The photograph was released by her office Sunday evening.
Even as the political and religious leadership of the Shiromani Gurdwara Parbhandak Committee (SGPC) kept away when the pro-gay premier of Ontario, Canada, Kathleen Wynne, visited the Golden Temple Sunday, a controversy erupted over offering a robe of honour (siropa) to her.
While SGPC authorities denied having presented Wynne the traditional robe, a gesture usually extended to dignitaries visiting the shrine, the Ontario premier's office late in the evening released her photograph wearing a siropa.
The photograph taken at SGPC's information office also has SGPC chief secretary Harcharn Singh. It is issued on the letter head of Wynne's office.
Mediapersons were not allowed to cover Wynne's visit to the shrine.
The SGPC had Saturday announced that the premier would not be gifted a siropa due to her support for the same-sex marriage — that Akal Takht is opposed to. The SGPC, when contacted, declined to accept that they had extended the honours to Wynne.
SGPC publicity in-charge Indermohan Singh claimed no siropa was presented to Wynne and that he had no information about the said photograph.
PR agency Edelman India that is looking after Wynne's visit did not reply to queries.
Earlier in the day, Wynne visited the Golden Temple. She was received by Harcharn Singh and SGPC Chief Information Officer Gurbachan Singh who showed her around.
See more at: http://indianexpress.com/article/india/india-news-india/sgpc-denies-offering-robe-to-ontario-premier-her-office-releases-photo/#sthash.Gs8CxsL2.dpuf