Pune/ Chandrapur, November 30, 2020: In a heartbreaking incident, Dr Sheetal Amte, Chief Executive Officer (CEO) of the leprosy services committee, died by suicide today in Chandrapur.
Sources have revealed that she injected poison to end her life at her residence in Anandvan. It has also been revealed that she was under stress for quite a long now.
She was immediately rushed to Warora Sub-District Hospital where doctors declared her dead. Other senior police officials have also rushed to the spot. Investigation is undergoing to know the reason behind the suicide.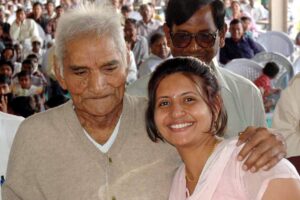 Amte was the daughter of Vikas and Bharati Amte and granddaughter of Baba Amte, a follower of Gandhi who established a rehabilitation home for lepers in Anandwan. She also established Maharogi Sewa Samiti to run the facilities, which include a range of health care, rehabilitation, education, agriculture, and economic empowerment programmes.
Though the motives behind her actions are not clear, her family issued a joint statement claiming she had been facing "mental tensions and depression" since some time.
In her 40s, she is survived by her parents Dr Vikas B. Amte and Dr Bharati V. Amte, besides her husband Gautam and a minor son.
The trustees of the 71-year-old MSS – her parents plus Dr. Prakash B. Amte and his wife Dr. Mandakini (both Magsaysay laureates) – also said that Amte-Karajgi had made certain posts on social media which they denied.
The Amtes even issued a joint statement on November 22, saying they wanted to ensure no misconceptions are created on account of her statements pertaining to the MSS, its trustees and employees.
Incidentally, barely hours before she took the extreme step this morning, the multi-faceted Amte-Karajgi had posted a latest painting of hers entitled "War And Peace".
Three generations of the Amte family are into social work in the far-flung rural and tribal areas of Chandrapur through the Anandwan Ashram and Gadchiroli's Hemalkasa Ashram, tending to people deprived of medical facilities in the Maoist-infested areas.
Amte studied medicine at Government Medical College in Nagpur and became a doctor, and joined her family working at Anandwan to continue her grandfather's vision. Her brother Kaustubh is an accountant for Anandwan and her uncle Prakash Amte and aunt Mandakini Amte are also doctors at the community.
Amte helped to secure the financial assistance of the Tech Mahindra Foundation to provide food for children in Anandwan schools. She also led the installation of solar power panels at the community, resulting in Maharogi Sewa Samiti receiving an award for Innovative Energy Project of the Year 2016 from the Association of Energy Engineers, and intends to incorporate more smart technology into the community in future.
In 2016 Amte was named a Young Global Leader