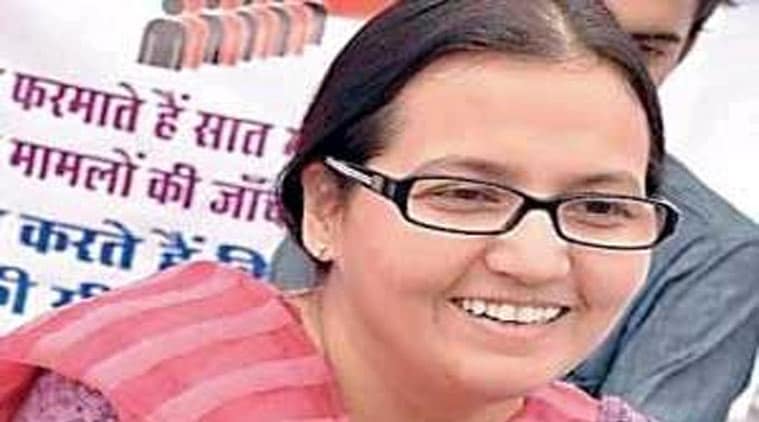 CBI said Shehla was shot by hired killers in August 2011.
In a new turn to the 2011 murder of Madhya Pradesh RTI activist Shehla Masood, the CBI is probing two of its senior officers who allegedly compromised the investigation by withholding "crucial evidence" against a suspect in the case.
Sources in the CBI said a preliminary enquiry (PE), ordered in February 2014 by then director Ranjit Sinha, indicted Arun Bothra, then a DIG and supervisory officer in the case, for leaving out the evidence. The agency is also probing the alleged role of a joint director in the matter.
The PE was ordered during the course of the murder trial when it was found that some data of evidential value, stored in two pen drives, were "missing".
Shehla Masood was shot outside her Bhopal home in August 2011. Madhya Pradesh transferred the case to the CBI which filed a chargesheet in May 2012 against Zahida Pervez, Saba Farooqui, Shaqib Ali (Danger), Irfan and Tabish in a special CBI court in Indore.
According to CBI, Shehla's murder was a crime of passion. It claimed that prime accused Zahida was jealous of Shehla's proximity to BJP MLA Dhruv Narayan Singh and had hired contractor killers to eliminate her. All arrested are in custody and the trial is underway.
"During the probe, the Central Forensic Science Laboratory (CFSL) brought to the notice of the agency that two pen drives were missing. The envelope in which the pen drives were sent to CFSL mentioned 25 pen drives but only 23 were found. Two were missing," a senior officer who did not wish to be named told The Indian Express.
"In a statement, one of the junior administrative staff, who was present when the pen drives were placed in the envelope, told investigators that the officers had instructed that two pen drives be left out from the lot being sent to the CFSL ," the officer said.
"These pen drives related to evidence against a suspect whose role was being probed in the case. The PE found that the officers intentionally did not submit the evidence to weaken the case against the suspect," the officer said.
The PE was completed in January 2015 and an opinion is awaited from the director of prosecution. Bothra was repatriated to Orissa, his parent cadre, last year where he is posted as IG, CID, Crime Branch.
A CBI spokesperson confirmed that an internal probe into certain allegations was being conducted under intimation to the competent court.
"An inquiry is in progress. It would not be appropriate to offer any further comments as the matter is sub judice," the spokesperson said.
When The Indian Express sought Bothra's comments, he denied the allegations against him and claimed he did nothing wrong.
"The Masood case was a tough one but the CBI managed to crack it. Whatever I had to say on the issue I have already told the agency and have nothing further to add," he said.
Asked about the missing pen drives, he said: "I did nothing wrong and no such thing was done. The inquiry is underway, let it come out with its findings."
Asked if there was any pressure not to submit the pen drives, he said: "CBI is a premium and professional agency and we do not work under pressure of our seniors."
http://indianexpress.com/article/india/india-others/shehla-murder-cbi-probes-two-of-its-own-for-leaving-out-evidence/99/