MUMBAI, Feb 4, 2014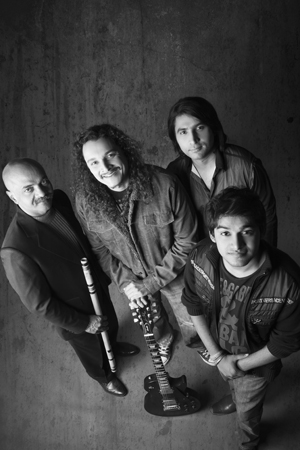 Pic courtesy–  http://www.gibsonguitar.in/
Shouting anti-Pakistan slogans, dozens of Shiv Sena activists today disrupted the press conference of a Sufi music band from that country at the Mumbai Press Club here, police said.
Carrying saffron party flags and chanting "Pakistanis go back" and "Vande Mataram", alleged Sena workers forced their way into the conference hall, heckled the artistes of 'Meekal Hasan Band' and overturned chairs when they were in the middle of a media briefing.
Swinging into action, police managed to evict the protesters and the entrance to the club was shut.
President of the club Gurbir Singh said he has approached state's Home Minister R R Patil and Joint Commissioner of Police (Law and Order) Sadanand Date who have assured deployment of additional police force at the venue.
Singh deplored the incident, saying efforts to improve Indo-Pak relations should be welcomed and not thwarted.
Shiv Sena has been opposing participation of Pakistani artists in events in India for quite a long time.
It had protested against the inclusion of Pakistani television host and cross dresser Begum Nawazish Ali and actor Veena Malik in Bigg Boss show in 2010 and disrupted a Sinhi Sufi music festival in Delhi last year where artists from the neighbouring country were present.
Narinder Nanu/Agence France-Presse/Getty Images
Shiv Sena protesters burned a Pakistani flag at a demonstration.
The Shiv Sena, a Hindu right-wing party which leads Mumbai's civic body, attacked a press conference by a Pakistani band at the Press Club of Mumbai on Tuesday.
Shiv Sena workers barged into the press club in the afternoon and demanded that the Sufi band, Mekaal Hasan Band, be sent back to Pakistan.
The band, which uses both classical and modern musical instruments, was using the press club as a venue to announce its concerts with Indian musicians later this year, said Gurbir Singh, president of the press club. He said more than 20 Sena workers protested outside the press club and later entered the premises, tearing up banners and throwing around chairs. No one was injured, Mr. Singh added.
Around 20 workers have been detained by the police, according to area deputy commissioner of police Ravindra Shiswe.
The band was dismayed by the violence.
"This is a setback. It's bad for relations with India, it's bad for music," said Masood Hasan, the Lahore-based manager of the band and father of one of its members. Mr. Hasan said that this may lead them to cancel their upcoming concerts and an album launch in India.
The Shiv Sena frequently tries to prevent Pakistanis from performing in India. Last year, it opposed the invitation of Pakistani cricket players to India.
Shiv Sena spokesman Rahul Narwekar said "the manner of the protest is not important but the principle is important." He said the Sena does not believe that Pakistan is taking steps to improve relations with India. "We will not allow (India) to be exploited for commercial gains," Mr. Narwekar said.
– Kenan Machado contributed to this post.
Read mpre here — http://www.newindianexpress.com/nation/Shiv-Sena-Workers-Disrupt-Pakistani-Bands-Press-Conference/2014/02/04/article2037699.ece