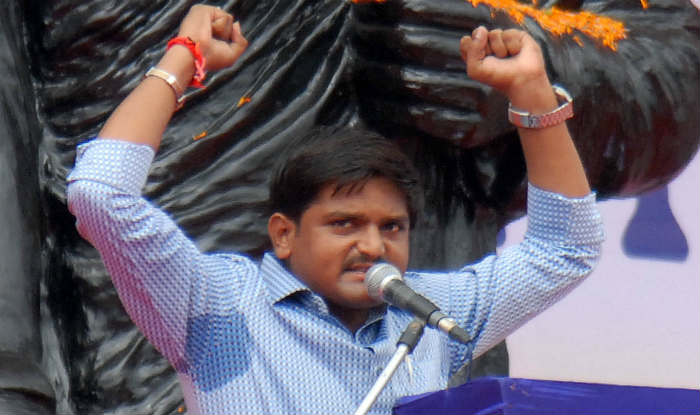 Ahmedabad, Aug 28: Hardik Patel who is leading Patidar also known as Patel community's protest against the Gujarat government even threatened to uproot Bharatiya Janata Party from the state. Patel community who staged a violent protest in Gujarat following curfew in several parts of the state is demanding reservation under OBC quota.
Justifying the demand for Patels who are economically and politically strong, Hardik Patel said, "Despite getting good number Patels fail to get admission for high education and jobs because of quota system." Do you know how educated Hardik Patel is?
You will be shocked after knowing that Hardik Patel needed grace number to complete his graduation. Hardik Patel could pass the Bachelor of Commerce degree with 49.6 percent after getting 8 marks as grace numbers. According to a report of Navbharat Times, in commercial communication subject, one needs minimum 25 marks to pass while Hardik got just 17 marks. The college rewarded 8 grace marks to Hardik so that he could be passed in the subject.
However, one should not judge a person's ability through his degrees but in Hardik's case media and people won't ignore this shocking fact about his qualifications.
Patel said that he will soon meet the leaders of the community's movement for the demand of reservation. Hardik Patel has emerged as the icon of the movement that took Gujarat by storm in the last few weeks and disrupted normal life, as thousands of people from the community, followed Patel onto the roads to demand reservation from the government.
The Jat community  has also decided to follow in the footsteps of the Patidars of Gujarat and will reportedly stage a protest in front of Jantar Mantar in Delhi, on September 28. The Jat Aarakshan Sangharsh Samiti (JASS) has launched a nationwide drive to 'recruit' Jat youths for the Jat Yuva Sena(Young Jat Army) to fight the reservation battle. The community has also launched a Facebook Page, a Whatsapp Group, to attract Jat youths to join the Jat Yuva Sena. 
http://www.india.com/news/india/shocking-hardik-patel-got-his-bachelor-of-commerce-degree-thanks-to-eight-grace-marks-523002/