July 16, 2015 10:51 IST
'The judges did warn the jail authorities, but they didn't care. They even violated the high court's order regarding my treatment. One judge asked my lawyer: "Can I go and implement my orders there?"'
'People are beaten at the slightest provocation, paraded completely naked and then tortured. Did you know the number of prison deaths is the highest in Maharashtra? The one year I was in jail, 98 prisoners died.'
Professor G N Saibaba, who is 90 per cent handicapped, speaks of his ordeal in a Nagpur jail after being arrested for protesting against the Centre's anti-Naxal and anti-Adivasi campaign.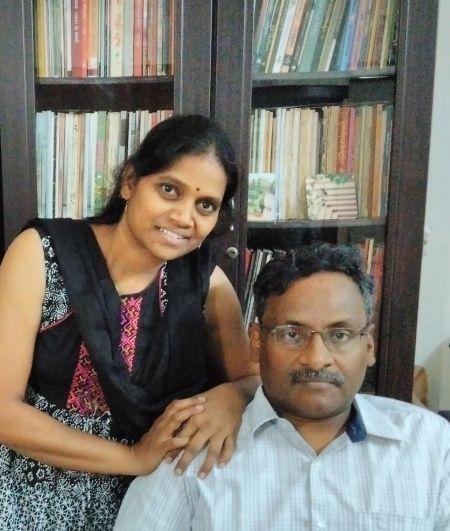 When Professor G N Saibaba, who teaches English at Delhi University's Ram Lal Anand College, was 'abducted' while on his way home from class by the Maharashtra police on May 9, 2014, no one expected that the wheelchair-bound academic would be physically ill-treated in jail.
But for the 14 months he was imprisoned in the Nagpur Central Jail, Professor Saibaba, who is 90 per cent disabled, was denied life-saving medicines and assistants, despite repeated court orders.
A vocal critic of Operation Green Hunt, the Centre's anti-Maoist, anti-Adivasi campaign launched by the United Progressive Alliance government in 2009 across the tribal belt of Chhattisgarh, Maharashtra, Jharkhand and Orissa, Professor Saibaba had faced interrogation and police raids earlier.
Charged with being a member of a banned terrorist organisation (the Communist Party of India-Maoist), providing logistics and helping in recruitment for the group, the academic/activist, who finally secured bail from the Bombay high court for three months for medical treatment, spoke to Jyoti Punwani about his experience in jail, lodged in the notorious anda (egg-shaped) cell reserved for terror accused and alleged Maoists.
Given your consistent opposition to Operation Green Hunt, and to the arrests of political dissenters, did you expect to be arrested yourself?
Personally I didn't expect it. My friends thought it possible, because I was one of the convenors of a forum against Operation Green Hunt. But I have been used to this kind of campaigning since the last 30 years.
There have been cases filed against me on simple charges on account of agitations I participated in, but I was never arrested, and the cases were later dropped.
Did you expect such inhuman treatment after your arrest?
No. I could never have imagined I would be treated like that. I have been arrested earlier for a few hours, for taking part in agitations. But I was never treated like this.
Were the jail officials also brutal, or just the cops?
Both. They didn't beat me, but they created conditions because of which I couldn't go to the toilet. So I refused to eat for the first 72 hours. After I was put in jail, I was provided no assistance — you know I am completely handicapped and can't do anything on my own. So again for 72 hours I refused to eat.
In jail, I was not allowed to talk to anyone for the first 20 days. But the other prisoners helped me in whatever way they could.
There were a number of Adivasi boys in the anda cell where I was put. When it was time for them to be locked up in the evening, they would refuse to go inside, insisting that they be allowed to help me. They started helping me secretly, and some guards who were good natured would ignore this unless the jailor was nearby.
This went on for 20 days, despite the strict vigilance to ensure that the Adivasis arrested in Naxalite-related cases should not meet me. Then it became difficult for the administration, as the number of boys agitating grew.
After that, though I never got any assistance officially, they didn't bother if other prisoners helped me.
This was an interesting development for me: Outside jail, I had fought for Adivasi rights; inside, they were fighting for mine.
Did they know who you were, or they did this out of kindness?
Nobody told them who I was. They did this on their own. They began living with me. Two of them would take turns to be with me for eight hours daily.
I started teaching them English. I started with the alphabet and within a year, they started reading and writing! They learnt with discipline, day and night; it was so interesting for them.
My daughter and wife brought a huge number of books, notebooks, pens. We had to fight to get these inside. The authorities told me you don't require these elementary books. But my wife would refuse to leave till they accepted the books.
Did the jailors treat you with respect?
They spoke to me with respect, but they were under pressure from the different agencies not to implement the court's orders regarding moving me from the claustrophobic anda cell into ordinary barracks, providing me with attendants round the clock when my health deteriorated and I was getting fainting spells, and providing me with a cooler.
You must have informed the court that its orders were not being implemented.
Citing security problems, they never took me to court at all. They used to do video conferencing. Since the prison was not wheelchair friendly, I could not even reach the room where the video conference was set up. They had to lift me and take me there.
At every stage, the provisions of the Persons with Disability Act were violated.
The judge would see this; I too would demand that I be taken to court, but it was no use. One judge told me: 'What's the use even if I pass the order, because the courtroom is on the second floor. How will you come here?' I said under the Act, you must have the court on an accessible floor.
The judges did warn the jail authorities, but they didn't care. They even violated the high court's order regarding my treatment. One judge asked my lawyer: 'Can I go and implement my orders there?'
So for the 14 months I was inside, the only time I was taken out was to hospital.
Were the doctors cooperative?
They were pressurised into giving wrong reports initially. Yet, a few resisted and ordered re-investigation. My MRI was done four times. I have a 10-year-old heart problem, but the first report said my heart was perfect.
Undertrials booked under the Unlawful Activities Prevention Act must be escorted by eight guards, two of them armed, whenever they go out of jail.
In my case, 20 guards, 15 of them armed, some with AK-47s, would come to hospital with me. They would occupy the room where the doctor would examine me, creating an atmosphere of terror.
Then there would always be intelligence men all over the hospital whenever I was taken there. In the OPDs, the patients would run away terrified. The doctors were puzzled, wondering how I could escape given that I can't even stand on my own. But they were also intimidated.
In such an atmosphere, how is treatment possible? No treatment was given to me except for the eight days I was admitted to a private hospital.
Didn't all this make you lose hope?
No. We kept fighting inside against the authorities. I had planned a campaign involving common prisoners of the Nagpur Central Jail against the torture that is a daily routine there.
People are beaten, their legs and hands broken, at what is perceived as a violation of prison discipline.
Some Adivasis don't have the understanding of jail rules which require you to bow down, to remove your slippers when the jailor comes. They don't have these feudal norms in their culture. But jailors think the Adivasis are being arrogant.
Others are beaten at the slightest provocation, paraded completely naked and then tortured; made to stand in the hot sun from morning to evening; their heads are shaven and then they are made to place their heads on the ground. There are a number of feudal ways of torture apart from simple corporal punishment.
Did you know the number of prison deaths is the highest in Maharashtra? The one year I was in jail, 98 prisoners died, five in Nagpur Central Jail, in front of me. Three died of heart problems — they got chest pain, but were not taken to hospital in time, and two committed suicide because they couldn't take the torture any more. One jumped into the well and another climbed on top of a wall and jumped.
A huge number of prisoners become mentally challenged after years of jail. They are kept in the mental ward and are handcuffed and beaten.
Handcuffing when taking prisoners to court and hospital is common in Maharashtra despite a Supreme Court judgment against it. It took me months to get a copy of the judgment; I gave it to the superintendent and the chief medical officer. They didn't stop the practice.
After the March 30 jailbreak (wherein five criminals escaped from Nagpur jail) all prisoners were tortured every day for two months. Their injuries were not registered by jail doctors. 80 of them gave letters to court, but even the judges didn't bother.
I started a campaign against handcuffing and torture, talking to whoever I could — from the guards to the jailor to the IG, DIG, even the principal secretary, home, when they visited.
Is there no view that a jail is also a reformatory?
That consciousness is not there at all. They are trained to intimidate, deprive, humiliate, make prisoners feel they are in a jail, not allow them to live with dignity.
Only the last superintendent to be posted just before my release, would talk about the correctional aspect of prisons. But he would also not stop beating up of prisoners.
When I pointed this out to him, he said it is there in the Maharashtra jail manual — that mild force can be used and prisoners can be flogged if required. This is not there in the Delhi, Andhra Pradesh, West Bengal jail manuals.
He was the only man to follow court orders regarding giving me a cot — I got it a few days before being shifted out — and allowing meetings inside jail, but he too did not follow the order to shift me out of the anda cell.
Did you ever lose faith in the courts?
You have nothing to rely on, only the court. If you don't trust the courts, you are completely in the darkness. You keep hoping that some day, the court will realise what is going on, and you wait for justice.
Without the courts, there is no way to come out of prison.
Also, the reality is that more than 99 per cent of the Adivasis inside on false cases are acquitted by the court. The sessions judges examine a few witnesses and realise they are all false. While I was there, most were acquitted, except those with 40, 50 cases against them.
Did the entire jail experience make you cynical?
No no, not at all. I learnt a lot in jail. I used the time to read books I had missed during my hectic schedule outside. Every month my wife brought me so many books. I translated some of them, I taught other prisoners. Every day was a busy day, though I was in so much pain.
I also learnt Urdu, taught secretly by Muslim prisoners. I teach Ghalib and Ruswa through English translations. For years, I thought I should know the language to teach these poets. In jail, I could read them for the first time in the original.
Urdu should have been used as the link language, not Hindi, because, I discovered, every Indian language including my own Telugu, has words from Urdu.
What did you learn from this entire jail experience?
I learnt that jail is society in miniature. The systemic violence built into our society, the feudal relations, the over-representation of Adivasis, Dalits and Muslims, who are not represented at all in educational institutions and jobs — all this is easily grasped in jail.
It is easy for the authorities to be cruel because there is no one to raise a voice for these prisoners who already come from underprivileged communities.
Many jail officers are Dalits, but they are also tormentors of Dalits, such is the nature of the State they serve.
Given your ordeal, you never felt like pleading guilty to all the charges against you and putting an end to your suffering?
Never. The suffering helped my determination to work for democratic rights more vigorously. I spent nights and days reflecting on what I had done and what I had failed to do and grew determined to rectify my failures.
There is no way I would plead guilty because every charge against me is fabricated. Pleading guilty would not only violate my rights, but also my conscience. Thirty years as an activist would be reversed.
Not for a moment did I feel frustrated. Instead I kept planning on how to bring out all that I was seeing and fight it. I never got depressed.
This wasn't because of my own will power, but because of the Adivasis around me. Despite not even knowing why they had been put in jail, how enthusiastically they learnt. Their joy when they could read the papers, their excitement in understanding maths and geography –they created a lively life for me in that hopeless world, where we could read and dream in a world of our own.
When I was released, they were all crying, not because I was leaving them, but from happiness for me.
Image: Professor G N Saibaba with his wife Vasantha Kumari.
http://www.rediff.com/news/interview/shocking-how-india-treats-a-90-disabled-indian/20150716.htm